QR Energy LP (NYSE:QRE) is an upstream Master Limited Partnership ("MLP") focused on delivering stable cash flow and growth. The company focuses on acquiring mature long-life assets, with stable production profiles. QR Energy tends to fund these acquisitions, which are typically accretive to cash flow, with public offerings of units. QR Energy will often hedge most of its expected production, in order to lower risks and to secure distributions to unitholders. QR Energy currently offers a $0.4875 quarterly distribution per unit. At current prices, QR Energy yields 11.1%.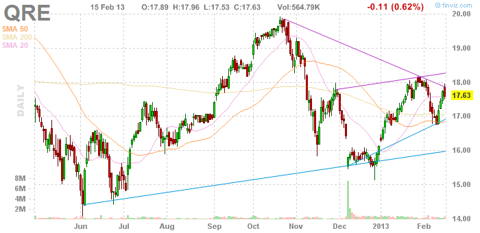 Click to enlarge
Upstream MLPs competitors to QR Energy include Vanguard Natural Resources (NYSE:VNR), BreitBurn Energy (BBEP), Linn Energy (LINE) and LRR Energy (NYSE:LRE). These stocks offer high-yields, which are mostly backed by significant hedges on production. Please note that these companies often issue units to fund acquisitions, and that stock price appreciation is limited: most of the returns on these stocks will come via their distributions.
QR Energy owns assets across the Permian Basin, Mid-Continent, Ark-La-Tex, Michigan, and the Gulf Coast. Daily production is about 14,620 BOED, with about 58% of production being liquids. Proved reserves are about 88 MMBOE, with the proved reserve life on these areas being about 15 years, with a reserve mix of 62% liquids.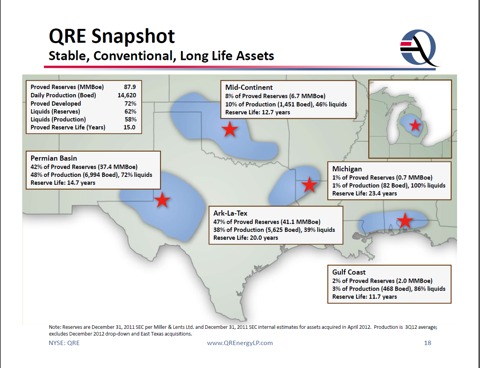 Click to enlarge
As of Q3 2012, oil accounts for about 43% of production and 71% of revenue while natural gas accounts for 42% of production, but only 23% of revenue for QR Energy. Due to hedges, QR Energy's realized price for natural gas for Q3 was quite high at $5.18, while the spot price during the period was $2.60.
Click to enlarge
QR Energy has tripled its reserves and production since its IPO in 2010. The GP for QR Energy still has approximately 2,500 BOED of oil weighted production remaining, and the company expects these remaining assets to be dropped down in the future.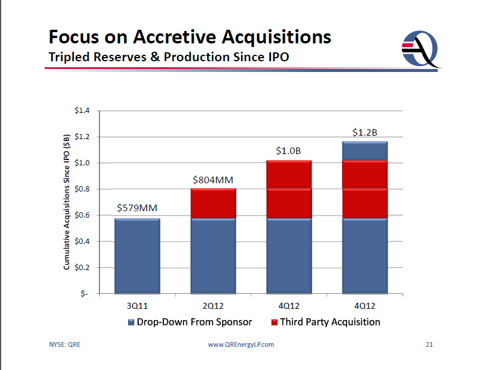 Click to enlarge
QR Energy has significantly more production hedge through 2017 than its peers. These hedges should provide QR Energy with greater cash flow stability. QR Energy has 100% of natural gas production hedge through 2014, and at least 73% afterwards to 2017. An average of 90% of oil production is hedged through 2015, with an average of 69% hedge afterwards through 2017.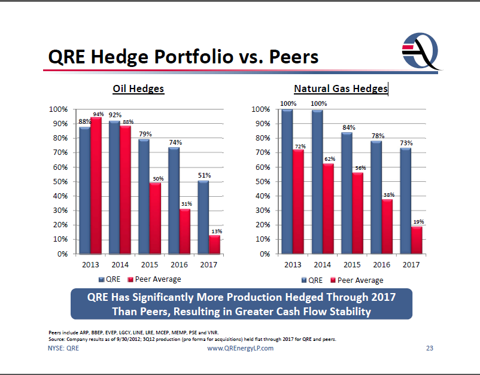 Click to enlarge
Conclusion
Upstream MLPs, such as QR Energy, are a terrific source of steady income. Stock price appreciation is limited, due to the nature of these investments, however the payoff is the high-yield. I would consider QR Energy to be medium risk with a medium reward, with the primary risk factor being a prolong period of lower energy prices.
Disclosure: I am long VNR, QRE. I wrote this article myself, and it expresses my own opinions. I am not receiving compensation for it (other than from Seeking Alpha). I have no business relationship with any company whose stock is mentioned in this article.
Additional disclosure: I may go long Linn Energy (LINE) and/or (LNCO) next week.