Newcastle Investment Corp. (NYSE:NCT) is a REIT that manages a portfolio of primarily real estate securities. Originally, NCT focused on investing in commercial real estate debt. The investments of the commercial part of NCT currently include CDOs (Collateralized Debt Obligations), senior housing, other real estate debt, and opportunistic restructurings. In September 2011, NCT started investing in residential mortgage opportunities. NCT has invested about $1B to date on its residential side. Residential investments include excess MSRs (mortgage servicing rights), RMBS, non-performing loans, and adjacent assets.
Since the start of the move into residential mortgage opportunities in September 2011, the stock price has gone straight up (see chart below).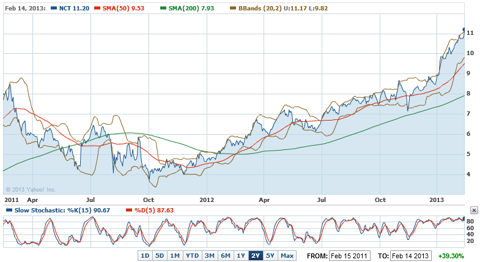 Click to enlarge
It has appreciated about 140% since September 2011, which is fantastic. Plus, it has continued to raise its dividend from $0.10 per share in Q2 2011 to $0.22 per share in Q4 2012. That is great too. Now NCT is proposing to spin off its residential arm as "New Residential" and its ticker symbol will be NRZ on the New York Stock Exchange. NCT has not gotten all of the approvals it needs for this, but there is no reason to believe that it will not go through. The graphic below describes NCT's expected timing for this spinoff.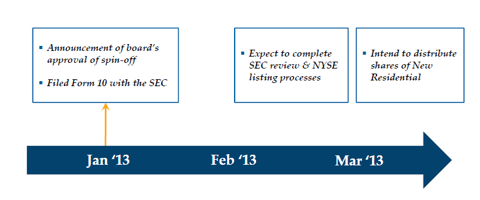 Click to enlarge
From the first graph above, one can see that NCT is overbought both on the slow stochastic sub chart and on the main chart. It would seem that investors have been bidding NCT up at least partially due to the expectation of the "unlocked value" due to the upcoming spinoff. Still, the uptrend has been very strong and long. This is due largely to strong performance by NCT over the past year.
NCT's Q3 2012 performance was good if not great. It had GAAP income of $272 million (or $1.63 per share). It had Core Earnings of $43 million (or $0.26 per share. It had cash available for distribution of $36 million. It declared a common dividend of $38 million (or $0.22 per share). In a tremendously profitable transaction in Q3 2012, NCT completed the sale of 100% of its interest in CDO X to the sole owner of the senior notes and another third party, in connection with the liquidation and termination of the CDO. With the sale NCT deconsolidated the deal from its balance sheet, which resulted in:
Reduction in total assets by $1.1B and total liabilities by $1.2B.
Generation of a $224 million gain on the sale.
Increase in NCT's GAAP book value by $1.22 per share.
Decrease in debt to equity ration from 3.8 to 2.2.
The above was a great deal, but not NCT's only activity. The charts below show the approximate breakout of NCT's real estate debt portfolio in Q3 2012.

Click to enlarge
As of Q3 2012, NCT had a $2.8B portfolio of this debt financed with $1.9B of primarily match funded, non-recourse debt. It consisted of 219 commercial, residential, and corporate securities with an average investment size of $11 million. It had 9,137 mortgage loans backed by residential real estate. The deal described above belongs to this segment of NCT's business.
NCT has also performed well in other areas. The table below shows its performance in Excess MSRs.

Click to enlarge
NCT as of September 2012 had an updated IRR of 19% on these versus its initial 18% projection. In Q3 these investments generated $18.5 million of total cash flow and an increased value of $2 million. NCT managed a 9.5% average September CPR (Constant Prepayment Rate) versus a 20% CPR projection. The actual CPR was impressive.
NCT did well with its non-Agency RMBS portfolio. It has an unlevered IRR of 8.7%, a current levered return of 11.4%, and a fully levered return of 20.5%. In Q3 2012, This portfolio generated $8.6 million of cash flow, and it increased in value by $8 million. Further 100% of the New Residential (the proposed spinoff) non-Agency RMBS portfolio is serviced by Nationstar, which is a top performer at servicing loans (see the charts below).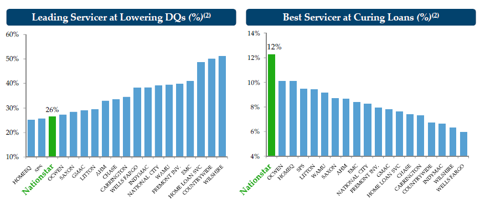 Click to enlarge
NCT's senior living properties were perhaps less successful, but still very profitable. NCT sees a strong future in this because the number of people over 70 years old in the US is growing. The chart from the US Census Bureau below gives a good illustration of this.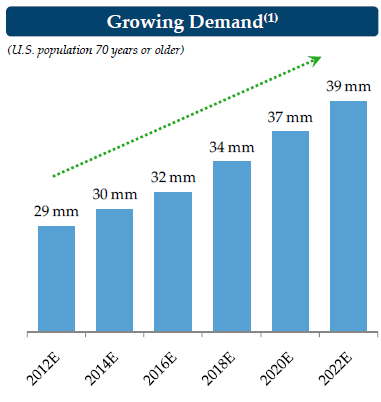 The table below gives some of NCT's actual senior living segment results along with its projected longer term results.

Click to enlarge
The table does show a distinct improvement from the Q3 2012results to the Q3 2012 results. Given the Census Bureau data above, it is believable that NCT might eventually reach its targeted unlevered yields of 12.7% and levered yields of 28.7% in this secularly growing area.
All told, NCT looks like a stock that has exceeded expectations. It has been a top performer, and it appears that it will continue to be one. If it contends that a spinoff of its residential arm will "unlock investor value", one is inclined to believe this good to excellent management team. NCT is a buy.
The two year chart of NCT (already shown above) provides some technical direction for this trade. The slow stochastic sub chart shows that NCT is far overbought. The main chart shows that NCT is in a strong uptrend. Further its 50-day SMA is far above its 200-day SMA. Its price line is far above its 50-day SMA. This chart appearance usually means a stock is due for a pullback. With the proposed spinoff, I am not sure NCT will get a pullback. However, it is probably a good strategy to wait for one. Since the overall market is overbought also, NCT may get a pullback with the overall market. I would try to buy when the price line approaches the 50-day SMA. However, I would also keep in mind that the possibility of a recession in the US is still looming over the markets. Many pundits are predicting a collapse. Therefore the most appropriate strategy is probably to average in over the course of 2013. In this way you should end up with a good average entry price on a top performing stock.
NCT trades at a PE of 3.66 and an FPE of 8.82. It has a mean analysts' recommendation of 1.7 (a buy). CAPS rates it four stars. It has an excellent growth outlook with an average analysts' five year EPS growth forecast of 8.10% per annum. Further the coming spinoff of NRZ may unlock value, and the 7.86% dividend will pay you to wait for the predicted growth. I doubt the stock price will appreciate another 140% soon, but it may still grow well. This looks like the kind of strongly uptrending stock that you want to buy. Then you can ride it even higher. The fact that NCT just completed a sale of $23 million shares of stock should not discourage you. Rather it is encouraging that management believes it has a lot of good places to invest the roughly $241 million in proceeds.
NOTE: Some of the fundamental financial data above is from Yahoo Finance.
Good Luck Trading.
Disclosure: I have no positions in any stocks mentioned, but may initiate a long position in NCT over the next 72 hours. I wrote this article myself, and it expresses my own opinions. I am not receiving compensation for it (other than from Seeking Alpha). I have no business relationship with any company whose stock is mentioned in this article.