The broad advance in risk assets that we have seen since the start of the year became a little more uneven over the last couple of weeks. Let's break down the details.
Economy: The economic data from the last week was generally positive, and in most areas, generally better than expected. Initial jobless claims for the prior week were considerably lower than forecast, and January retail sales were slightly positive. The Michigan consumer sentiment found a more optimistic mood in February after a dip in January. One negative was January industrial production, where the headline number contracted slightly, but drilling down we saw that manufacturing was the weakest component. Capacity utilization was down from December's reading.
Stocks: The U.S. market put in its seventh consecutive weekly gain, but the advance was uneven. Among the major indices, the S&P 500 and Russell 2000 gained, but the Dow Industrials and NASDAQ posted slight losses in tight, lackluster trading. The ten S&P economic sectors were split with four up, five down, and one - the healthcare sector - exactly flat. Industrials and financials led the way, while the struggling telecoms brought up the rear.
Global markets were also mixed, with seven of the twelve county indexes we follow posting gains. Asian markets were generally strongest, while European markets were held back by reports of a weakening German economy. Brazil posted its fourth consecutive down week, its fifth in the last six.
In my scans this weekend, here are some items that caught my attention:
A number of prominent energy stocks broke down last week - Apache (NYSE:APA), Conoco (NYSE:COP), Occidental (NYSE:OXY), Williams Companies (NYSE:WMB), while others broke out - Halliburton (NYSE:HAL), Schlumberger (NYSE:SLB)
Disney (NYSE:DIS) went to a new high on good volume Friday
The gold miners look dreadful, with a number of them making new lows
The market has been looking tired, and we have lightened up on some long positions, but overall I don't see any reason to turn negative here. The correction I have been anticipating hasn't come in the major indices, but it has come to a number of stocks and sectors. We started the year in broad rally mode; from here on I think we have to be more selective. My approach is to stay with stocks that are acting well and sell out those that aren't.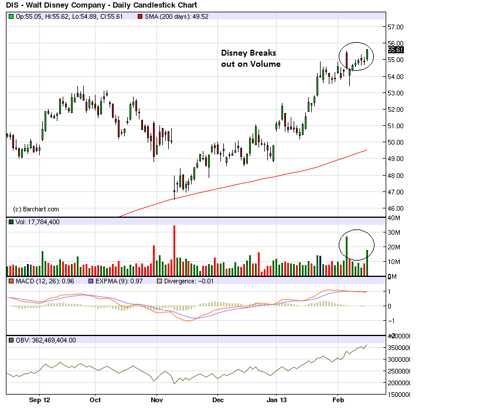 Bonds: Treasury yields appear to have settled into a near term range after a three month climb. The yield on the benchmark ten year note came back to 2.0% Friday, which is short term support. Bond funds have pulled back after a strong two year rally. In spite of the recent weakness, funds are still seeing net inflows, particularly to taxable bonds. Although we had lightened up on fixed income and rotated into dividend paying stocks in our income portfolio in December, we continue to hold a large allocation to bonds. There is no reason to rush toward the exits now; in the near term we look OK.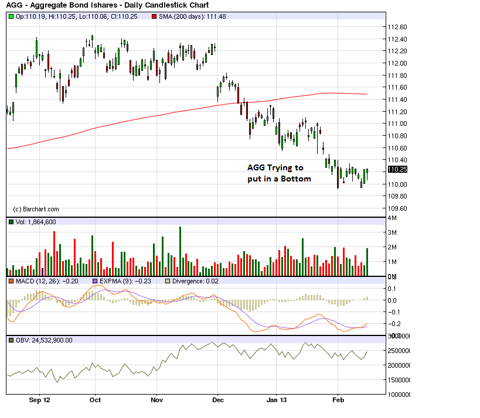 Commodities: The big story here is the breakdown in the precious metals. Last week we saw gold break down on increasing volume. At one point Friday the contract traded under $1,600. Silver broke the key $30 support level on heavy volume. The outlook is not very bright for gold or for the commodity space in general. Turning to oil, the WTI contract again rejected the $98 level last week, finishing under $96 and beneath the 20 day EMA. Natural gas, which one month ago broke through the $3.60 resistance level, fell below $3.20. The grains and softs also look weak. There isn't much to like in the commodities at this point.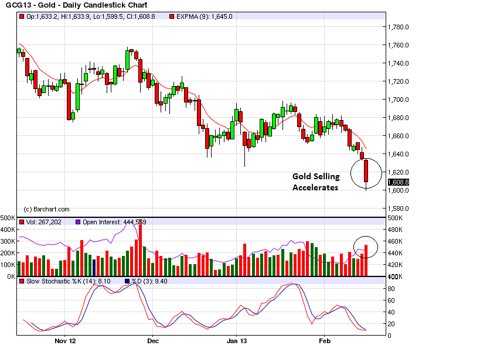 Currencies: The dollar index pushed higher last week after breaking above 80 the prior week. The index made a similar move early in the year, only to fall back to previous lows. We'll see what happens this time. The euro continued to pull back from previous highs to test support at $1.33. The slumping yen put in a small counter-trend bounce but fell back near 93.50 by week's end. The aussie saw choppy trading, while the loonie tried to rally back to parity with the greenback, and failed. The loonie has been positively correlated with equity markets and with risk assets generally, so its recent weakness is a bit concerning.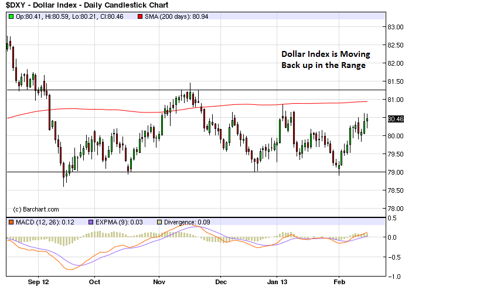 Key Takeaways:
Stocks have come a long way in a short time; going forward the road will be more difficult, so be prepared to separate the leaders from the laggards
The correction in bonds appears to have run its course in the short term
Commodities are showing weakness nearly across the board
Good luck and good trading!
Disclosure: I have no positions in any stocks mentioned, and no plans to initiate any positions within the next 72 hours. I wrote this article myself, and it expresses my own opinions. I am not receiving compensation for it (other than from Seeking Alpha). I have no business relationship with any company whose stock is mentioned in this article.