Whole Foods Market (NASDAQ:WFM) satisfies the niche market of healthy, organic foods with its growing chain of supermarkets. The company has a market cap of over $16 billion with 345 stores in the United States, Canada, and the United Kingdom. Whole Foods reported a positive Q1 2013 earnings report with a 14% increase in sales and a 20% increase in earnings per share. First quarter comparable store sales increased 7.1% year-over-year.
Here are some other highlights from the quarter:
Increase of 22 basis points in gross margin to 35%
Decrease of 30 basis points in direct store expenses to 25.4% of sales
Increase of 48 basis points in operating margin to 6.1%
$303 million in quarterly operating cash flow and $148 million in free cash flow
At first glance, Whole Foods looks a bit overvalued with a trailing P/E ratio of 33 and a forward P/E of 26. However, the PEG ratio of 1.63, which accounts for its 5-year expected earnings growth, is more indicative of a fair valuation. Reinforcing this fair valuation is the company's price to book ratio of 4.58. As consumers are willing to pay a bit more for the company's healthy, organic food investors are willing to pay up for the company's stock, keeping its P/E ratio above average. The stock has fully recovered from its low levels during the financial crisis and is now trading above its pre-recession highs.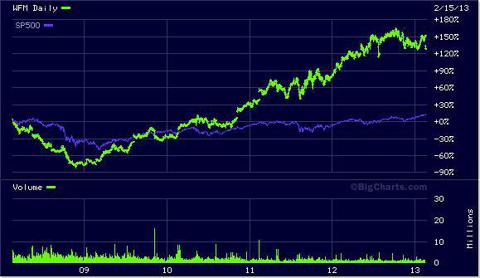 The company has $926 million in cash with only $25 million in debt. WFM sports an attractive debt to equity ratio of only 0.71. The current ratio stands at 1.85. For the past twelve months, Whole Foods had an operating cash flow of $962 million and free cash flow of $377 million.
Whole Foods is expected to grow earnings annually at 18.7% for the next five years. This growth is more than twice the rate of the market's expected growth. Therefore, Whole Foods will likely outperform the market over the next five years. The stock does have its share of large price swings of 10% or more, but those large swings should smooth out over the long-term.
The company has 85 new stores in development which represents 24% of its operating store base. Over the long-term, Whole Foods has a vision for a total of 1,000 stores in the United States over its current store count of 345.
Although standard grocery stores such as Wal-Mart (NYSE:WMT), Supervalu (NYSE:SVU), The Kroger Company (NYSE:KR), and Safeway (NYSE:SWY) can be considered competitors, they don't satisfy the healthy, organic niche market in totality the way that Whole Foods does. With sales of organic food expected to double in the next four years, Whole Foods is well-positioned to continue its above average earnings growth. This should translate into above average stock price increases for the long-term.
Disclosure: I have no positions in any stocks mentioned, and no plans to initiate any positions within the next 72 hours. I wrote this article myself, and it expresses my own opinions. I am not receiving compensation for it (other than from Seeking Alpha). I have no business relationship with any company whose stock is mentioned in this article.