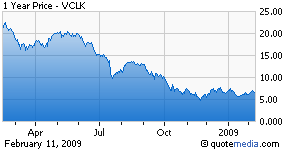 ValueClick (VCLK) is expected to report Q4 earnings after market close Thursday, February 12, with a conference call scheduled for 4:30 pm ET.
Guidance
The consensus estimate is 15c for EPS and $142.31M for revenue, according to First Call. Guidance provided on the last earnings call was for a lower FY08 of 55c-56c, and revenue of $633M.
Analyst Views
Stanford believes that macroeconomic and online advertising trends were weak throughout Q4 and have softened further in Q1 as merchants who reduced inventory at any cost in Q4 (including marketing) have since reduced advertising budgets post the holiday season. As such, Stanford believes ValueClick's stock is vulnerable to near-term pressure. ValueClick peers have reported poor results and alarmingly gloomy outlooks. Stanford said that ValueClick's two largest segments, network display advertising and comparison shopping, are the worst hit online. The firm cited Pubmatic, who said display ad network pricing was down as much as 50% YoY in Q4. Stanford also sees ValueClick's third operating segment also challenged as affiliate marketing is largely dependent on e-commerce, which dropped 3% YoY in Q4.