Last summer I wrote an article on American Campus Communities (NYSE:ACC), the largest campus housing REIT, and also one of the few multi-family REITs that I really like. As the only investment grade rated (S&P rating is BBB- ) campus housing REIT, American Campus has a dominating presence with assets of around $5.119 billion (as of Q4-12) and a current market capitalization of $4.809 billion (shares closed at $45.95).
Unlike the high-priced apartment sector, the campus housing sub-sector has become a real "golden child" for investors. The supply and demand characteristics have made ownership in student housing a very attractive REIT option and the growth trends are clearly the differentiating value proposition. As Bill Bayless, co-founder and CEO of American Campus explained on the most recent (Q4-12) earnings call:
You may have noticed in the corner of the press release that this year we have a special anniversary logo and then it was 20 years ago this October that we actually formed American Campus with four corporate employees and one third-party management contract. At that time, we set off on a quest and a goal to be the premier company in the student housing space. And as we continue on that quest, certainly 2012 was a very important and fantastic year for the company along that mission, $2.2 billion in asset growth with 51 properties representing over 30,000 beds, industry leading occupancy in our same-store portfolio, and also setting the stage for significant quality growth in the future and beyond.
Clearly the campus housing sector is seeing considerable growth as American Campus - as well as the smaller student housing REITs: Campus Crest Communities (NYSE:CCG) and Education Realty Trust (NYSE:EDR) - are gaining broad recognition as strong yielding investment class. Here is a snapshot of American Campus Communities' 5-year growth history (134% growth from 2008-2012):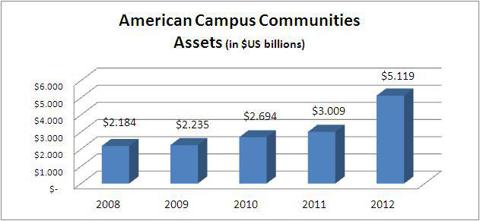 American Campus recently reported Q4-12 (and year-end) earnings and the more dominating "pure-campus play" REIT continues to produce exceptional occupancy levels. American Campus's latest (Q4-12) occupancy stands at 96.4% while the smaller peers stand at 91.3% and 90.2% - both were based on Q3-12 results. Here is a snapshot of the peer group, based on assets owned: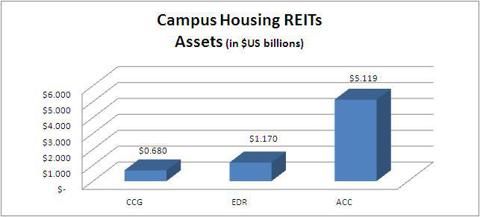 I have been following American Campus for around two years, and clearly the dominant campus REIT has become a favorite stock for many investors, especially institutions. Just take a look at the total return chart (since the company went public on August 11, 2004, the total return is 290.95% - compared with 68.69% for the S&P 500):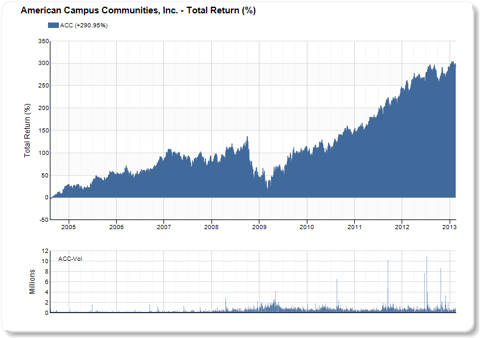 But wait! Total return is made up of capital appreciation and dividends. As mentioned above, I really like the growth story, but what's going on with the dividend growth? I know it's a good thing that American Campus has NEVER cut its dividend but I think it's now time to share some of the "wealth" and bump that dividend. Take a look at the FAST Graph: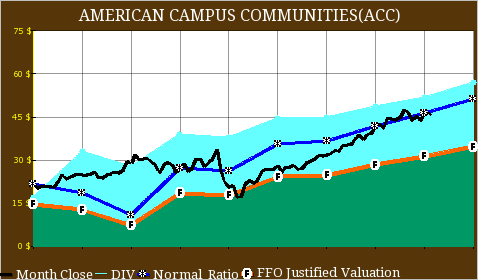 The first thing I see is a rich REIT. American Campus shares are trading at a premium (P/FFO is 21.7) and the dividends (shaded light blue) are as flat as Christopher Columbus's map of the new world. Simply said, American Campus needs to begin thinking about its shareholder reward program - 2.9% just doesn't get me excited.
During the company's recent earnings call, Paula Poskon with Robert W. Baird, asked the following question:
With the scale that you now have of planning to approach the bond market really is putting the company now on a different playing field, any thoughts on your recommendations of the board on the dividend policy?
Daniel Perry, Executive VP of American Campus replied:
The dividend payment is certainly something we discussed with the board in great detail every quarter. Now, while we have not increased the dividend since our IPO, we are very proud of the fact that throughout the '08/09 debt crisis, we never cut the dividend level or paid stock in lieu of cash. Also as you may remember, our dividend to FFOM ratio in 2005, our first full year as a public company was just - was over 107%. Our dividend AFFO ratio was over 120%. However, today we are starting to see really attractive coverage ratio at the midpoint of guidance, you would be at about 57% dividend to FFOM. And our stock is currently trading at a level that we are seeing a dividend yield below 3% now.

Now, on the other hand, we have the benefit of being in a highly fragmented market with lot of growth opportunities and the most accretive form of capital for us is our own cash flow and our own capital. And so we keep that in consideration when we are considering increasing the dividend, but with all of that in mind we will certainly continue to discuss the appropriate level of dividend with the board and when we do decide to make a change we'll strive to do so based on a clearly articulated strategy that shareholders can depend on.
Campus Crest: A Small-Cap with a Big Dividend
It's been around six months since I wrote about Campus Crest Communities, the Charlotte-based REIT that went public in October 2010. Although the smaller-cap REIT ($486 million market cap) dwarfs in size compared to the dominating American Campus REIT, the nimble operator has managed to pay out significantly higher dividends. On January 29th, Campus Crest announced a 3.1% increase to the company's common dividend to 66 cents per share (from the current annual rate of 64 cents per share).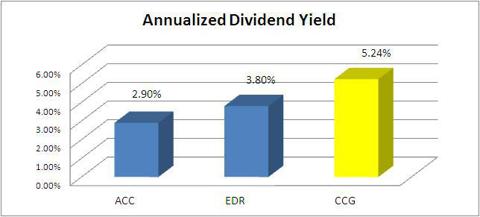 Also, since I recommended the small-cap REIT, Campus Crest has returned almost 20% (since August 31, 2012):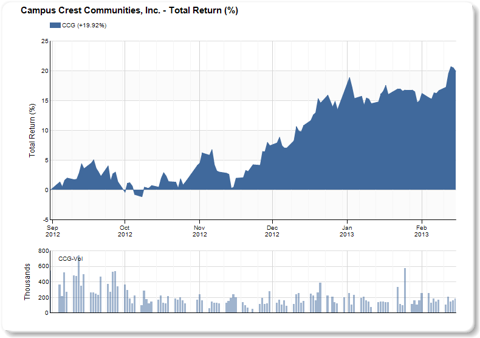 Campus Crest's management team has deep experience in construction and development and that is one key differentiator of the smaller sub-sector REIT's value proposition. As I wrote in the previous article:
Campus Crest has a uniquely sustainable model that has a vertically integrated operating platform. All of the company's properties are operated under the Grove® brand, and the "soup to nuts" integrated strategy enables Campus Crest to control all facets of the development and operational functions. This scaled development platform allows the company to "roll-out" consistent properties much like McDonald's (NYSE:MCD) rolls out fast food stores. This efficient strategy allows Campus Crest to not only control product quality but also to control delivery timing, as well as project costs and operational efficiency.
Campus Crest's integrated platform has allowed the company to grow considerably from around $371 million in assets in 2010 to around $679 million as of Q3-12.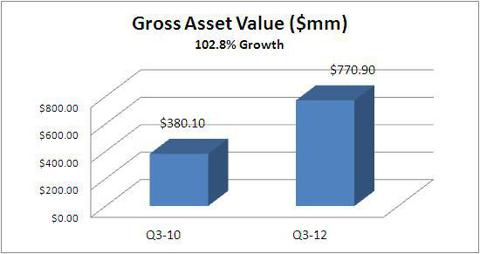 As of the latest reporting period (Q3-12), Campus Crest owned 45 properties consisting of 39 operating properties and 6 development projects. With over 25,000 beds on the ground and an average property age of 2.7 years, Campus Crest is growing into a well-balanced REIT with a portfolio of NO legacy assets.

The company's total bed count has grown by over 80% since going public (2 years):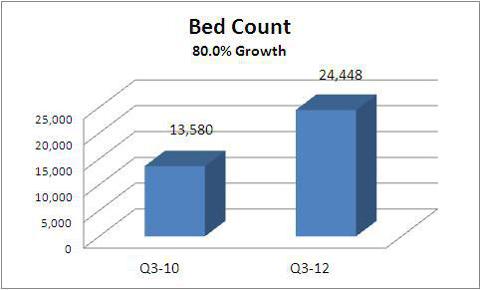 In addition, Campus Crest has expanded into many new markets - a 69% growth in the number of markets since going public.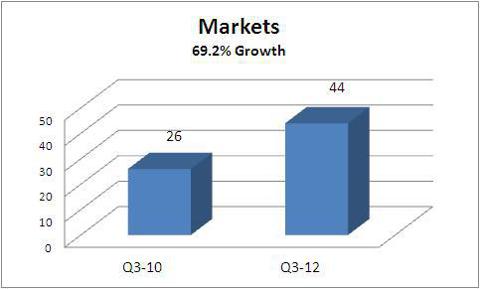 As mentioned above, Campus Crest has built a strategic model on development. With new development sites that cost in the neighborhood of $25 million (as per Investor Presentation), Campus Crest expects to deliver another $150 million to $200 million of Grove (prototype for CCG) product in 2014. That equates to around 6 to 8 new projects.
Currently Campus Crest has 6 projects underway in the following collegiate markets: Colorado State University, Ball State University, Washington State, University of Oklahoma, Penn State University, and Indiana University of Pennsylvania. The total investment for these 6 projects is around $163 million with an additional 1,314 beds.

Unlike many REITs today, Campus Crest has a refined construction arm that is able to control costs and delivery (timing). That is an essential ingredient for Campus Crest as the "cookie cutter" campus model provides considerable economies of scale that translates into significant costs savings (15% to 20% cost advantage). Also, like many turn-key "roll-outs," Campus Crest is able to benefit from a captive wholesale supply chain and that is extremely beneficial as the "learning curve" flattens.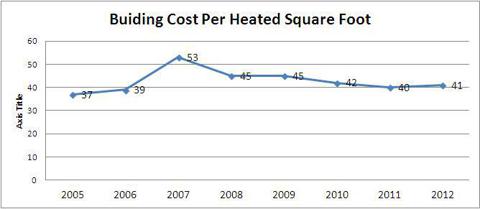 Upon researching Campus Crest, one thing that I found most interesting is the innovative pitch - a one word concept - called NEXT. As explained on the website:
Campus Crest is always looking ahead. NEXT is our company's bold commitment to the triple bottom line: a business philosophy that balances economic success with social and environmental stewardship. We believe we can do well by doing good, and we do well when we focus on people, planet, and prosperity. NEXT is our one-word commitment to fearless progress, to a renewed future. Together, we are whole-heartedly embracing sustainable change that transforms our world for the better.
The NEXT concept is what I deem to be a revolutionary strategy aimed to improve building innovation, greener lifestyles, recycling, social interaction, and healthy lifestyles. Collectively, Campus Crest's business model innovation is a key differentiator that should be included as part of the broader brand selection process.
Campus Housing Has Plenty of Runway
One reason I like campus housing (as opposed to traditional multi-family) is the fact that the supply and demand fundamentals (for campus housing) are excellent. As I wrote in my previous article:
The increased housing demand for public universities has created a growing demand for campus housing - especially the second tier schools. For many of these schools, the growth in enrollment has been dramatic, outpacing the university's ability to build an adequate volume of beds to house students. This strong demand has created an opportunity for off-campus student housing REITs to fill the void while also providing scaled efficiencies for colleges across the country.
From 2005 to 2010, undergraduate enrollment has increased by an average of 10.6%.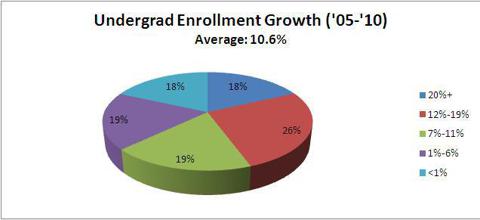 To break it down further, flagship school enrollment is around 18,800 and non-flag enrollment is around 11,000.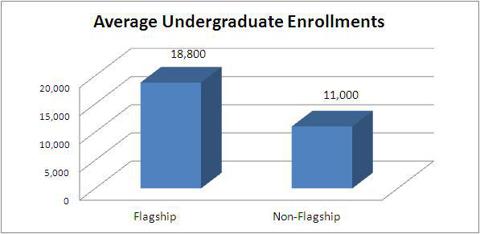 Due to rising costs in college tuition (college tuition and fees today are 559% of their cost in 1985), many students are enrolling in non-flagship schools that offer a better value proposition. That is why the growth in these schools has outpaced the flagship schools. That trend - a shift towards value in education - is best illustrated with this snapshot below: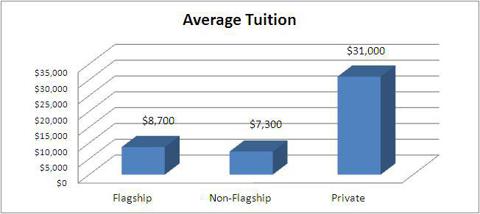 So as the demand for economical student housing continues to soar, we can see that the supply for new campus housing is shrinking. At least, a large part of the problem is the fact that many state-funded schools are trimming budgets and that means that there is less money to be spent on new construction.
Accordingly, many on-campus residence halls are older (average age 116 years) and some have become functionally obsolete for current housing accommodations. That means that the supply and demand fundamentals for campus housing REITs appear to be a "perfect storm."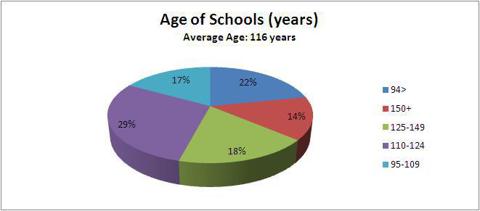 Campus Crest: A Perfect Storm for Growth
Campus Crest has built its strategic model on developing sites in Tier 2 school markets - representing a tremendous runway for new properties. Since going public (Q3-10), Campus Crest has increased its revenue by over 76%.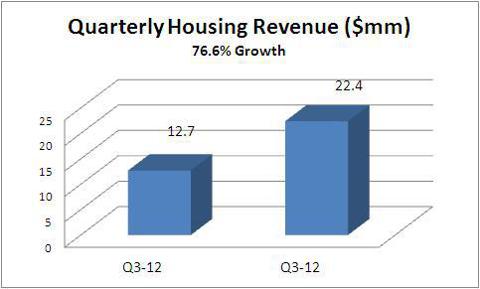 While NOI (for the same period) has increased over 100%.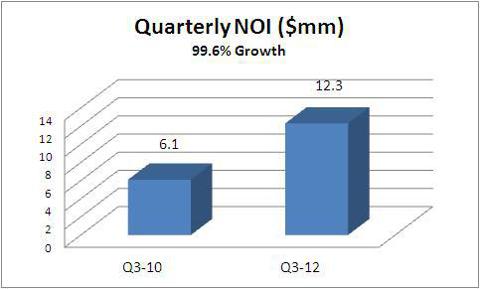 That translates to FFO growth of over 61% (over the last two years).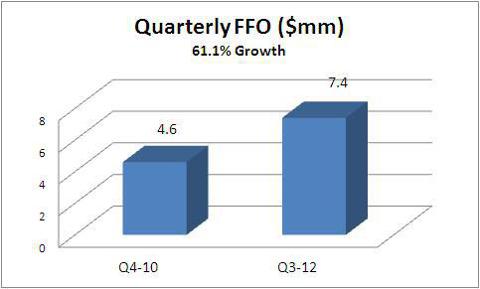 Also, during the past year Revenue POB (per occupied bed) has increased from $488 to $500.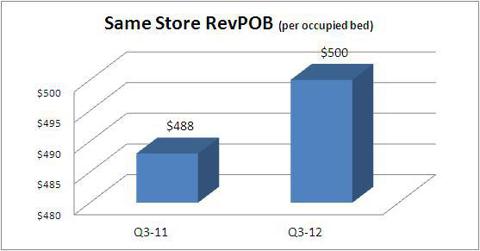 As larger investors have been more interested in the more dominate growth of American Campus, Campus Crest "flies under the radar" and remains the most attractive campus housing REIT in terms of valuation.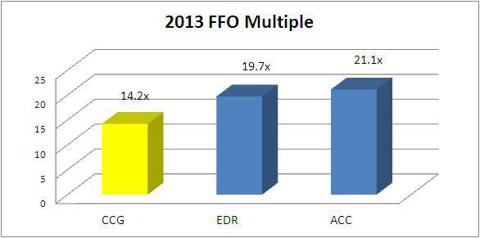 Although Campus Crest is still a few years away from an investment grade rating, the capitalization appears sound as the REIT maintains low leverage (36.74 debt-to-market cap) and adequate liquidity (39.55 debt-to-TEV). The company's average debt maturity is 5+ years with an average interest rate of 4.0%.
On January 10th (2012), Campus Crest announced that it had amended its unsecured credit facility by increasing the size from $200 million to $300 million ($250 million revolver and a $50 million term loan and an accordion of up to $600 million). As Ted W. Rollins, CEO of Campus Crest explained:
This is a solid step in our corporate growth, as it provides necessary capital to continue to execute our growth plan. It indicates the faith and trust our banking partners have in our plan and people.
After closing on the new credit line, Campus Crest added three assets to the unencumbered pool of the (credit) facility, resulting in nearly 60% of the company's wholly-owned operating assets being unencumbered - a true indication that the company is edging closer to an investment grade rating.
Plenty of Zest for Campus Crest
As new apartment construction has begun to push vacancy rates in 2013, a trend growing more pronounced in 2014, the apartment sector has driven returns (and valuations) through the roof. Many markets today are starting to see signs of excessive apartment construction and the supply and demand fundamentals are getting closer to equilibrium levels.
However, the specialty apartment sector - campus housing - looks attractive.
While Campus Crest isn't the biggest player in the specialty campus housing sector, I like the more nimble pick. Campus Crest offers a uniquely advantageous proposition that rewards investors for higher development yields that are generated by organic construction and development. That translates into bigger dividends.
Campus Crest opened up an 8.0% perpetual preferred offering a year ago (Series A) and the common shares are trading at $12.60 per share. The current shares offer a sporty 5.24% dividend yield - well above the peer yield of 3.98% and the apartment sector of 3.73% (as of Dec 31, 2012).
Campus Crest is growing its dividend and that means that the company is thinking about investors. Translation: American Campus has forgotten to "show the love" for dividend investors and it appears that dividend growth is not as important. Well, it is to me. Above the rest, I'm picking Campus Crest because it's got plenty of zest.
Sources: SNL Financial, FAST Graphs, Campus Crest Website

Disclosure: I have no positions in any stocks mentioned, and no plans to initiate any positions within the next 72 hours. I wrote this article myself, and it expresses my own opinions. I am not receiving compensation for it (other than from Seeking Alpha). I have no business relationship with any company whose stock is mentioned in this article.