As economic growth has slowed over the past five years, corporate earnings have unfortunately followed. The "New Normal" is a time of slow growth and persistently high unemployment, and in this time companies with substantial long-term growth prospects have gotten increasingly precious.
In this article, I will go over four of my favorite "growth" companies. You'll know most of them, maybe all. But its not just any growth. I picked these four because they have a few things in common:
They are in secular growth areas where the trend is poised to continue for at least a few years
Have earnings growth which is of high quality. Margins have been maintained or expanded
Have manageable levels of debt and
Typically offer double-digit dividend growth
All of these companies will be looked at from a fundamental value perspective, and I will explain the respective growth thesis for each one. I will list them from least conviction to most conviction and provide some fundamental analysis.
IBM (NYSE:IBM): Mode Modest, Blue Chip Quality Growth
IBM is an Information Technology company that operates in services, software and systems/hardware. Their five segments are Global Business Services, Global Technology Services, Software, Systems and Technology, and finally Global Financing.
Cash Flow to Debt ratio: 83.5%
Dividend Growth (three year avg.): 14.3%
The compelling story behind IBM is that it has been turning toward higher value, higher margin software and services over the years. Even as earnings per share have grown in the double-digits for ten straight years, operating margins have continued to improve.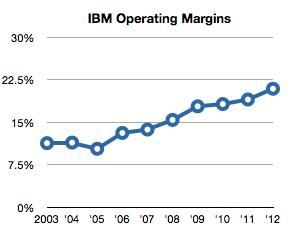 Chart by author, data from Morningstar and 4Q 2012 Earnings Presentation
In addition, they have an intense focus on four different areas of long-term growth: Growth Markets (emerging markets), Business Analytics, known as cognitive computing, The Cloud, and finally Smart Planet Initiative.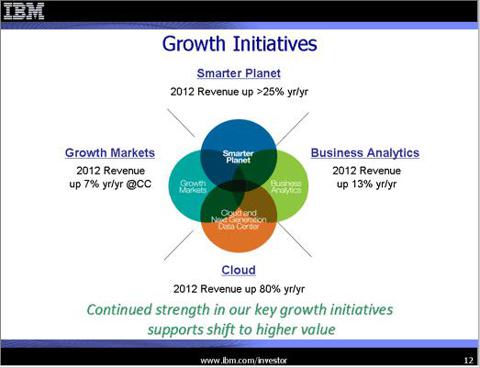 IBM 4Q 2012 Earnings Presentation
Lets explain some of these four initiatives in layperson's terms. First, and perhaps hardest to understand, is Business Analytics. At the May 2012 Investor Day, CEO Gini Rometty cited a new third era in computing, one of cognitive systems, or systems that actually learn. The first two eras, by the way, were tabulation and then programmable computers. The previous two eras lasted for decades, and so too will the era when computers don't just process data, but also learn.
Watson, a computer system designed by IBM to quickly answer questions with pinpoint precision, is one of the first manifestations of cognitive computing. Maybe you saw it competing with human contestants at the game of Jeopardy. Watson is a sophisticated system that does not just search on keywords, but understands idiomatic expressions, puns, linguistics and can parse clues and come up with answers.
Second is the Smarter Planet initiative, which means bringing computers out of the data center and putting them into things we wouldn't normally consider:power grids, appliances, industrial equipment, roadways and consumer devices in an interconnected world. Creating a tsunami of data, the value IBM brings is interpreting and finding insight from that data.
Thirdly is Cloud Computing, which is software as a service over the internet (not on discs or on-site storage). Over 1 million enterprise users are working on the IBM cloud as of May of 2012. IBM has quietly become the leader in cloud computing through both its Smart Cloud and private clouds used by enterprises. Looking at the above graphic, it is a major growth driver for the company.
Most reassuring to growth investors is IBM's roadmap: a plan to grow earnings from $11.60 to at least $20 by 2015. As of today, IBM is a little ahead of schedule on this plan.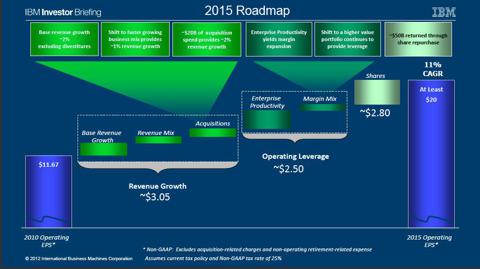 IBM 2012 Investor Breifing
We can see that EPS growth comes partially from revenue, partially from operating leverage and partially from share buybacks. Management will be quick to say that operating leverage does not mean cost-cutting and layoffs. It comes primary through productivity increases. Though there are only three years left in this plan, I am confident IBM will hit these targets and that the result will substantial growth until then.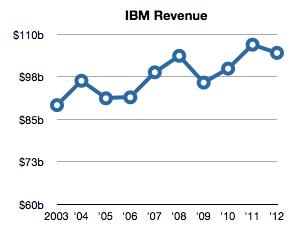 Chart by author, data by Morningstar and 4Q 2012 Earnings Presentation
The one legitimate concern is that revenues have not kept pace with earnings. This is why IBM is on the bottom of my conviction list. In fact, this year, they were down slightly. While revenues are forecasted to start growing again in 2013, most of the EPS growth comes from acquisitions, productivity, margins and share buybacks.
I fully believe IBM will hit its $20 EPS target by 2015. What kind of growth will we get out of IBM after is less sure. However, IBM has a history of avoiding the commoditizatoin part of the technology cycle, constantly reinvesting and bringing on that elusive "Act Two" that seems so hard for other technology companies to have. IBM can continue to find and focus on where the value and growth is. Its part of their DNA.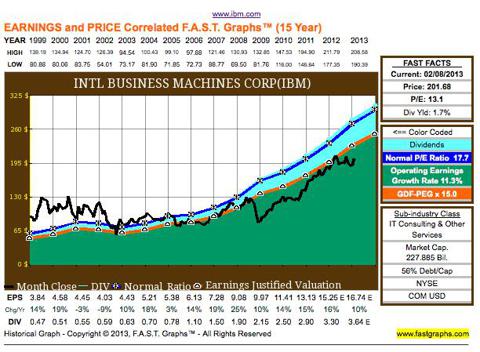 Looking at the FAST Graph, IBM's price is still below its Fair Value line in orange. Trading at a trailing P/E of under 14, IBM looks like an OK buy at these levels. Remember, earnings will likely grow at over 10% compounded levels for at least the next two years, driving that orange Fair Value line, along with the dividend, substantially higher.
Qualcomm (NASDAQ:QCOM): A Deep Reservoir of Global Smartphone Growth
Qualcomm is the world's largest semiconductor, chipset and software producer, which powers the majority of commercially available 3G smartphones today. Not tied to one hardware product, they supply many smartphone makers with chips, semiconductors and software.
No long-term debt
Dividend Growth (three year avg.): 13.7%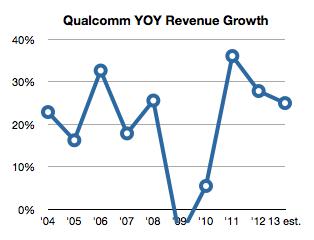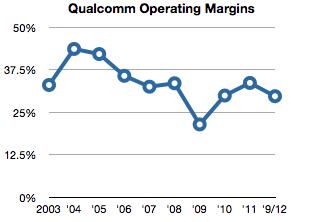 Charts by author, data by Morningstar and Qualcomm Q1 FY13 Earnings Conference Call
Qualcomm's growth thesis is relatively simple: the worldwide adoption of smartphones. This company has rewarded its shareholders with revenue growth of over 20% for most years, in many cases over 30% by riding and mastering this unstoppable trend. 2013's guidance is right on track with these growth numbers. While we are no longer in the early innings of this story, there are still a number of years left of growth remaining.
To see how far we might be in this phase, take a look at Everett Rogers' Diffusion Curve, which pertains to adoption of new consumer technology.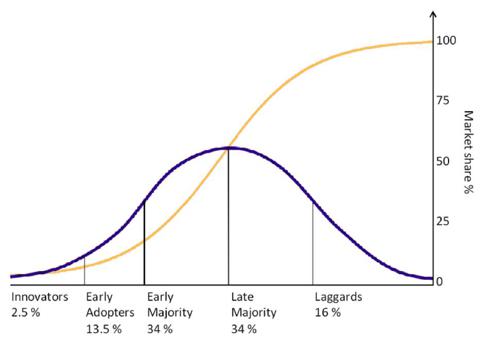 Everett Rogers, Wikipedia article
For those who are not familiar with this curve, the yellow line represents the percentage of market penetration for any successful new consumer technology. We can see the inflection point, where growth starts to slow, is at about 50% market share penetration. However, we can also see that there is still much growth to be had up to about 75% penetration. Lets take a look at smartphone penetration rates around the world to see what might be ahead for Qualcomm.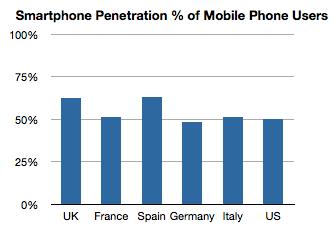 Chart by author, data by Comscore, Nielsen
As we can see, the developed world has mostly hit its "inflection point." This means that growth in smartphone usage in western Europe and North America will slow. Shipments will slow along with it. Qualcomm's wager for growth is on the developing world, where they foresee huge compound annual growth in smartphone shipments.
Unfortunately, the data for developing market penetration is shaky, and there is a variance in many of the numbers. Even with that variance, we can still see that the emerging markets have a lot of opportunity for growth remaining.
| | |
| --- | --- |
| Country | Smartphone Penetration Of all Mobile Users |
| Brazil | 20s% |
| China | 30s% |
| Russia | 30s-40s% |
| India | 4%* |
| Africa, continent | 17-19% |
Data for Brazil, Russia and China by kpcb.com Internet Trends Update, Our Mobile Planet 2011 Report, Africa data by African Telecoms News, Indian Data by kpcb.com, but is likely higher than was reported as kpcb data has consistantly shown lowest penetration.
Qualcomm, for the record, is betting on this growth from the emerging markets through 2016. They estimate emerging market smartphones to go from 0.8 billion in 2011 to 2.7 billion in 2016. Sixty percent of total smartphone demand will come from emerging markets at this time period. Most exciting of all, management sees triple digit growth from all emerging regions in this period as well:
China smartphone shipments are set for 34% compound annual growth [CAGR] though 2016
Latin America shipments at a 27% CAGR through 2016
Indian shipments at a 39% CAGR through 2016
Middle East and Africa to have 232% overall smartphone connection growth from 2011-2016
Data from Qualcomm 2012 Analyst Meeting
When we look at the huge estimates for emerging market growth, with continued but scaled back growth in the developed world, we can see a picture of overall double-digit income growth through 2016.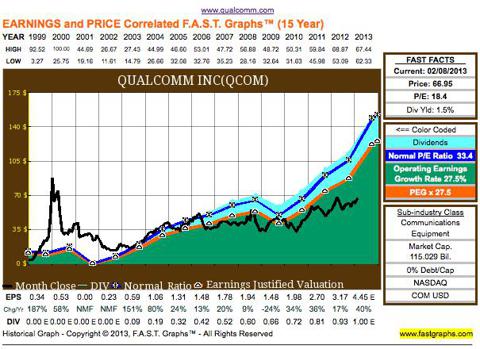 FAST Graphs
Qualcomm here is well below its fair value. Those looking for growth should seriously consider adding this stock as there is a lot of room for it to climb higher. The market seems to be pricing in much slower growth, but as we have seen there are at least 3-5 years left in this story.
Core Laboratories (NYSE:CLB): A Lower Risk Servicer in a World of Expensive Oil
Core Laboratories is a mid-cap oil servicer focusing only on production enhancement and reservoir optimization. It has carved out a niche for itself by developing patented technology. By focusing on intellectual capital as opposed to heavy machinery, Core has put up superior returns on investment as well as consistent margins.
No long-term debt
Dividend growth (two year avg.): 13%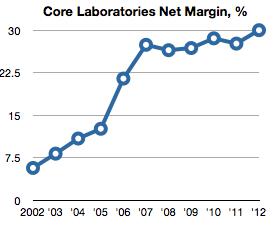 Charts by author, data by Morningstar and Core Labs 4Q 2012 Earnings Presentation
Core operates in three business units: Reservoir Description, Production Enhancement and finally Reservoir Management. The company's goal is reservoir optimization. This is done through characterizing and appraising new reservoirs and then maximizing production through its patented technology and know-how. On average, only 40% of all oil is recovered in reservoirs today. Core's goal is to increase that in every job.
As I mentioned before in my previous article, Core has lowered its risk profile relative to other oilfield servicers by servicing production and not exploration. Oil companies are much more likely to cut capital spending for the exploration of new fields rather than for fields already in existence.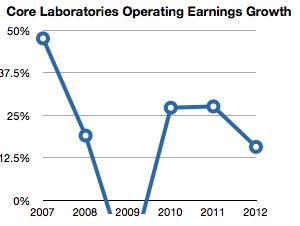 Chart by author, data by Morningstar
While Core's growth may not be higher than Qualcomm's, I placed Core a spot above Qualcomm on my conviction list due to the longevity of the secular trend it is riding: High oil prices and slim spare production capacity have caused Exploration and Production budgets to rise parabolically. This trend seems here to stay indefinitely, as even newly discovered fields require more capital and effort to exploit.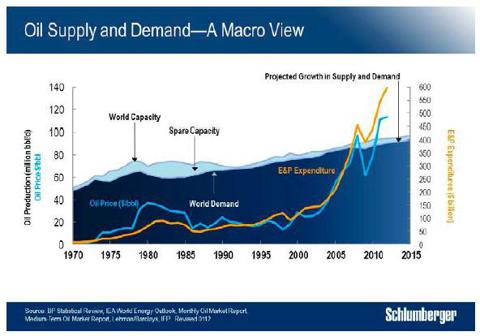 Data by BP Statistical Review, IEA World Energy Outlook, Monthly Oil Market Report, Medium Term Oil Market Report, Lehman/Barclays, IEP. Chart by Andrew Gould, presented on Barclays Capital Commodity Conference
According to Schlumberger's former chairman Andrew Gould, who periodically has some very educational talks on the energy landscape, there have been a few factors leading to this rise in exploration and production (E&P) spending. The first of which was and is the growth in Chinese demand over the past ten years. Second is the "cushion" of excess supply going away: the three primary fields opened in response to the oil shocks of the 1970s, Alaska, Mexico and the North Sea, simultaneously went into decline as Chinese demand grew. The ensuing rapid oil price increase led to the parabolic rise in E&P spending, leaping from $130 to $545 billion between 2000 and 2011.
Supplying the needs of oil exploration and production companies, Oilfield servicers are the biggest beneficiaries of this trend. While the impressive growth in oil production over the last five years may prove that we aren't running out of oil, it has proven that the new discoveries will be increasingly remote and require more capital and expertise to get at. As long as that is the case, Core will have ever-increasing demand for its unique ability to enhance reservoir recovery rates and squeeze out that all-important marginal barrel of oil.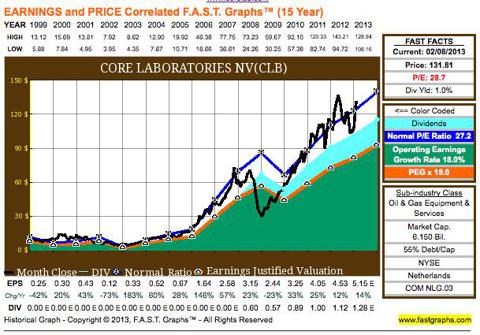 FAST Graphs
Core is trading well above its fair value, here. Fortunately for those who are interested in this company, the stock is prone to frequent steep drops of around 10%. Often expectations get "hyped up" by overly bullish market sentiment, only to be "disappointed" when results do not match those expectations. The result is sudden, significant drops which prove to be opportunities. Wait for these moments and don't be too hasty.
Visa (NYSE:V): A Secular Trend To Last For Decades
I believe that finding a good long-term growth story is much like running a marathon. The steady grower, in a market set to grow for multiple years or even decades, will overtake that which grows in short, limited sprints of just a few years. Few secular growth stories are as long as the worldwide shift from cash to electronic transactions. That is why Visa sits atop my conviction list for growth stocks.
Visa is a global payments technology company which processes payments on debit cards, credit cards and mobile ecommerce. Importantly, Visa does not carry any consumer credit card debt, but simply operates the payment network which those cards are on. Their source of revenue comes from fees to its clients based on transaction volume.
Visa has no long-term debt
Dividend growth (three year avg.): 37.3%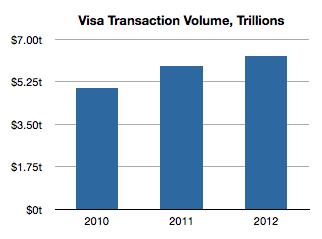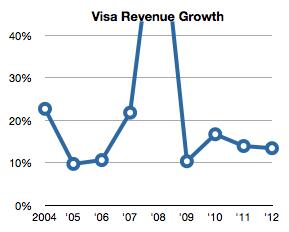 Visa's margins have expanded despite the growth, a true sign of not only high-quality growth but also of excellent management.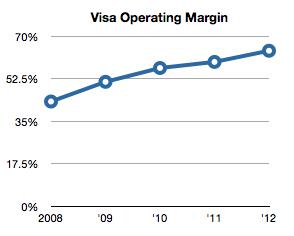 Charts by author, data by Morningstar and Visa Q1 2013 Financial Results Conference Call
And while Visa might be most famous for its credit and debit cards, it is making strides to remain relevant in mobile payments and e-commerce, too. They have launched new programs such as v.me, allowing users to shop online or on their mobile account without sharing credit card information with merchants in a PayPal-like fashion. Also, Visa has recently acquired CyberSource, a global processing platform that serves multiple brands including PayPal and all major credit cards. It is estimated that CyberSource plays a role in 25% of all ecommerce transactions today.
Visa has said many times that it expects year on year operating income to grow in the low double digits. This is long-term trend and there is no definite time horizon for this estimate. CEO Charles Scharf, in the most recent earnings call, said that the "runway (of growth) is long and steep" and that the company's goal is to earn success day by day. This means that in five years, for example, the growth estimate "must be as good as it is now."
The global shift to electronic payments will likely be one that lasts for decades. Simply put, Visa offers steady, almost indefinite secular growth, which is why it is number one on my list.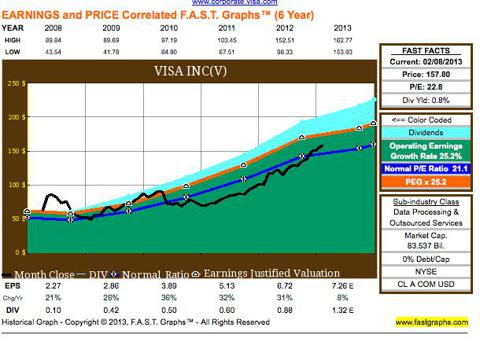 FAST Graphs
According to FAST Graphs, Visa is below its fair value line, which is factoring in an average EPS growth rate of 25%. But keep in mind that average factors in growth since its IPO, which was not long ago. Even with buybacks that average might be a little excessive for today. In my opinion, the safer line to fall back on here is the normal P/E ratio of 21.1. It is above that right now.
Stay Tuned
All four of these companies have exciting prospects, and I intend on following all of them and providing updates when relevant and material.
Disclosure: I am long IBM, CLB, QCOM. I wrote this article myself, and it expresses my own opinions. I am not receiving compensation for it (other than from Seeking Alpha). I have no business relationship with any company whose stock is mentioned in this article.