I felt that in light of a string of particularly negative comments on my last article, coupled with some very unsavory private messages sent to my inbox, that I would take the time to clarify my stance on shares of Qualcomm (NASDAQ:QCOM) following my recent article, "Is Qualcomm Losing Its Luster?"
Qualcomm Is Still The World Leader In Cellular Modems
In my previous article, I noted that Qualcomm's clear leadership in modem technology (Qualcomm has been shipping LTE modem processors for a long time while competitors struggle to get their first designs to market) was a valuable asset in allowing it to take the US smartphone market by storm with its Snapdragon S4 + Modem technology. While I recognize that Qualcomm's products are best-in-class, and I further believe that the reputation that the company has established will allow it to gain the upper hand while negotiating with vendors for the next generation smartphone sockets, my point about new competitive pressures from other vendors is ultimately trying to make the following point:
Device Makers Will Have A Choice Next Year: Heretofore, phone vendors had one choice, and only one choice, for viable LTE solutions: Qualcomm. With the introduction of competitive pressures from Broadcom (BRCM), Intel (NASDAQ:INTC), Nvidia (NASDAQ:NVDA), and even Samsung's (OTC:SSNLF) own home-grown LTE product, Qualcomm will see its pricing power weaken. This is not "bashing," this is simple economics: more suppliers means lower gross margins, even if Qualcomm ultimately gets the win.
Lower Gross Margins Impede Growth: When gross margins come under pressure, top and bottom line growth is affected. To what degree the other players will be competitive, and whether any of the aforementioned players will have a cost structure advantage (it is not clear if Intel will still be contracting with Taiwan Semiconductor (NYSE:TSM) to fab its modems; if so, the in-house fab argument still does not apply in this area).
Qualcomm will still have the advantage of scale against the other players which should allow for continued pricing power in the near-to-medium-term, but it is clear that there will be some impact to market share/pricing power.
Sentiment Drives Multiple
There are two major components to stock price: earnings-per-share and earnings multiple. Unusually strong balance sheets (Qualcomm's is actually very strong) with a lot of cash can help to artificially inflate the earnings multiple, so it is actually more important to look at EV/EBITDA. Right now, Qualcomm trades at a premium to its peers in the semiconductor space (albeit nearest competitor Broadcom is similarly pricey, and Intel's business is very capex intensive, so EV/EBITDA is less meaningful a metric for this company):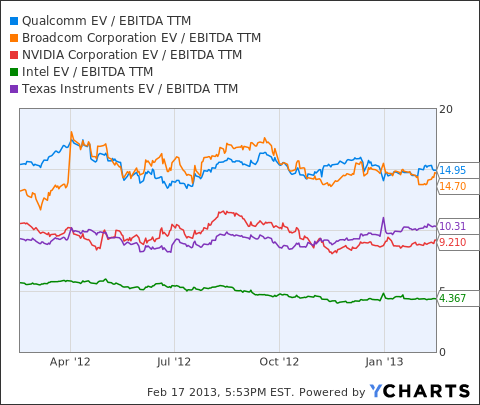 QCOM EV / EBITDA TTM data by YCharts
However, you can clearly see that Qualcomm is certainly not getting any "disrespect" by the market: it's the largest semiconductor by market capitalization, trades for 15x EBITDA, and sentiment is still quite positive on the name. It's just a hair away from its 52-week high and more positively, not all that too far away from its all-time highs seen in the tech bubble.
The concern I brought up in the previous article (and which I was repeatedly flamed/bashed for) was that in light of competition from multiple vendors, the market may not be so willing to pay the multiple that it does today. I am confident that Qualcomm's earnings for FY2013 will be at least in-line with the newly raised guidance, which means that the multiple should come down slightly on a GAAP basis (Qualcomm is projecting 3% - 9% EPS growth there) even at current prices. However, examine the following table from the most recent earnings report:

Note that ASPs for 3G/4G devices (which is what drives the QTL, Qualcomm's main profit driver) are expected to remain flat Y/Y, despite several years of fairly solid increases. Given the current trends in the smartphone space, and given the continuous improvements in the low end of the space, it does not seem unreasonable to expect that ASPs may have peaked in FY2013 and could be on a downward trajectory from here on out. I don't have a crystal ball, but investors need to objectively view the information here: with $100 - $150 smartphones shipping in China that have features that rival premium phones here in the states, is it so unreasonable that the ASPs are set to decline over the longer term?
That being said, I argued that device volume growth could offset ASP declines, and further did not agree that this would be a near-term problem for Qualcomm. I did, however, point out that competition in the 4G LTE space would also prove incrementally negative to sentiment. In particular, while others are so quick to dismiss the efforts from other players (and given Qualcomm's leadership position in this space, there needs to be doubt), I merely note it as a potential headwind to sentiment. It is a much tougher spot to be in to defend a near-monopoly position than it is to try to grab market share if you can come up with a competitive product.
So, We'll See
We will just have to see if the other players can be competitive on 4G LTE devices. A lot of the time, this stuff turns out to be "fluff," especially from micro/small-cap players new to the space, but Broadcom and Intel (via Infineon Wireless acquisition) are established players in the modem/RF markets. Nvidia is a wild card (albeit a very well run one), so I hesitate to discount them as a potential pressure to Qualcomm.
I reiterate my stance that Qualcomm is a strong leader in its field with a bright future ahead, but merely point out that the mere whiff of competitive pressures will give the "herd" pause, and as a result, may lead to a lower earnings multiple.
So, before you send hate-mail to my inbox, consider that I am merely making an observation and, like everyone else, do not have a crystal ball. I do, however, know that the pressure to keep one step ahead of its competitors will be "on" for 2014 and beyond for Qualcomm.
Disclosure: I am long INTC, NVDA. I wrote this article myself, and it expresses my own opinions. I am not receiving compensation for it (other than from Seeking Alpha). I have no business relationship with any company whose stock is mentioned in this article.
Additional disclosure: I may go long QCOM or BRCM at any time via short puts, long calls, or bull put/call spreads.