On the second weekend of this January, Barron's readers were treated to an article that mentioned and spoke positively of BreitBurn Energy Partners (BBEP), a $1.5 billion oil and gas Master Limited Partnership [MLP] in the US with a distribution yield in the mid-9% range. The stock proceeded to climb from about $20 per share to a spike of $21.75, presumably on increased interest from readers.

Click to enlarge
The climb was temporary, however. Share prices returned to orbit on a habit of BreitBurn inherent to its business model: secondary stock issuance, which dilutes the ownership of existing shareholders. By February 7th, BreitBurn was back down to $19.75, a few cents below the price of the secondary offering, dropping by nearly 10 percent.
While the respective capital manager who mentioned BreitBurn gave sound reasons for liking this high-yielding MLP, those who weren't cautious got burned. In this article, we will take a closer look at BreitBurn, which I feel does offer compelling long-term value as a way to be involved in North American energy production. I will examine management's goals and the actions they take to get there. The layperson must understand management's views in order to avoid being burned as many Barron's readers undoubtedly were.
BreitBurn Energy is an independent oil and gas MLP that acquires, exploits and develops properties in the lower 48 states. Their production assets, ordered from most to least, are located in the Antrim Shale in Michigan, several basins in Wyoming, the Los Angeles Basin in California, the Sunniland Trend in Florida, and the New Albany Shale in Indiana and Kentucky. In addition, they have recently acquired land in the Permian Basin of west Texas.
The company was founded by two Stanford undergraduate geologists, Hal Washburn and Randy Breitenbach, in the late 1980s on the premise that technology would bring large amounts of oil and gas discoveries in North America. BreitBurn's goal is to acquire properties with long-life reserves, exploit and possibly further develop them and return the cash to shareholders. They do not engage in exploration.
Breitburn is a Master Limited Partnership, which means that it has the limited liability benefits of a corporation while income is taxed only at the shareholder level as a partnership. Because of this tax status, as well as having no exploration budget, BreitBurn is usually able to offer a high yield as cash distributions.
Debt and Dividends
Before looking at some of BreitBurn's long-term goals, lets first look at debt levels and the dividend coverage ratio.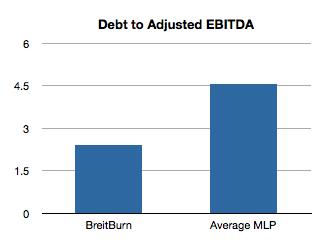 Chart by author, data by Factset and MLP Hindsight, 2011
The debt to adjusted EBITDA ratio, as of December 2012, was 2.5, well below the industry average. Management's goal is to maintain this low leverage ratio while funding acquisitions with 60% equity and only 40% debt.
Their Distributable Cash Flow to Dividend ratio of between 1.1 and 1.2, however, is a bit lower than the industry average of 1.3 times. This means that for every $1.10 of distributable cash that BreitBurn earns, $1 is distributed, not leaving much of a cushion. This number may improve as BreitBurn continues to grow its production and cashflow.
Conservative Hedging Locks In Cashflows
(click to enlarge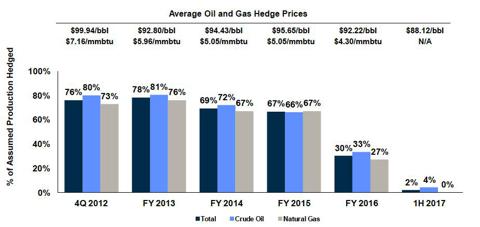 Click to enlarge
Wells Fargo 11th Annual Pipeline MLP Symposium, Dec. 2012
This above graphic from a recent roadshow presentation concisely sums up BreitBurn's hedging strategy. Over 2/3rds of the company's production is locked until 2016, ensuring a stable cash flow even with the possibility of massive price fluctuations. This adds to the safety of BreitBurn's dividend.
Acquisitions As Central Strategy
Since BreitBurn does not do any of its own exploration, their primary way to grow production and reserves is through making strategic acquisitions. Understanding, then, that the value of this company will mostly depend on the land they acquire, management explicitly states that they are very selective in this process. For example, in 2011 management screened 196 available properties but closed only two. In 2012 they looked at over 300 but acquired only three pieces of land.
Management adopts a low-risk model when searching for land to acquire, looking for proven reserves with a long reserve life and low rates of terminal decline. Also, they are looking for possibilities of exploitation and production upside to further increase the reserve life. Taking the low-risk approach, along with their hedging program, has made for predictable cashflow, and is a major reason why the company's distribution yield is so high.
Lets take a look at their five most recent acquisitions: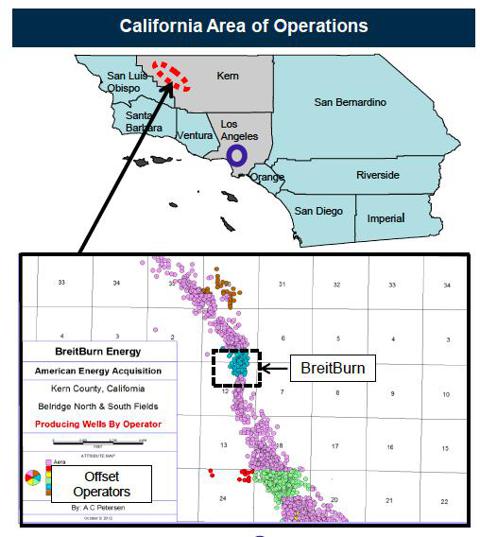 Click to enlarge
Kern County, southern California - In December 2012, BreitBurn paid $40 million + 3 million common stock units for an estimated 3.8 M barrels of oil equivalent [BOE] in Kern County. It is 85% oil and of high quality. Most of all, California oil is priced in Brent because West Texas Intermediate oil has no way of getting to California at this time. This is very desirable, high-margin, high-quality oil. It is expected to last at least 12 years. One gets the sense that management felt fortunate to acquire this property as there are not many available deals in California and the few that are available are scooped up by a larger independent company.

Click to enlarge

Permian Basin, Texas - In June and July of 2012, BreitBurn paid a combined $218 million for 9.5 MMBoe and entry into the Permian Basin oilfields of west Texas. This will be immediately accretive to distributable cash flow with an estimated reserve life of 13 years. Management is confident, however, that with their capital program they will be "drilling for decades" in the Permian.

Click to enlarge

Big Horn Basin, Wyoming - In June of 2012, BreitBurn made a $95 million "bolt on" acquisition for 5.9 MMBoe in the Big Horn Basin of Wyoming. This is 100% oil and ajoins two existing Big Horn properties. The estimated reserve life is over 20 years.
Evanston Basin, Wyoming - In July of 2011, the company closed on a nearly all natural gas acquisition of 38.3 MMBoe for $281 million. This was done to increase the Wyoming presence.
Greasewood Field, Wyoming - In June of 2011, the company closed on a low-risk drilling opportunity in the Powder River Basin. Its proven reserves are 2.95 MMBoe and it is 100% oil with a reserve life of 14 years. After these three acquisitions, Wyoming is now BreitBurn's #2 state in production volume, second to Michigan. Wyoming has been of special interest to BreitBurn as it is an area where there is less competition for bids and land.
Above graphics and information from 2012 and 2011 Wells Fargo Pipeline MLP Energy Symposiums
BreitBurn is likely not finished acquiring land. Management is still actively pursuing new acquisition opportunities that meet the criteria listed above and has stated they will be in acquisition mode for quite some time. They believe that the lower 48 states has substantial amounts of oil and gas yet to be discovered and developed.
Organic Growth by Exploitation and Development
In 2012, BreitBurn has been spending capital to increase production in its legacy assets. And since they have made a number of new acquisitions lately, capital spending has continued to increase as management looks to better exploit and develop these new properties, too.
Drawing on management's deep bench of experience in finding and developing oil, BreitBurn believes it can organically grow production in both legacy assets as well as those newly acquired.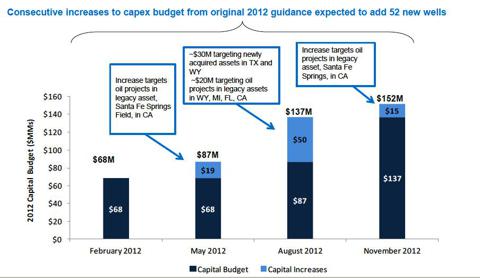 Click to enlarge
Secondary Offerings for Acquisitions
Like many other MLPs, BreitBurn has a targeted debt to equity goal for acquisitions. BreitBurn's is 60% equity and 40% debt while maintaining a leverage ratio which is significantly lower than other MLPs.
The company is in a growth phase. Investors must understand, then, that BreitBurn will turn to secondary, dillutive stock offerings in order to fund its growth acquisitions. Since May of 2011, there have been five secondary offerings, four of them are shown in the below graphic.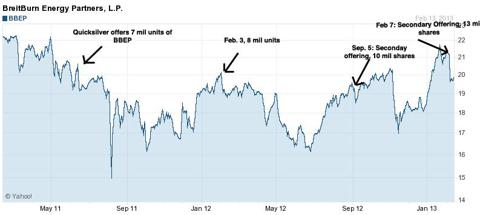 Click to enlarge
Chart by Yahoo! Finance
Conclusion
While looking at the above graphic, keep in mind that the company's last reported book value was $19.71 per share. Management often takes the opportunity to raise cash through equity when shares rise above $20. Sure enough, when increased interest from readers drove BBEP up to nearly $22, management took advantage and issued shares below $20. The result of these secondary offerings is always a sharply lower stock and this instance was no exception.
Trading at book value, the dividend yield is over 9.5%. At this level, investors are discounting scheduled future production. They are pricing in Breitburn as a purely depletive business with little chance for organic growth through development and exploitation improvements. Therefore, anything near the $19.71 area is a good place to start accumulating shares of this partnership, especially if you believe North American oil and gas production will increase for decades.
Buying after the secondary offering gives the not only security that the stock has already faced huge selling pressure, but also a cleaner balance sheet as the company uses the proceeds to pay down debt.
BreitBurn can now be bought both near book value merely a week after its latest secondary offering. This may be a good time to start a position in BreitBurn, but do understand what you are getting into. It's likely that more acquisitions will happen, and therefore, more secondary offerings could be forthcoming. It will likely be a bumpy ride.
Disclosure: I am long BBEP. I wrote this article myself, and it expresses my own opinions. I am not receiving compensation for it (other than from Seeking Alpha). I have no business relationship with any company whose stock is mentioned in this article.