Investment Thesis
Halliburton Co. (NYSE:HAL) has gone through a tough year, but has still managed to post record revenues for the fourth quarter. Although its domestic business struggled in 2012, it believes that by slowly rebuilding its North American margins and cutting costs through their "frac of the future" initiative, Halliburton can improve its earnings after coming out of a rough 2012. After the struggles in 2012, CEO David Lesar believes "in the long-term fundamentals of the gas business and they are not going to abandon the market." I believe that it is a good idea to buy the stock on the next pullback at around $39.00 since the stock is trading very close to the 52-week high.
Company Report-Initiation of Coverage
Rating & Target
BUY
Target Price (18 months): $48.00
Current Price (02/15/2013): $40.71
Total Return to Target: 17.91%
52-Week Range: $26.28-$43.96
Market Data
P/E Ratio (TTM): 15.38
Beta: 1.61
Market Capitalization (Mil.): $39,788.42
Shares Outstanding (Mil.): 931.81
Dividend: $0.09
Yield: 0.84%
Company Description
Halliburton Co. was founded in 1924 and is headquartered in Houston, TX. The Company provides services and products to the energy industry related to the exploration, development, and production of oil and natural gas. The company operates through two segments; Completion & Production and Drilling & Evaluation. The Completion & Production segment delivers cementing, stimulation, intervention, pressure control, specialty chemicals, artificial lift, and completion services. The Drilling & Evaluation segment provides field and reservoir modeling, drilling, evaluation, and wellbore placement solutions that enable customers to model, measure, and optimize their well construction activities.
1-Year Performance

Source: Morningstar
Investment Overview
Strong fourth-quarter earnings but lower profit margin
On January 25, 2013, Halliburton declared earnings of $0.63 a share versus Wall Street view of $0.60. These earnings were lifted above expectations by the Company's overseas business during the fourth quarter. However, this dependency on foreign business also shows how tough the market is for North American oilfield services due to the abundance of natural gas. Strong margins in the Middle East, Asia, Europe and Africa helped make up for a 58% drop in operating income in North America. In a reversal of past quarters, 53% of Houston-based Halliburton's profits came from outside its home market, helped in part by the growth of hydraulic fracking abroad. CEO David Lesar claims, "Globally, 2012 was a watershed year for the expansion of unconventionals," noting that the Company's work on the first unconventional wells in China and Australia and moves toward them in Saudi Arabia, Mexico and Argentina. In the fourth quarter of 2011, Halliburton made only 22% of its operating earnings in international markets. Oilfield companies' pricing power, especially for the pressure pumping fleets used in fracking, has evaporated as the number of U.S. rigs targeting gas hit 13-year lows.
Positive 2013 outlook
North American land drilling is likely to remain subdued this year as oil and gas companies forecast spending around 2012 levels. The Company expects the North American rig count to improve from fourth quarter levels in 2013, though it will be down slightly compared to 2012. It views the fourth quarter as a low water mark for profit margins, which at 12% were half of what they were at the start of 2012 and what the company considers to be "normalized" levels. After last year's stockpiling of guar - a key ingredient for fracking fluid - at record-high prices, Halliburton now believes its guar inventory will be at market prices by the second quarter, which should drive down costs. Halliburton expects 2013 margins in the Eastern Hemisphere to average in the 15-20% range, which is better than some analysts' expectations. In the Q4 2012 earnings call, CEO David Lesar states that he is "optimistic about the coming year and our ability to rebuild our North American margins and realize continued revenue and margin growth in our international business.
"Frac of the future" initiative
This efficiency initiative may be causing Halliburton some discomfort in the short term. However, it is a perfect case study of how the drilling industry is innovating in response to pressure to cut costs and its environmental footprint. Working with Apache (NYSE:APA), a major gas producer, and Caterpillar (NYSE:CAT), an equipment supplier, Halliburton has started to convert some of its pressure pumping units employed in fracturing operations to a dual-fuel system that uses compressed or liquefied natural gas as well as diesel as a source of power. Natural gas is cleaner, burning than diesel, allowing the Company to claim its dual-fuel system cut carbon emissions and is more environmentally friendly. However, much more importantly, natural gas is abundant and cheap, especially in the oil and gas producing regions, while oil is six times as expensive, and diesel is the most expensive refined fuel of them all. In the long-term, this cost cutting can help Halliburton increase its profits as they transition from using oil and diesel to natural gas.
Negatives and possible risks
· 11.6% decline in gross profit in the fiscal year ended 12/31/2012 compared to the fiscal year ended 12/31/2011.
· Decline in gross margin from 20.21% in 2011 to 15.56% in 2012 due to higher fracking costs in oil-rich areas and declining demand for services in natural gas fields.
· 7% fall in net income from $2.84 billion in 2011 to $2.64 billion in 2012.
· Compared to the industry's average operating margin of 21.62%, Halliburton has an operating margin of 14.59%
· Closest competitors, Baker Hughes Inc. (NYSE:BHI) and Schlumberger Ltd. (NYSE:SLB), have higher EPS and gross margin than Halliburton.
Industry Overview
Halliburton is the top seller of services for hydraulic fracking in North America. One of its top competitors, Schlumberger said its fourth quarter earnings fell due to lower revenue from its international operations and a slowdown in North American onshore activity. Similarly, Baker Hughes said its worldwide rig count for January slid 5.7% from a year ago. Last month, Baker Hughes said its fourth quarter earnings fell as the oil-field services company posted a sharp drop in profits from its North American business. Producers have largely been retreating from natural gas drilling as the commodity's prices are near 10-year lows. Oil and gas companies have been shifting their production to oil-rich shale, unlocking the energy trapped in vast shale formations in the U.S. and elsewhere. Compared to these competitors, Halliburton has a good P/E ratio of 15.02 and a PEG ratio of 0.99 indicating that the stock is reasonably valued. As shown in the chart below, Halliburton has clearly outperformed its two competitors over the past year.

Source: Morningstar
Basic Technical Analysis
Since the short-term moving average (10-day) crosses the long-term moving average (50-day) around December 2012, which is when the stock started to rise, it is an indication of an upward movement in the stock as it has done so for the past three months. This uptrend is likely to continue as long as the Company increases its earnings for the rest of 2013 and onwards. However, on the negative side, the overlay of the Bollinger Bands shows that the stock price is closer to the upper band, which may be a sign that the stock is overbought.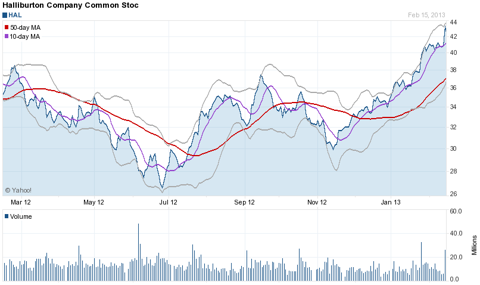 Source: Yahoo Finance
Conclusion
The fundamentals and growth potential for Halliburton make it a very appealing stock for investors to buy. Considering the record year they had with revenue totaling $28.5 billion, despite the challenges they experienced in the North American market, they have much upside in 2013 if they are able to increase their margins in North America and continue their growth internationally. I expect Halliburton to have a better 2013 than 2012, but still continue to post decent revenue growth. In the long-term, however, the Company should become more profitable as it will have a cheaper supply chain from the "frac of the future" initiative and natural gas wells will be in greater demand as the adoption rate increases.
Disclosure: I have no positions in any stocks mentioned, and no plans to initiate any positions within the next 72 hours. I wrote this article myself, and it expresses my own opinions. I am not receiving compensation for it (other than from Seeking Alpha). I have no business relationship with any company whose stock is mentioned in this article.