Introduction
In the recent past, I wrote a Three Part series about the ongoing pipeline boom in North America due to the rising domestic oil and liquids production attributed to horizontal drilling and fracking technologies that have revolutionized the energy industry. However, Alaska a.k.a. "The Great Land" coming from the Aleutian word "Alyeska", seems to be the exception of this rule, as it suffers from an oil shortage to fill the Trans-Alaska Pipeline System [TAPS].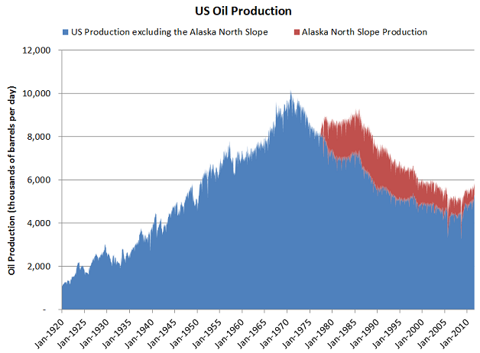 As shown above, the production from the Prudhoe Bay Oil Field, the largest oilfield in North America that covers 213,543 acres containing 25 billion barrels of oil, and other North Slope oilfields, has been in steady decline, and it was down from 2 million bopd in 1988 to 560,000 bopd last year, impacting negatively the entire Alaskan oil industry. This means that TAPS was operating at less than one third of its 2.1 million bopd total capacity. Another oilfield which is located at the Arctic National Wildlife Refugee in Alaska could potentially hold up to 10 billion barrels of oil and it could also feed TAPS. However, there is presently a drilling ban on it due to environmental issues.
According to the pipeline's operator, Alyeska Pipeline Service, the pipeline can not be reliably operated at throughputs lower than 350,000 bopd. The slower the oil moves through the pipeline, the greater the risk that water will separate from the crude and freeze at the bottom of the pipeline during winter, causing corrosion and cracks.
Former North Slope Borough Mayor Edward Itta says:
And if there's no oil going through the pipeline, that oil infrastructure becomes worthless, and our tax base goes down. I started realizing, that my biggest responsibility was maintaining the economic well-being of the borough, and that largely has to do with maintaining oil in the pipeline.
The Trans-Alaska Pipeline System
This pipeline was built by a consortium including Fluor Corporation (NYSE:FLR), which benefits much from the ongoing pipeline projects of North America, and Michael Baker Corporation (NYSEMKT:BKR), whose stock rose a lot recently because it is an acquisition target.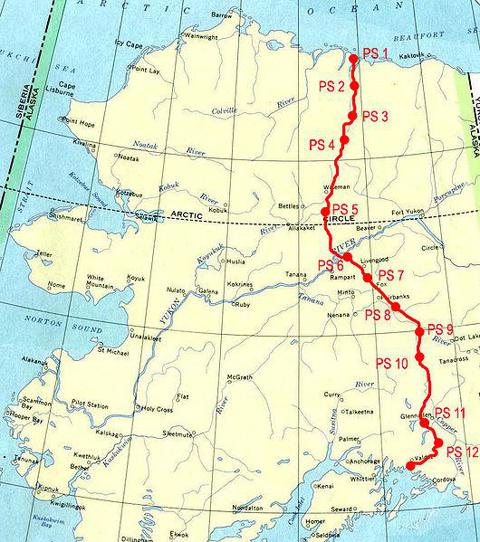 This 48-inch, 800-mile pipeline was built in 1977 at a cost of $8 billion to transport crude oil from the oilfields at Prudhoe Bay on Alaska's North Slope to the port in Valdez, where it is loaded aboard tankers for the journey to U.S. refineries. During the peak of construction, over 28,000 people were employed by Alyeska Pipeline Service company and its contractors.
The Potential TAPS's Fillers
The following companies have invested a large amount of money to expand their acreage in Alaska, and they have taken significant initiatives lately seeking production growth from their Alaskan acreage:
1) Royal Dutch Shell (NYSE:RDS.A): Despite the current oil shortage in the Trans-Alaska pipeline, the Alaskan Arctic remains one of the great untapped frontiers for offshore drilling in the USA. This is what made Shell say recently that it expected its 410 Alaskan offshore leases in the Arctic to become the company's biggest source of crude oil globally within 10 to 20 years. Such statement is too important for any investor to pass up. However, the Prudhoe Bay oil spill in 2006 and the explosion of BP's Deepwater Horizon drilling rig into the Gulf of Mexico in 2010 put a "hold" on any drilling effort in Alaska until August 2012, when a permission was given to Shell to initiate its $4.5 billion Arctic drilling program, despite environmentalists' fierce opposition.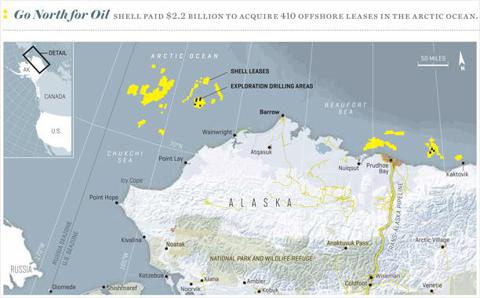 Shell invests big on its Alaskan projects, and it paid a whopping $2.1 billion on leases in 2008. Shell uses the drillship Kulluk and Noble's (NYSE:NE) Discoverer to drill in the Beaufort and Chukchi Sea, and it will start drilling into the Arctic waters this summer after repairing Kulluk, an oil rig damaged in December 2012 off the coast of Alaska.
2) Royale Energy (NASDAQ:ROYL): The company owns land in the Sacramento Basin and the San Joaquin Basin in California, Utah, Texas, Oklahoma, and Louisiana. In December 2011, Royale also acquired 100,480 net acres from the North Slope lease sale in Alaska, targeting the Shublik, Kingak and HRZ shale formations that have sourced Prudhoe Bay and Kuparuk River oilfields. This acreage is 22 miles south of Prudhoe Bay, and Royale will most likely take on a joint venture partner to mitigate the exploration risk of this acreage. The company has not provided a map for this acreage, and this is why I recommend all to check Conoco's map below (Block 749) to find more information about the location of this property.
Royale's Vice President of Exploration and Production Mohamed Abdel-Rahman in January 2013 addressed the prospectivity of the North Slope shale oil and its potential for replacing declining throughput in the Trans-Alaska pipeline. Dr. Abdel-Rahman, a former Standard Oil of Ohio (majority owner of the Prudhoe Bay Field) geologist, brings his 35 years' experience including his time spent working on the North Slope.
The company expects that the Western block (adjacent the Colville River) has both conventional and shale development potential, the Eastern block (40,320 acres) sits on the migration path of the oil which filled Prudhoe Bay and the Central block is host to an ongoing Halliburton/Great Bear Petroleum joint ventured test program.
A lot of success for its Alaskan properties has already been priced into the valuation of this player. As a result, the company trades well above its book value (PBV=5) although it has been losing money and its operating cash flow has been negative for several quarters. Royale is debt free but this is not enough to justify its current valuation. All in all, I believe that the stock has run too much because there is a long way for this small company to go until it produces oil in the harsh weather conditions of Alaska.
Hopefully, the bet will work for Royale and its Alaskan acreage will not be a dud as Montana's acreage seems to be now that the excitement has passed and the dust has settled.
3) ConocoPhillips (NYSE:COP): It is Alaska's largest oil producer and one of the largest owners of state and federal exploration leases, with approximately 1.2 million net undeveloped acres at year-end 2011. The company's main producing assets in Alaska are Kuparuk and Prudhoe Bay oilfields. Conoco's production growth in Alaska during the next couple of years will potentially come from these initiatives:
A) Chukchi Sea: ConocoPhillips was one of the major participants in the Chukchi Sea federal outer continental shelf [OCS] lease sale held in 2008. The company was awarded 98 OCS tracts with total lease costs of $506 million. Plans continue to progress for drilling an exploration well on the Chukchi Sea leases in 2014.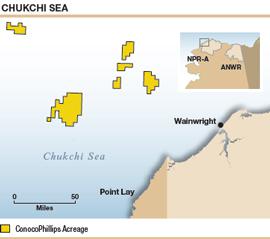 B) Shark Tooth: Shark Tooth #1, an appraisal well from the Kuparuk Field, was spud in January 2012. The well discovered hydrocarbons in the Kuparuk sands, in accordance with expectations, and confirmed mapped volumes. This area is being evaluated to assess further development potential.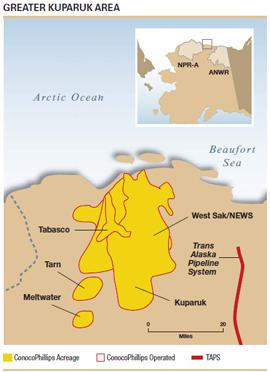 C) Block 749: The company was awarded as the Apparent High Bidder on Block 749 in Alaska's North Slope Areawide 2012W Lease Sale in November 2012, with a bid of $171.93/acre. The purchased block is immediately adjacent to Royale's Block 613, part of 33,736 acres in the company's Colville River holdings.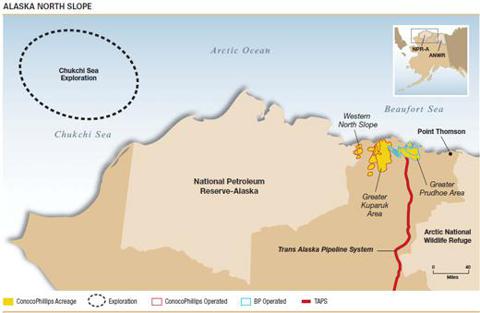 Conclusion
The publicly traded companies above have committed many resources and plan to deploy more capital in "The Great Land" during the next months. There are also privately-held companies (Hilcorp, Great Bear Petroleum, NordAq Energy) that are also ramping up their efforts to increase their production in this extremely cold State. No matter what the drilling results are, all the companies must be environmentally sensitive to protect the wildlife, the whales, the sea lions and other marine mammals of Alaska's ecosystem. Valdez oil spill is still in mind and any environmental damage of the same size will put on the shelf all the exploration plans for many years.
Disclosure: I have no positions in any stocks mentioned, and no plans to initiate any positions within the next 72 hours. I wrote this article myself, and it expresses my own opinions. I am not receiving compensation for it (other than from Seeking Alpha). I have no business relationship with any company whose stock is mentioned in this article.