We wanted to share some thoughts about Omeros (OMER), our top pick in the biotechnology industry, which fell from its long-term highs and is currently vastly undervalued. Moreover, Omeros has not yet been discovered by most investors, and has fundamental catalysts in place that are expected to drive its stock price higher. Omeros also has highly positive analyst ratings, with one-year price targets that are about more than double the current price.
Let's take a look at the company's upcoming catalysts as follows:
NDA submission for OMS302 - OMS302, the company's lead drug candidate, is a surgical irrigation solution that aims to assist surgeons during lens replacement surgeries by maintaining pupil dilation, as well as reduce postoperative pain. Maintenance of pupil dilation is important for lens replacement surgery; a pupil that shrinks during surgery increases the amount of time necessary to complete the procedure and risks damage to structures in the eye.
On January, Omeros announced it has completed the 90-day safety database lock in the second positive Phase III trial of OMS302 in 416 patients undergoing intraocular lens replacement surgery (ILR), randomized 1:1 to OMS302 and placebo. The adverse event profile of OMS302 was similar to that observed in its previous clinical trials, and the incidence of adverse events was similar between the two treatment groups. No safety concerns have been identified during OMS302's clinical development.
According to analysts at Wedbush, if approved, OMS302 could become widely used, and the gross peak annual sales worldwide could reach over $600 million. With that said, we would like to point out that Omeros's market cap is only $144.2M. In addition, Maxim Group sees 95% probability of approval for this product, given the robust P-values associated with the primary and secondary endpoints in both pivotal trials.
Omeros plans to file an NDA for OMS302 in Q1:2013, followed by a MAA in mid-2013 and launch OMS302 in the first half of 2014. We expect to see Omeros's shares rising, especially when the regulatory process for OMS302 will begin with the NDA submission.
Completion of Phase I for OMS824 - OMS824 is the lead compound in Omeros's PDE10 program for the treatment of schizophrenia. In December last year, Omeros announced positive safety and pharmacokinetic data from the single-ascending-dose (SAD) portion of a Phase I trial for OMS824 in healthy subjects. Specifically, OMS824 was well tolerated, had linear pharmacokinetics, a long half-life consistent with once daily dosing, and good systemic exposure with the highest dose resulting in the expected pharmacological effects in healthy subjects.
OMS824 appears to have excellent pharmaceutical properties, and we look forward to completing this Phase I clinical trial and starting studies in schizophrenia patients.

- Gregory A. Demopulos, M.D., chairman and chief executive officer of Omeros.
OMS824 will complete Phase I trial during this quarter and could potentially be tested in Phase II for schizophrenia. It is important to mention that schizophrenia drugs like Eli Lilly's (NYSE:LLY) Zyprexa have achieved annual sales of over $1 billion, despite safety and efficacy limitations.
What insiders think about Omeros?
In early January, 3 (out of 6) directors have bought Omeros's shares. When you see insiders buying at depressed prices, it often means the shares are oversold and offer great long-term value.
Ray Aspiri purchased 40,000 shares on January 4 at $5.72 per share.
Arnold Hanish purchased 2,000 shares on January 3 at $5.58 per share.
Peter Demopulos purchased 9,345 shares on January 3 at $5.42 per share.
Currently, 41% of the company's outstanding shares are owned by insiders, institutions and mutual funds (approximately 5.4% by the CEO). It is a good indicator, since they have access to sophisticated research and have a great deal of information on the company.
What analysts think about Omeros?
Of the 5 analysts we checked, the lowest price target stands at $13, which implies a potential upside of approximately 133% from the current closing price of $5.57 per share.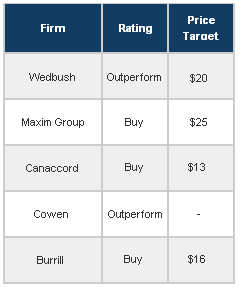 Financial position:
According to the last financial report, Omeros ended Q3:2012 with $30.6 million in cash and previously provided guidance for 12-months runway. At the Oppenheimer 23rd Annual Healthcare Conference, which took place in December 12, 2012, the CEO has been asked about the company's cash position and partnering plans. The CEO answered that as of Q3:2012, the company had $34 million in cash, with additional $40 million of equity credit line, which the company had not used. With respect to partnering, the company is now in partnering discussions to all or almost all of its programs.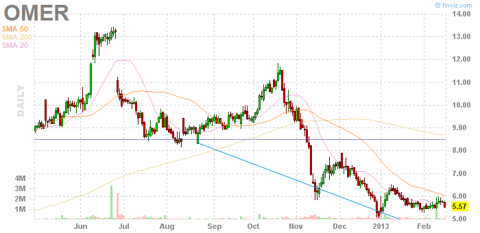 Disclosure: I am long OMER. I wrote this article myself, and it expresses my own opinions. I am not receiving compensation for it (other than from Seeking Alpha). I have no business relationship with any company whose stock is mentioned in this article.
Additional disclosure: Biomed Group is a group of investment professionals and writers. This article was written by Amit Cohen. We did not receive compensation for this article, and we have no business relationship with any company whose stock is mentioned in this article. This information is not to be construed as an offer to buy or sell any security mentioned on this article.