Ford (NYSE:F) is a bargain priced American institution with staying power that will drive your returns. Several factors point to the current share price being a very attractive entry point.
1. Historically, the stock exhibits a strong correlation in the trend of share price versus book value per share. Since August of 2011, the share price appears to have decoupled from the continuing rise in book value per share. The historic and trendline comparisons suggest share price should be at the $15 level in the current strengthening shareholder equity cycle.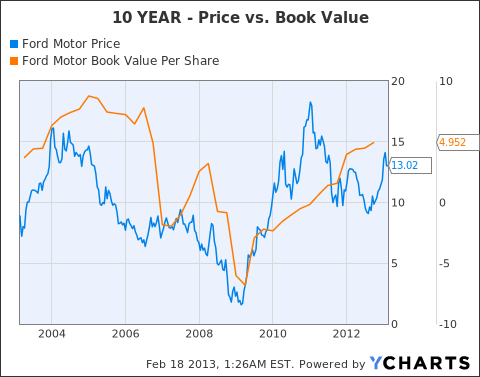 2. The price to book value ratio not only lags current historic correlation trends, the present price/book ratio of 2.599 is near historic lows. This suggests either the market is forecasting an impending crash in Ford business activity and rapid erosion of current book value or there is room for a rapid share price rise in the near future so as to restore traditional ratios and bring the trends back into a more balanced correlation.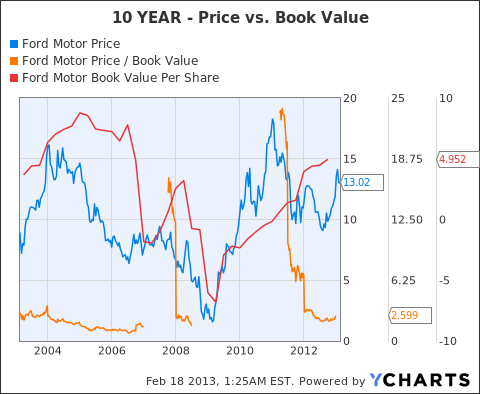 3. The current trends of strengthening financial performance and auto industry stabilization since these ratio lows were last seen in 2008 suggest the market is not awaiting a crash in company financial performance. Thus the alternate conclusion of an upward share price correction to bring the ratio back into historic ranges is the favored outlook. A closer to traditional 3.8 price/book ratio would predict a price breakout to the upside in the range of $19.00 per share.
4. Share price also correlates strongly with historic pre-tax income. Similar to the price/book ratio correlation, the income/price correlation has decoupled since January of 2011. The gap between price performance and income has widened significantly as share prices pulled back from the January 2011 highs. Upside price potential into the $15.00 to $19.00 per share range is forecast for a return to the historic correlations. These numbers agree well with the share price forecasts derived above by the price/book ratio and book value multiples.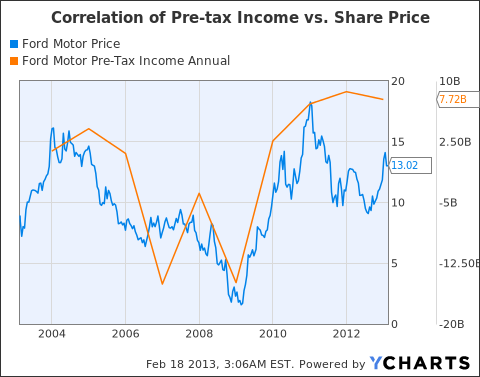 5. The current divergence of shareholder equity versus price is widening to historic proportions. The present gap of $18.89 billion equity versus 13.02 price is a ratio of 1.45 and it is widening. Only the early 2006 figures, at a time when Ford was struggling through with the start of a difficult turnaround, show greater divergence. A tightening of this divergence of only half its present gap would require a share price in the range of $16.00 to $16.50.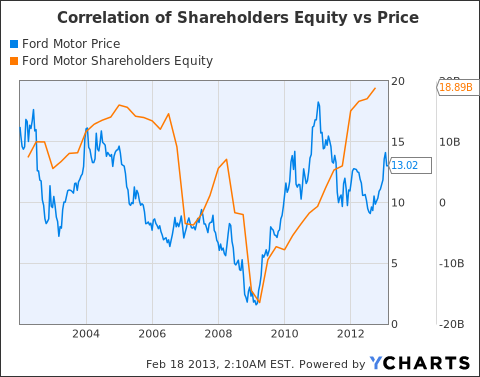 6. Ford's dividend payout ratios have historically been on the order of 40%. The current dividend, even at its doubling to $0.10 quarterly at the most recent January 28, 2013 distribution, is only at a 10% payout ratio. This suggests a secure dividend and a reasonable expectation for further dividend growth.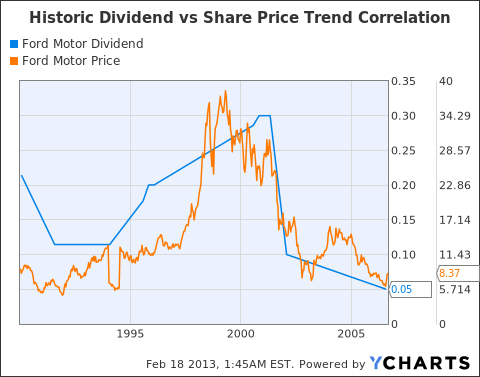 F Dividend data by YCharts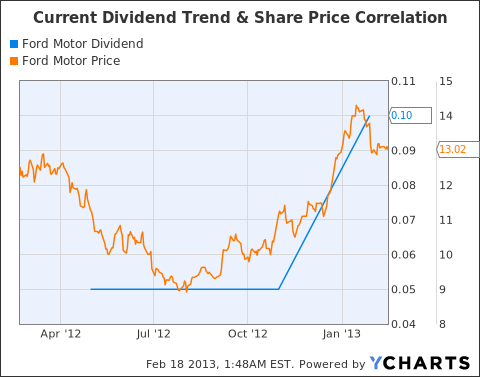 F Dividend data by YCharts
7. Ford reinstated its dividend payments at $0.05 per share in January 2012 and just doubled distributions to $0.10 per share with the January 2013 payment. This policy clearly shows an intent and confidence of management to signal a return to reliable dividends and further growth. Just as the suspending of dividends in 2006 announced a redirection of the company at the time to a commitment to restructure a deeply troubled company, the re-emergence of the dividend in 2012 signaled a new phase that leaves behind those difficult rebuilding years (as well as the troubled 2008-2009 financial crisis). The hike in dividend this past month reinforces the message that the new phase of the company's history is on track and proceeding well. Beyond the hard numbers of dividend yield and payout ratio, these are signs of a positive outlook.
8. Ford is driving in the Alpha lane, returning 214% of every dollar invested for five years (107% gain), a 20.7% three year gain, and a 7.5% one year gain. It handily beats both the S&P 500 (NYSEARCA:SPY) and its sector ETF (NYSEARCA:XLY).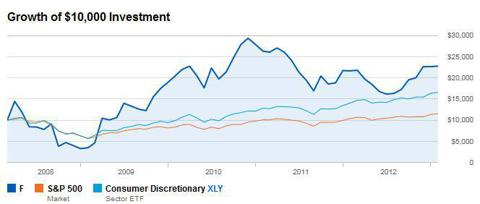 (source: schwab.com)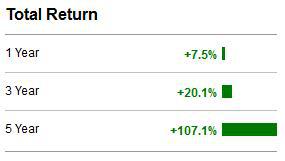 (source: schwab.com)
9. Beyond the value metrics discussed above, Ford's technical chart is very favorable at this time also. Price remains above the 50 and 200-day simple moving averages. A strong upward trending inverted scallop has formed and appears near a breakout after consolidating. Such upward trending inverted scallops have been reliable and favorable precursors to several recent gains. The shares also achieved a golden cross back on December 7, 2012 and have been performing strongly ever since.
(click to enlarge)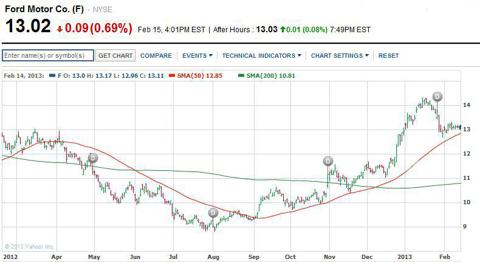 (source: schwab.com)
10. The United States government, partly in co-ordination with other governments around the globe, has invested trillions of dollars and a great deal of political capital to keep economies from slipping back into recession, to stave off deflation, and to hold onto jobs (especially automotive jobs). Clearly this commitment remains and it is virtually impossible to envision the current administration allowing a major U.S. auto company failure anytime in the next four years at least. Few other sectors, industries, or companies can claim such a safety net.
In conclusion, Ford is a solid buy right now for investors seeking a good dividend yield (3.1%) and likely dividend growth to come in the future. For value and growth investors, the current $13.02 price offers an entry point well below those in the $15.00 to $19.00 range suggested by the metrics discussed in this evaluation. Technical chart analysis also suggests a breakout to the upside is likely. More cautious investors may want to buy the shares long for $13.02 and sell the March 22nd $13.50 covered calls for $0.20. This locks in an upside potential for $0.68 (5.2%) gains in 32 days (59.65% annualized rate) and conversely lowers your effective entry cost to $12.82 against the possibility of a pull back in share prices.
I have highlighted some of the positives that Ford shares are showing at this time. Clearly the auto industry remains tied to the economy in many ways and Ford is very sensitive to interest rates both for cost of its own debt and for the effect on sales.
Consider Ford to drive your portfolio for yield and growth.
Disclaimer: I am not a licensed securities dealer or advisor. The views here are solely my own and should not be considered or used for investment advice. As always, individuals should determine the suitability for their own situation and perform their own due diligence before making any investment.
Disclosure: I have no positions in any stocks mentioned, but may initiate a long position in F over the next 72 hours. I wrote this article myself, and it expresses my own opinions. I am not receiving compensation for it (other than from Seeking Alpha). I have no business relationship with any company whose stock is mentioned in this article.