In the latest wave of yearly predictions, most analysts are touting industrial stocks for 2013. One reason is because this group has under-performed in the bull market of the past few years, and values are relatively attractive. Another is that industrial companies generally reflect the cyclical nature of the overall economy, which seems to be improving. Most economists expect further US and global recovery in 2013, with double-dip recession fears fading in the rear view mirror.
Of course, now that industrials have entered the spotlight, the obvious plays have been bid up. The following chart of the NASDAQ Industrial segment indicates the relatively flat return over the past two years until the dawn of 2013. The recent 17% rise is more than double that of the market in general in the past two months.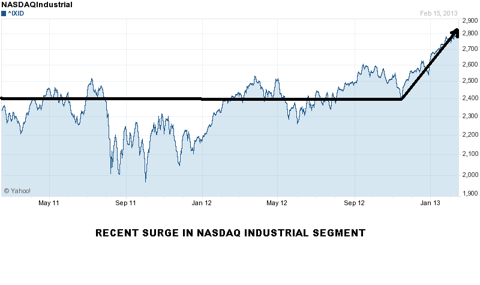 This article will look at an industrial stock that has not participated in that segment's surge for reasons that may actually be positives for the stock.
WSI Industries, Inc. (NASDAQ:WSCI) engages in the precision contract metal machining business in the United States primarily for customers in the recreational vehicle, energy, aerospace/avionics/defense, and bioscience industries. WSCI provides single-source turn-key solutions, including engineering support, raw material procurement, outside services, supplier management, precision manufacturing and assembly and stocking of finished goods for large volume customers under multi-year arrangements.
The company recently reported a 43% sales increase in the first quarter of 2013 and a 310% increase in net income. This is no fluke as WSCI improved sales by 30% in the 2012 fiscal year, and it increased earnings by 64%. If anything, business is accelerating.
From a value point of view, it carries a trailing P/E of 10 and the stock, at its current price of $6.15, has a market cap of 1.5 times its book value and about half of its sales volume. It currently pays a very nice dividend yield of 2.6%. The dividend represents less than 30% of earnings, so coverage is reasonable, and there is room for distribution growth. So, with exceptional growth, value and income yield, why has WSCI not participated in the industrial rally?
The Polaris Connection
WSI Industries depends greatly on a single customer, Polaris Industries (NYSE:PII), which accounted for 62% of its revenues in 2012, according to its annual report. PII is in the booming business of snowmobiles and off-road and on-road vehicles primarily in the United States, Canada, and Europe. Regular readers of our "shadow" stocks series know that we like under-the-radar companies that can benefit from the factors that are contributing to the success of more well-known stocks. One might think that WSCI would track the high-growth in both business and stock price of PII. In fact, WSCI has higher percentage revenue and earnings growth than PII, but the following chart indicates that, although the two stocks generally move in tandem, a divergence between them developed in December of 2012.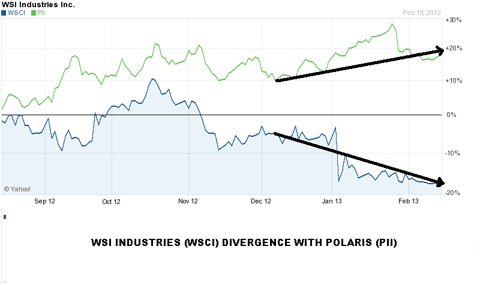 Polaris is enjoying 12% sales growth and that trend is expected to continue through 2014. Obviously, the dependence on PII is a double-edge sword for WSI Industries. If PII were to reduce orders, WSCI would be in trouble. However, the engineering, tooling and volume requirements that WSCI provides in this relationship make it difficult for competitors to step in, or for PII to invest the capital to produce these precision components in its own facilities. Even if PII made that change, it would take some time for a WSCI competitor to be able to meet the growth needs of PII. Smaller competitors are not capable of investing in the appropriate technology, plant capacity and automation systems to be competitive and meet customer expectations for superb quality.
To deal with the growth expectations of its core customers, WSCI is currently building an additional facility to double capacity, and that should be on-line in July 2013. Management has stated that one-third of the new plant will be occupied with existing orders upon completion.
The dependence on Polaris is probably considered a negative by the market, but the growth trajectory and relationship with that customer is allowing WSCI to expand capacity and further separate from competition, as well as provide opportunities for an expanded customer base.
The Energy Connection
In addition to the recreational vehicle market, WSCI counts about 31% of its sales to companies in the energy business. This has been the fastest growing segment for WSCI lately. The largest customer is National Oilwell Varco (NYSE:NOV), a big player in the oil service and fracking business. Analysts for NOV are expecting revenue growth of 13% in 2013 and 7% in 2014. In the latest quarterly report, WSCI warned of a short-term softening of orders for this segment, and that is probably the main reason for the dull performance of its stock.
Another metal fabricator that we watch is Friedman Industries (NYSEMKT:FRD), which primarily engages in pipe manufacturing for the energy segment, recently reported a drop off in orders. FRD's stock has held up well, partly due to a good dividend, but also because most consider that the energy segment has room for growth in the US. Readers of our 2013 forecast know that we are expecting strong support for the price of oil near current levels, and we believe that macro factor will create a boom for exploration companies. FRD does not compete with WSCI, which produces precision components for the energy business, but the same macro factors that support FRD should support WSCI. The current lull in fabrication for the energy business is not an indication in the long-term prospects for this sector.
Aerospace/Avionics/Defense and Other Customers
Another industry that is currently in a slowdown mode is the defense industry. In anticipation of the much-publicized sequester cuts to US defense spending, many defense projects are on hold. Defense production has not kept pace with the energy and RV market for WSCI. However, it is quite possible that once there is budget clarity, this segment of the US economy will rebound.
Technicals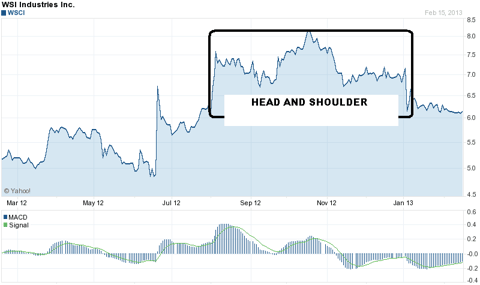 Although we are not reliant on technical analysis, the unmistakable "head and shoulders" pattern seems to have played out. The unfortunate timing of the January 3 warning in conjunction with the technical pressure of the formation created an apparent oversold situation. A slow recovery of the MACD seems to indicate the worst may be over for WSCI from a technical perspective.
Conclusion
Obviously, there are legitimate reasons why WSI Industries has not participated in the current popularity of industrial stocks. In a nutshell, these are dependence on a few customers, as well as slowing orders for energy and defense customers, combined with a negative technical set-up.
On the other hand, the expected growth of the company's main customers, Polaris and National Oilwell Varco, indicate that 2013 and 2014 should be growth years for WSCI. Also, the company initiative to add plant capacity gives it flexibility to expand its customer base and service offerings, as well as some insulation against competition.
WSCI's recent excellent earnings report was overlooked, and the warning related to the slowdown in energy-related orders caused the stock to miss the recent run-up in the industrial sector investments. Technically, the stock could rebound to close the divergence with the PII stock that it shadows. It also could catch up with the recent industrial sector appreciation.
The next quarterly report is likely to represent the trough in this year's earnings, and it appears that the near-term slowdown is priced into the current price. With a relatively low float and relief from technical pressure, the stock could be poised for a sharp rebound later this year.
Given the reliable income yield, the growth prospects and the value pricing at its current level, WSI Industries may fundamentally be a good option for long-term investors looking to add an industrial stock to their diversified portfolio.
Disclosure: I have no positions in any stocks mentioned, but may initiate a long position in WSCI, FRD over the next 72 hours. I wrote this article myself, and it expresses my own opinions. I am not receiving compensation for it (other than from Seeking Alpha). I have no business relationship with any company whose stock is mentioned in this article.
Additional disclosure: We do not know the circumstances, risk tolerance or investment objectives of our readers. There is no guarantee that any investment mentioned in this article will be profitable or appropriate for readers.