On February 5, 2013, Inergy L.P. (NRGY) reported results of operations for the first quarter of fiscal 2013 (1QFY13) ending 12/31/12. Revenues, operating income, net income, earnings before interest, depreciation & amortization and income tax expenses (EBITDA) and other key parameters for 1QFY13 and for the trailing 12 months ("TTM") ended 12/31/12, as well as for the respective prior year periods, are provided in Table 1: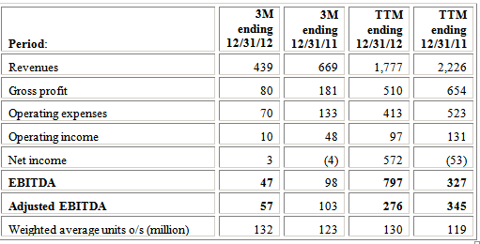 Table 1: Figures in $ Millions, except weighted average units outstanding
Comparisons across periods are difficult because the numbers for the 3-months ending 12/31/11 include the contribution from the retail propane business sold to Suburban Propane Partners (NYSE:SPH) on August 1, 2012, while the numbers for the 3-months ending 12/31/12 do not; numbers for the TTM ending 12/31/11 include 12 months of contribution from that business while those for the TTM ending 12/31/12 include just 7 months of contribution; and also because of the 24-day stub period contribution relating to a crude oil loading and storage terminal (the COLT Hub) that was acquired on December 7, 2012.
EBITDA for the TTM ending 12/31/11 includes a $590 million gain on disposal of the retail propane operations offset by a ~ $48 million loss on the carrying value of the roughly 14.2 million SPH units held by NRGY from August 1 until they were distributed to the NRGY shareholders on September 14. Excluding the retail propane operations from 1QFY12, Adjusted EBITDA of $57.4 million in 1QFY13 reflects a ~20% ($9.7 million) increase over the prior year quarter. Management's Adjusted EBITDA guidance for fiscal 2013 (ending 9/30/13) is $260 million.
Following the sale to SPH, NRGY has two business segments: (1) marketing, supply and logistics operations; and (2) storage and transportation operations.
Assets within the first segment include the West Coast fractionation facility, a fleet of 275 tractors and 457 transports, as well as assets held through its stake in Inergy Midstream LP (NRGM): pipelines in New York and Pennsylvania (the North-South Facilities, the 39-mile natural gas interstate MARC I Pipeline, and the 37.5-mile intrastate East Pipeline); and the COLT Hub. The historical results of the retail propane operations that were sold to SPH are also included in this segment.
Assets within the second segment include the Tres Palacios natural gas storage facility in Texas as well as assets held through its stake in NRGM: 4 natural gas storage facilities in New York (Stagecoach, Thomas Corners, Steuben and Seneca Lake); 1 natural gas liquids ("NGL") storage facility in New York (Bath); and a solution-mining and salt production company in New York (US Salt).
NRGY's stake in NRGM is comprised of a ~66% limited partner stake, a non-economic general partner interest and Incentive Distribution Rights ("IDR") entitling it to receive 50% of NRGM's distributions above $0.37 per quarter (the current quarterly distribution is $0.39) .
NRGM's results are consolidated within NRGY, so one needs to subtract from the $57.4 million Adjusted EBITDA reported by NRGY from the $33 million reported by NRGM separately in 1QFY13 to arrive at ~$24.4 million of Adjusted EBITDA in the quarter for NRGY's standalone businesses. This compares to approximately $17.2 million in 1QFY12. Management's Adjusted EBITDA guidance for fiscal 2013 (ending 9/30/13) for NRGY's standalone businesses is $80 million.
Segment revenues and gross margins for 1QFY13 and 1QFY12 are provided in Table 2 below:

Table 2: Figures in $ Millions, except gross margins
Until recently, NRGM's NGL activities were centered on the Marcellus Shale. On December 7, 2012, NRGM completed the $425 million acquisition of Rangeland Energy which owns and operates the COLT Hub in the heart of the Bakken and Three Forks shale oil-producing region. The Colt Hub includes a terminal capable of moving more than 120,000 barrels of crude oil per day by rail, and of storing 720,000 barrels of crude oil. It also has a 21-mile bi-directional crude oil pipeline that connects the terminal to crude oil gathering systems and crude oil interstate pipelines.
NRGY's definition of Distributable Cash Flow ("DCF") and a comparison to definitions used by other master limited partnerships ("MLPs") are described in a prior article. Using that definition, DCF for the quarter and TTM ended 12/31/12 was $39 million ($0.30 per unit) and $175 million ($1.35 per unit), respectively, compared to $71.6 million ($0.58 per unit) and $226 million ($1.90 per unit) in the comparable prior year periods.
Reported DCF numbers may differ considerably from what I consider to be sustainable. The generic reasons for this are reviewed in an article titled Estimating Sustainable DCF-Why and How. Applying the method described there to NRGY results generates the comparison outlined in Table 3 below: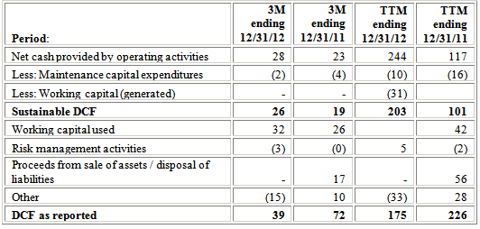 Table 3: Figures in $ Millions
As previously noted, comparisons across periods are difficult. Sustainable DCF in 1QFY12 includes contribution from the retail propane business sold to SPH while the numbers for the 3-months ending 12/31/12 do not. Sustainable DCF for the TTM ending 12/31/11 includes 12 months of contribution from that business, while the numbers for the TTM ending 12/31/12 include just 7 months of contribution. Also, the numbers for 1QFY13 and the TTM ending 12/31/12 include a stub period contribution relating to the COLT Hub that was acquired on December 7, 2012. I did not see disclosures that enable an apples-to-apples comparison across the periods.
The principal differences between sustainable and reported DCF numbers for the two periods presented in Table 3 are attributable to items added back in calculating reported DCF but not included in sustainable DCF. These include cash consumed by working capital, cash generated by a disposition of a liability, and other items (the largest component of which is cash outflows from risk management activities that are not considered as outflows for reported DCF purposes).
Under NRGY's definition, reported DCF always excludes working capital changes, whether positive or negative. In contrast, as detailed in my prior articles, I generally do not include working capital generated in the definition of sustainable DCF but I do deduct working capital invested. Despite appearing to be inconsistent, this makes sense because in order to meet my definition of sustainability the master limited partnerships should, on the one hand, generate enough capital to cover normal working capital needs. On the other hand, cash generated from working capital is not a sustainable source and I therefore ignore it. Over reasonably lengthy measurement periods, working capital generated tends to be offset by needs to invest in working capital. I therefore do not add working capital consumed to net cash provided by operating activities in deriving sustainable DCF.
Coverage ratios are indicated in Table 4 below:

Table 4
Distributions in Table 4 above include, in addition to amounts paid to NRGY's partners, payments to non-controlling partners that own a ~34% interest in NRGM. These amounted to $7.2 million in 1QFY13 and $14.6 million in the TTM ending 12/31/12.
Because it is difficult to make comparisons across periods given the noise in the numbers, my focus is on 1QFY13. Granted, it is a shorter period than I typically use to draws conclusions, and granted that this quarter's numbers are penalized by including only 24 days of the COLT Hub contributions. But still, coverage of the current distribution rate of $1.16 per annum still appears to me to be weak.
The simplified cash flow statement in the table below gives a clear picture of how distributions have been funded in the last two years. The table nets certain items (e.g., debt incurred vs. repaid) and separates cash generation from cash consumption.
Simplified Sources and Uses of Funds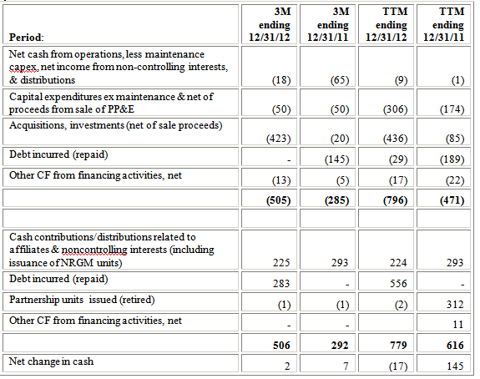 Table 5: Figures in $ Millions
Table 5 indicates that, for the periods covered, distributions have not been funded by cash from operations. Rather, they were funded through issuance of partnership units, issuance of NRGM units and by debt. This is not sustainable. But management has taken steps to address this, including cutting distributions, selling the retail propane business and acquiring the COLT Hub. A single quarter, especially one that does not reflect all these major changes, is not sufficient to draw definitive conclusions as to whether management's strategy appears to be working. The jury is still out on whether NRGY will be able to generate cash from operations in excess of maintenance capital expenditures sufficient to cover distributions.
A comparison of NRGY's current yield to the other MLPs I follow is presented in Table 6 below:
| | | | |
| --- | --- | --- | --- |
| As of 2/15/13: | Price | Quarterly Distribution ($) | Yield |
| Magellan Midstream Partners (NYSE:MMP) | $49.81 | 0.5000 | 4.02% |
| Plains All American Pipeline (NYSE:PAA) | $53.84 | 0.5625 | 4.18% |
| Enterprise Products Partners (NYSE:EPD) | $56.48 | 0.6600 | 4.67% |
| El Paso Pipeline Partners (NYSE:EPB) | $42.05 | 0.6100 | 5.80% |
| Inergy | $19.86 | 0.2900 | 5.84% |
| Kinder Morgan Energy Partners (NYSE:KMP) | $87.57 | 1.2900 | 5.89% |
| Williams Partners (NYSE:WPZ) | $52.83 | 0.8275 | 6.27% |
| Targa Resources Partners (NYSE:NGLS) | $41.56 | 0.6800 | 6.54% |
| Energy Transfer Partners (NYSE:ETP) | $46.75 | 0.8938 | 7.65% |
| Regency Energy Partners (NYSE:RGP) | $23.75 | 0.4600 | 7.75% |
| Buckeye Partners (NYSE:BPL) | $53.50 | 1.0375 | 7.76% |
| Boardwalk Pipeline Partners (NYSE:BWP) | $26.70 | 0.5325 | 7.98% |
| Suburban Propane Partners | $42.05 | 0.8750 | 8.32% |
Table 6
Management's Adjusted EBITDA guidance for fiscal 2013 (ending 9/30/13) is $260 million on a consolidated basis ($80 million for NRGY's standalone businesses and $180 million for NRGM). This is below the $276 million achieved in the TTM ending 12/31/12. So the combined effect of divesting the propane business, startup of the Marc I pipeline and the acquisition of the COLT Hub in North Dakota will, at least initially, not be dramatic. Other concerns include Anadarko Petroleum Corporation's (NYSE:APC) claim that it has an option to acquire 25% of the Marc I Pipeline (a lawsuit was initiated in October 2011 against NRGY and is still outstanding), continuous delays in the Finger Lakes project (storage of liquid petroleum gases) in the face of safety and environmental issues, postponement or possible abandonment of the Commonwealth Pipeline project, and no growth at Tres Palacios.
On the other hand, year-over-year performance has been strong in NGL marketing, supply & logistics (driven by greater NGL gallons sold and processed) and in the NGL transport business (driven by higher gross profits due to increased volumes and acquisitions). Also, NRGY's balance sheet has been significantly strengthened following the sale of the retail propane business to SPH. As of 12/31/12 long-term debt was $1,024 million, down from $1,704 million in the previous year. As a multiple of Adjusted EBITDA, long-term debt was ~3.7x as of 12/31/12 vs. ~5x as of 12/31/11. Note that, in addition to supporting its own debt, NRGY is obligated to provide contingent, residual support of ~$497 million principal amount of SPH's 7.50% senior unsecured notes.
Overall, I believe other MLPs offer more compelling reasons to invest and would not buy NRGY at this price and yield levels.
Disclosure: I am long EPB, EPD, PAA, ETP, WPZ, SPH. I wrote this article myself, and it expresses my own opinions. I am not receiving compensation for it. I have no business relationship with any company whose stock is mentioned in this article.