Despite Friday's slight pullback, the market managed to make another gain last week - the seventh winning week in a row. It was only a 0.1% gain though, which happens to be the weakest weekly gain in the last seven. Are stocks finally slowing down, and is this an omen of a pullback? We'll take a look at that possibility in a moment, after running through last week's and this week's economic data.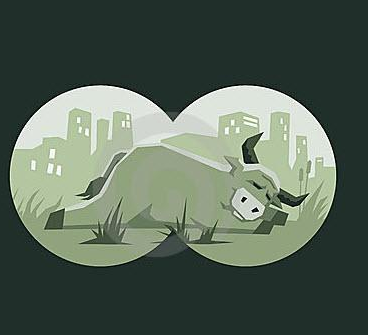 Economic Calendar
Economically speaking, last week was mostly positive, though we saw a couple of red flags.
January's retail sales were fair, growing 0.1% (year over year) with cars, and growing by 0.2% without automobiles. That's not quite as strong as December's growth, but it's respectable.
Thursday's unemployment claims for the prior week were also encouraging, in that they fell well under the prior week's total. New claims fell from 368,000 to 341,000, while continuing claims fell from 3.244 million to 3.114 million. That decline to or toward multi-years lows is nothing new.
On Friday we got two more big data sets...industrial production and capacity utilization. We mentioned last week that both were improving - tepidly - after weakening a bit in the latter part of last year. It was relieving, since the direction the two are pointed generally coincides with the market's longer-term direction. Well, both numbers fell a bit in January.
Industrial Production and Capacity Utilization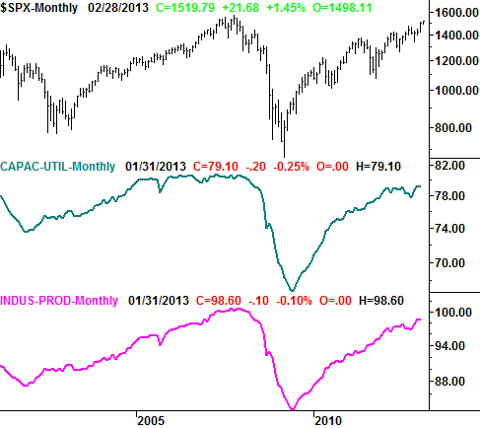 Everything else is on the grid below.
Economic Calendar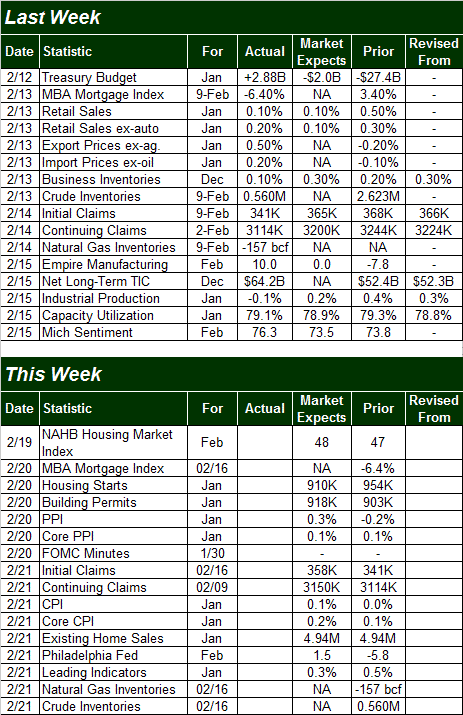 The coming week kicks off the next big round of housing and construction data, beginning on Tuesday with the NAHB Housing Market Index . But, it's not until Wednesday when the fireworks really start. We'll hear the prior week's MBA Mortgage Index figure then, but what we're really interested in is January's housing starts and building permits. Though both have been advancing for a couple of years now, forecasts for January's figures suggest a slight slowdown is in the cards. It's nothing alarming. Indeed, we can expect construction to slow this time of year. Unless both numbers come in well under expectations, there's not too much to worry about.
It's also a big week for inflation data, beginning on Wednesday's with last month's producer price inflation, and then finishing up with consumer price inflation on Thursday. The pros are looking more normal/average increases from both measures, on a core as well as a non-core basis. As it stands right now, the annualized producer price inflation rate stands at 1.3%, and the consumer price inflation rate is 1.7%. Both are lower than average numbers, and teetering on "too low."
We'll also get existing home sales on Thursday, rounding out the look at the housing market. Economists are expecting a pace of 4.94 million - the same as December's number. It's a pretty strong number, jiving with the ongoing improvement from the new construction market.
Stock Market
Technically speaking it was a positive week for the S&P 500 (SPX) (NYSEARCA:SPY), though the same can't be said of the Dow (INDU) (NYSEARCA:DIA), nor the NASDAQ Composite (NDX) (NASDAQ:QQQ). And, even though the S&P 500 made a gain, it's undeniable that the index lost some steam last week. Could it be an omen of a long-overdue pullback? Possibly.
The bearish clues are plentiful, and include:
* The fact that the upper 20-day Bollinger band has fallen back under the upper 50-day Bollinger band line.
* A horizontal ceiling has developed at 1524 (the approximate high for the last three days of last week).
* The CBOE Volatility Index (VIX) (NYSEARCA:VXX) is back at 12.20, which is not only pressing into the VIX's lower Bollinger band, but is also the same low from late January; there's not much room left for downside.
And, though less specific, the fact that the S&P 500 has doled out an uninterrupted advance of 8.0% since late December. That's pushing its luck.
S&P 500 & VIX - Daily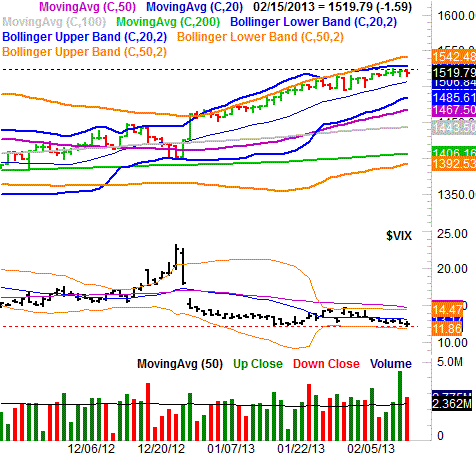 All that being said, while there are plenty of reasons why the market could tank, there's one blaring bullish argument - stocks aren't falling.... at least not yet. Until we actually see a serious breakdown (under key support levels like the 20-day moving average line at 1506 or the lower 20-day Bollinger band at 1486), there's really nothing worth worrying about.
That's not to say the bulls are rolling. They're not. There's a ceiling at and all around 1524, and until the S&P 500 actually fights its way above that resistance, there's nothing to get excited about either. But, the market hasn't exactly begun a pullback yet, and even if it does, there are a lot of floors not far away from where we are now.
Yeah, we're on the fence as long as stocks and traders are undecided here. Stick around and watch closely though, because something big is on the horizon one way or another. On the weekly chart below, we can see the S&P 500 is also bumping into a long-term ceiling (dashed), and has stalled at its upper 26-week Bollinger band. The bulls rarely want to push the index past that point, as we've twice before within the last twelve months.
S&P 500 & VIX - Weekly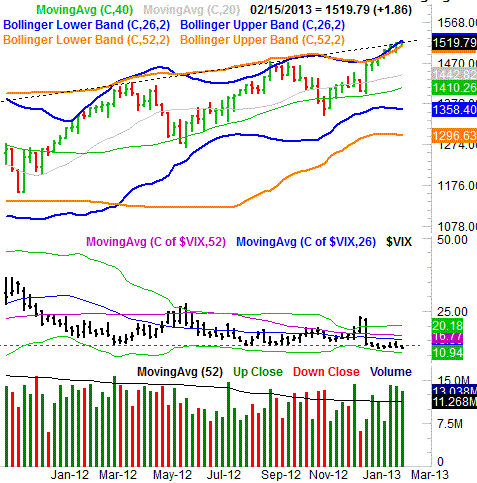 Fourth Quarter Earnings
We're getting close to the end of earnings season, and things just continue to get worse and worse. Standard & Poor's says the S&P 500 is on pace to earn only $23.32 for the fourth quarter of 2012, which is 1.7% less than the index earned in the fourth quarter of 2011. Only 65% of stocks have topped estimates for Q4, while 24% missed earnings estimates (11% met estimates). That's also less bullish than the normal beat/miss ratio.
Earnings decreases are rarely the kind of thing that inspires buying, so to even see stocks tread water as they have for the past couple of weeks is pretty amazing. One also has to wonder if the weakness that should have resulted from pathetic earnings numbers for Q4 will finally start to materialize this week. The market (NYSEARCA:IWM) is certainly starting to act like it's willing to test those waters.
We've still got a couple more weeks before getting the final numbers for fourth quarter's earnings, but 87% of them are in - where we are now is pretty much where we're going to be.
Disclosure: I have no positions in any stocks mentioned, and no plans to initiate any positions within the next 72 hours. I wrote this article myself, and it expresses my own opinions. I am not receiving compensation for it. I have no business relationship with any company whose stock is mentioned in this article.
Additional disclosure: BigTrends Rapid Options Income subscribers have an open SPY options position.