Coca-Cola (NYSE:KO) enjoyed an EPS growth of 14% YoY and was able to beat analysts' EPS estimate by 2.3% for 4Q'12. On the other side, sales volume fell short of analysts' estimates by 2%. However, reported financial performance for 4Q'12 and full-year 2012 was in line with the long-term targets of the company. Regardless of sales volume miss for the quarter, I believe KO remains an attractive investment for long-term investors because of a geographically diverse revenue base, a safe dividend yield of 2.6% and solid financial performances in the past.
KO is the leading beverage company of the world and owns a strong brand portfolio that generates $48 billion in annual revenues for the company. It also has a diverse geographical market outreach; as KO products are available in more than 200 markets worldwide. A significant portion of more than 60% of the revenue earned by the company is from markets other than the U.S.
Financial Performance
Earlier this week, KO reported full-year 2012 and Q4'12 financial results. KO was able to grow its top and bottom lines at a decent rate. Results reported by the company were in accordance with their long-term targets. Following are the financial highlights for the most recent year and quarter.
Full Year
Reported net revenues for KO were up 3% YoY, and currency adjusted revenues were up 6% YoY for the year. Sales volume growth for 2012 came out to be 4%, mainly driven by the 'Coca Cola' brand whose volumes were up 3%. Reported EPS for the year was $1.97, up 6%. KO was able to grow its revenues in all geographic segments except for Europe, which experienced revenue decrease of 6% YoY. Europe has been experiencing sluggish economic conditions. According to Bloomberg estimates, Europe's GDP shrank 0.4% in the fourth quarter, which is the biggest decline since 1Q'09. In the near future, I believe KO might continue to experience revenue declines in Europe due to ongoing economic crisis.
The following table is taken from the recent earnings release, which shows performances of different reporting segments of KO.



Source: Earnings Release
Earnings per share for KO were up 6% YoY for the full-year 2012, mainly due to better operating and net margins.
| | | |
| --- | --- | --- |
| | 2011 | 2012 |
| Gross Margin | 60% | 60% |
| Operating Margin | 22% | 23% |
| Net Margin | 18% | 19% |
Source: Earnings Release and Calculations
Fourth Quarter, 2012.
KO missed sales volume growth expectations for 4Q'12. Volumes for the quarter were up 3% YoY, missing the analysts' expectations. Analysts at Stifel Financial were projecting volume growth of 5.4% for the quarter. China and Europe experienced volume declines of 4% and 5% respectively in the recent quarter. Reported net revenues were up 4% and EPS was up 14% for the recent quarter as compared to Q4'11. Only one reporting segment, Europe, experienced revenue decline in 4Q'12 as shown below in the table.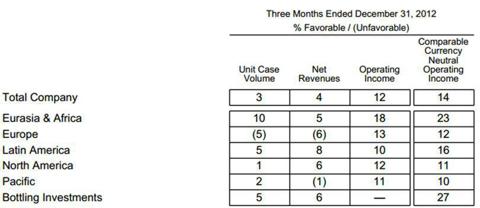 Source: Earnings Release
Operating and net margin for the quarter improved as compared to 4Q'11. However, gross margin experienced a slight decrease of 50 basis points, which was due to higher input costs. Input costs are expected to rise in the future as well, as management indicated a rise of $100 million in commodity prices for 2013.
| | | |
| --- | --- | --- |
| | 4Q'11 | 4Q'12 |
| Gross Margin | 60% | 59.5% |
| Operating Margin | 17% | 19% |
| Net Margin | 15% | 16.5% |
Source: Earnings Release and Calculations
Dividends
KO currently offers a safe dividend yield of 2.6%. I believe dividends offered by the company are sustainable as it currently has an operating cash flow yield of 6% and a free cash flow yield of approximately 4%. KO has increased its dividends at an impressive rate of 9% in last five years and I believe the trend will continue along with bottom line expansion. Analysts are anticipating an earnings growth rate of 8.5% per annum for the next five years.
Risks
KO has been facing competition in the industry mainly from PepsiCo (NYSE:PEP). PEP has been working to improve upon its operations in North America and other markets, which may eat up market share of KO. Also, rising input costs (as mentioned above) and a strengthening dollar poses threat to KO's financial performance in the future.
Conclusion
KO has been working on its 2020 vision plan which is likely to result in emerging markets growth and improved efficiency, which will drive growth for the company. In light of the aforementioned facts and the solid past financial performances, I believe KO remains an attractive long-term investment opportunity for investors.
Disclosure: I have no positions in any stocks mentioned, and no plans to initiate any positions within the next 72 hours. I wrote this article myself, and it expresses my own opinions. I am not receiving compensation for it (other than from Seeking Alpha). I have no business relationship with any company whose stock is mentioned in this article.