An important World Gold Council report last week detailed strong gold demand in Asia and from central banks, however, this did little to counter the growing negative sentiment toward precious metals in the West. As a result, gold and silver prices saw their heaviest selling so far this year.
Chinese buyers were mostly absent while celebrating the Lunar New Year holiday and Indian buyers pulled back after a record gold buying last month in advance of yet higher import duties levied by the government. This enabled important technical levels to be breached to the downside.
The gold price dipped below $1,600 an ounce for the first time in six months and is now down almost 10 percent since its peak near $1,800 an ounce last October. Similarly, silver registered its lowest weekly close since last August and is now down almost 15 percent from its high last fall.
About the only good news is that buyers in China will surely welcome lower gold and silver prices when they return this week and an important chart pattern that happens to be very bullish for the gold price may be a bit closer to completion after last week's sell-off.
For the week, the gold price fell the most since last May, tumbling 3.4 percent from $1,667.60 an ounce to $1,610.10, and silver plunged 5.2 percent, from $31.42 an ounce to $29.80. Gold is down 3.9 percent for the year, now 16.3 percent below its 2011 high, and silver moved into negative territory for the year, now down 1.8 percent in 2013 and almost 40 percent below its high near $50 an ounce almost two years ago.
As shown below via StockCharts.com, the gold price may now be in the final stages of tracing out a head-and-shoulders bottom (a.k.a. reverse head-and-shoulders) as first suggested back in December in Is There A Massive Head-And-Shoulders Bottom Forming For Gold?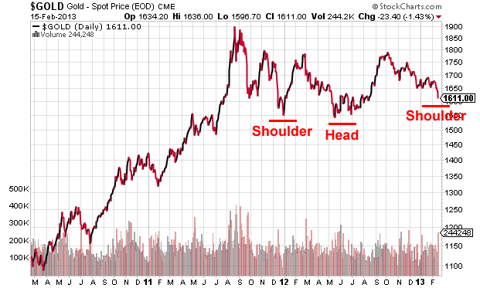 At the time, the $1,650 level had been tested for the first time since August and, since then, this became a support level that was just breached.
Last week, after suggesting that this support level would not hold in Critical Days Ahead For Precious Metals Prices, selling late in the week resulted in stop-loss orders being triggered and the gold price quickly worked its way all the way down to below the $1,600 an ounce level.
As noted back in December:
How much lower is the key.

At this point, a $1,600 price wouldn't be surprising and my guess is that if it dips below that level, it won't stay there very long.

Of course, the really bad news here is that this might not be a head-and-shoulders pattern at all. With a decisive break below about $1,550 an ounce, this could be just one more low in a series of lows, what some refer to as a bear market.
Given what's going on in the world today involving central bank money printing, escalating currency wars, and what many consider to be a massive bubble in bonds, I think the odds of Goldman Sachs and Credit Suisse being correct in their calls that the long-term gold bull market is over are virtually nil. But, should the gold price plunge below $1,550 an ounce in the days or weeks ahead, many investors will certainly be asking that question again.
What happens in China this week is key.
If buyers return after their holiday and take advantage of lower prices, there should be a quick rebound for precious metals. If not, then prices will go even lower, however, given last week's World Gold Council report on recent gold demand trends, it's likely that buyers will then return in droves.
This report was widely misrepresented in the financial media as being bearish for gold with headlines such as "Gold Demand Falls for the First Time Since 2009″ and I sought to correct that impression in last week's Why The Latest Report On Gold Demand Trends Matters.
In short, despite gold demand falling in 2012 from a record high in 2011, central bank buying and demand from Asia late in the year were very bullish developments, particularly demand from India that held onto its spot as the world's leading source of gold demand despite repeated attempts by the government and central bank to curb gold imports via higher taxes.
In fact, after gold demand surged to 262 tonnes in the fourth quarter of last year as shown below via this story at Reuters, gold imports to India rose to an astounding 100 tonnes last month, most of it coming in advance of the latest import duty hikes that took effect on January 21st. Obviously, February imports are likely to be much lower, but this demonstrates how strong Indian gold demand remains in spite of the government's efforts to curb it.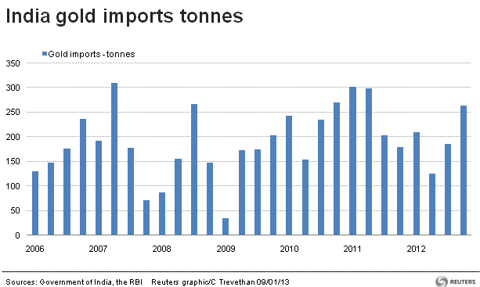 Moreover, the sharp increase in smuggling - said to account for some 25 percent of all gold imports - is sure to satisfy this demand regardless of how high the government raises gold taxes, as was the case back in the 1970s. The World Gold Council also reported that net purchases by central banks rose from 457 tonnes in 2011 to a 48-year high of 535 tonnes and this is another major, ongoing source of support for the gold price.
Russia alone accounted for 75 tonnes of these net purchases last year as quantitative easing and currency wars in the West have prompted the world's leading oil producer to swap more and more paper money for hard assets. Over the last decade, Russia has added 570 tonnes of gold as reserves and that pace is likely to continue under President Vladimir Putin.
Of course, no one knows how much gold China's central bank bought in 2012 because they're not telling anyone, but it was likely much more than Russia's 75 tonnes. Also in China, according to this Financial Times report, more gold ETFs are set to be launched this year and this will expand their gold market to very wealthy individuals and large institutional investors who may favor this form of gold ownership rather than the physical metal.
Meanwhile, here in the U.S., investors seem to have little need for the yellow metal as equity markets push higher and signs of an improving economy have resulted in less demand for safe havens.
According to a report at Bloomberg, 20 of 34 analysts it surveyed said they expect the gold price to fall further this week, the largest proportion of bears since December 30th, 2011. Importantly, as shown in the first image above, this date marked the start of a rally that took the gold price from around $1,600 an ounce all the way up to almost $1,800 an ounce.
To be sure, gold's weakness after the Federal Reserve's December money printing announcement failed to push prices above $1,800 an ounce has caused hedge funds to sell the metal and word came last week that George Soros reduced his investment in the SPDR Gold Shares ETF (NYSEARCA:GLD) by 55 percent to 600,000 shares, representing about two tonnes of the metal.
Moore Capital Management sold its entire stake in GLD as did Lone Pine Capital and Scout Capital Management, however, these are all relatively small positions as compared to the 21.8 million shares owned by Paulson & Company - representing almost 70 tonnes of gold - which were unchanged in the fourth quarter.
Last week, the GLD ETF saw about 4 tonnes exit its trust, but the iShares Silver Trust ETF (NYSEARCA:SLV) continued to add to its holdings, up another 27 tonnes to bring its year-to-date increase to an impressive 437 tonnes.
This is all the more reason to think that, over the short-term at least, silver should outperform gold.
Disclosure: I am long GLD, SLV. I wrote this article myself, and it expresses my own opinions. I am not receiving compensation for it (other than from Seeking Alpha). I have no business relationship with any company whose stock is mentioned in this article.
Additional disclosure: I also own gold and silver coins and bars.