Microsoft (MSFT) shares closed recently at $28, the upper-bound of its narrow range after reporting quarterly earnings. Strong enterprise software sales and healthy demand for its office product helped comfort shareholders, but investors are focused primarily on evidence of higher sales for its tablets and smartphones. Most importantly, investors are looking for evidence that Windows 8 software sales will keep growing steadily. There are 6 things to look at from Microsoft's quarterly earnings.
1) Multi-year Software Licensing Offsets Mobile
Record revenues of $22 billion were supported by multi-year licensing agreements from enterprise customers. The long-term software commitments from customers also helped the company earn $0.81 per share in the quarter. Microsoft refreshed its server software to Windows Server 2012 and System Center 2012. Multi-year licensing revenue grew 17% in the second quarter.
In Q4 (2012), Microsoft grew its market share in Windows Phone 8 to 3%, up from 1.8%. In 2013, lower growth rates for sales for Windows Phone 8, in partnership with Nokia (NOK), could shake investor confidence. In its last quarter, some of the sales were limited by a lack of supply to meet demand. This quarter, rising competition from Google's (GOOG) Nexus 4 could be expected, as device shortages are now resolved. BlackBerry's (BBRY) successful launch of the BlackBerry 10 will also put pressure on Microsoft's ability to sell its mobile device in the enterprise space in the quarters ahead.
2) Cloud Road Map Intact
A possible IPO by Dropbox illustrates the importance and the demand for cloud storage. Microsoft has a cloud road map in place, which supports an infrastructure hosted in both the cloud and in the data center. Azure, SQL Server, Skype, and Yammer are only a few of the products that have brand recognition that would support a growing customer base.
3) Cross-Integration of Windows 8
A seamless experience across Xbox 360, Windows Phone, Windows 8, and cloud services could appeal to users. In the second quarter, revenue from the Windows division grew 11%. This could increase the appeal of the tablet, which would offset the high price and limited battery life of Windows Surface Pro that could limit sales.
4) Weak PC Segment
Revenue from the consumer segment declined 2% during the quarter due to a weak PC market. In the entertainment division, revenue dropped 2%. Despite the decline, Halo 4 was launched successfully when it was launched in November 2012. Bundling the game with the console also helped increase Xbox sales by 750,000 units in the last week of November 2012 alone. To-date, 7.34 million copies of Halo 4 have already been sold.
5) Windows Phone
Microsoft said its smartphone sales were 4 times higher than a year ago. In 2013, the company will be expanding its product line-up, and support the growth by increasing retail distribution and capacity.
6) Marketing Costs Grew
Due to new product launches, Microsoft increased marketing costs by 10%, or to $8 billion. For the full fiscal year, Microsoft expects expenses to be $30.3 billion to $30.9 billion.
Conclusion
Upside for Microsoft shares could continue to be held back because of greater investor interest for companies exposed to the growth of mobile devices. Nokia and BlackBerry are outperforming Microsoft by a wide-margin over a 6-month period: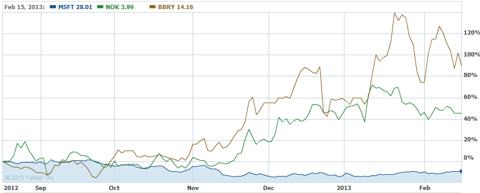 Click to enlarge
(Data Source: Yahoo Finance)
Strong demand for business offerings from Microsoft continue to be unrecognized by the market. BI ("Business Intelligence") that is offered through the combination of SQL Server, SharePoint, and Excel continue to drive strong sales for software. It also encourages multi-year licensing. A combination of consistent cash flow from these sales and the end of Windows XP support in 2014 makes Microsoft undervalued.
Disclosure: I have no positions in any stocks mentioned, and no plans to initiate any positions within the next 72 hours. I wrote this article myself, and it expresses my own opinions. I am not receiving compensation for it (other than from Seeking Alpha). I have no business relationship with any company whose stock is mentioned in this article.