Share price of Cummins Inc. (NYSE:CMI) has appreciated by 26.3% over the past 3 months. At $119.21, the stock is trading somewhat close to its 52-week high of $129.51 attained in March 2012 and offers a 1.7% dividend yield. In this article, I will elaborate on the stock valuation analysis which supports my bullish view on Cummins.
Sell-side analysts on average predict the company's revenue, EBITDA, and EPS to grow at CAGRs of 4.8%, 8.4%, and 9.5%, respectively, over the current and next calendar years (see chart below). The consensus estimates are fairly comparable to the averages of 5.2%, 8.5%, and 10.5%, respectively, for a group consisting of Cummins' primary industry peers. Similarly, the firm's EBITDA margin is forecasted to expand by 1.0% over the same period, somewhat in line with the peer average at 0.8%. On the profit side, Cummins again demonstrates a fairly consistent performance as most of the firm's profitability margins are in line with the group averages. It is noted that Cummins' ROIC metric at 17.0% is notably above the peer average at just 11.2%. In terms of leverage and liquidity, Cummins carries a lower debt load as reflected by its below-average debt to capitalization and debt to EBITDA ratios. The company's trailing free cash flow margin is markedly below the par. Due to the healthy profitability and the low leverage, Cummins was able to maintain a strong interest coverage ratio. Both the firm's current and quick ratios are considerably above the par, reflecting a healthy balance sheet condition.

To summarize the financial comparisons, Cummins' in-line growth potential, relatively stronger profitability, as well as its healthy balance sheet are likely the primarily supportive factors to the stock valuation, and I believe the share's fair value should trade fairly in line with the peer-average valuation level or even command a slight premium. Nevertheless, Cummins' current valuations at 8.6x forward (next 12 months) EBITDA, 13.5x forward (next 12 months) EPS, and 0.9x PEG together represent an average 13.4% discount to the same peer-average trading multiples, suggesting that the shares remain modestly undervalued on a relative basis even with the recent price appreciation (see chart above).
From a broader market perspective, Cummins' forward P/E multiple of 13.5x is currently trading at a 5.3% discount to the same multiple of the S&P 500 Index, which stands at 14.3x at present (see chart below). Despite the fact that the trading multiple discount has compressed from a 12-month average at 19.6%, I believe the below-market valuation still implies an attractive pricing level as Cummins' fundamentals should be able to justify an above-market trading multiple provided that 1) Cummins' long-term estimated earnings growth rate at 15.9% is almost twice of the average estimate of 8.2% for the S&P 500 companies; 2) Cummins' balance sheet is significantly less leveraged compared those of its primary peers and it also possesses a relatively high liquidity; 3) the stock offers a 1.7% dividend yield, which is not far off from the average yield of 2.2% for the S&P 500 Index.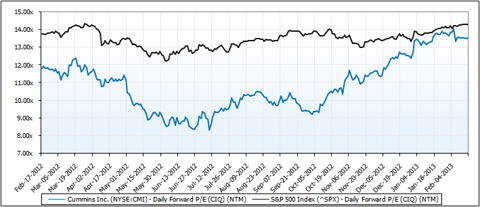 Moreover, the stock's trailing P/E multiple at 13.6x is trading at a 16.3% discount to its 3-year historical average at 16.3x, which suggests a reasonable valuation level based on the following facts (see chart below):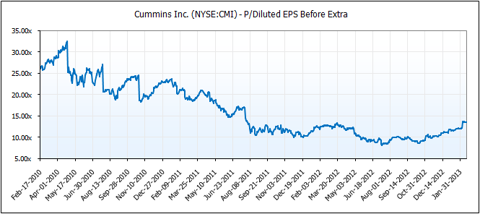 1) Although Cummins' capital return measures including ROE, ROA, and ROIC have dropped from their peak level in 2011, these measures still see a decent improvement from their historical level in 3 years ago (see chart below);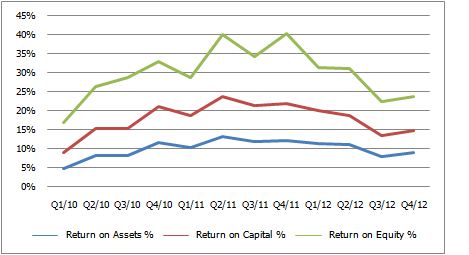 2) The company has been able to sustain a steadily improving margin performance over the period (see chart below);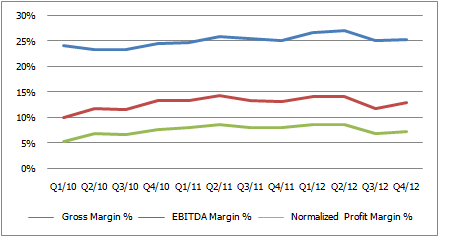 3) Cummins was able to slash a large portion of the debt load, resulting in a substantial jump in the interest coverage ratio in the past 3 years (see chart below); and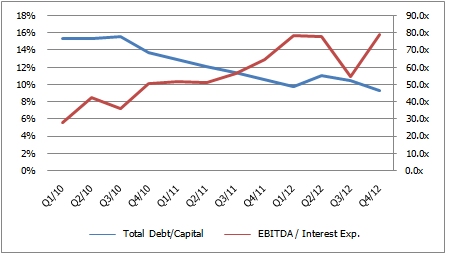 4) Despite a significant growth slowdown experienced in the past 3 years, the consensus revenue, EBITDA, and EPS growth estimates draw a recovering and stabilizing trajectory over the current and next years (see chart below).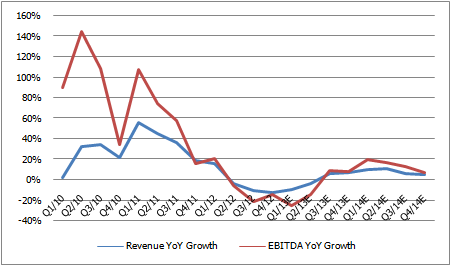 In terms of recent development, Cummins reported its Q4 2012 earnings result in early February with both revenue and EPS exceeding consensus estimates. Joel Tiss, a research analyst at BMO Capital Markets, wrote in a note dated February 7, 2013 (sourced from Thomson One, Equity Research):
"Cummins showed better-than-expected operating margins despite global weakness in end markets. The 2013 outlook is essentially for flat sales and continued margin expansion from cost saves, mix improvement, supply chain savings, some pricing and restructuring benefits. Historically, Cummins' guidance has been more on the conservative side, but for 2013, its expectations seem pretty realistic in a very slow growth global environment. However, despite the slow expected improvement, the pristine balance sheet (including a net cash position), and still very good margins along with plenty of different end markets changing to lower emission engines as well as newer products boasting improved fuel efficiencies, Cummins should show solid profit improvements assuming that global growth continues to slowly creep ahead."
Bottom line, in the light of Cummins' solid fundamentals and attractive valuation level, the stock remains a solid buy at the current price level.
All charts are created by the author and all financial data used in the article and the charts is sourced from Capital IQ unless otherwise noted.
Disclosure: I have no positions in any stocks mentioned, but may initiate a long position in CMI over the next 72 hours. I wrote this article myself, and it expresses my own opinions. I am not receiving compensation for it (other than from Seeking Alpha). I have no business relationship with any company whose stock is mentioned in this article.