In light of Coach's (NYSE:COH) recent plunge, I've started to take a look at other mid-tier consumer goods/apparel companies that are both vulnerable and expensive. While the rich get richer, and top tier brands such as Prada and Louis Vuitton will continue to do well, mid-tier aspirational brands like Coach and Tumi (NYSE:TUMI) will continue to see pressure as many consumers downgrade or simply refuse to pay retail.
Tumi is a fairly young company, only getting its start in 1975. The brand has no real pedigree to build its backstory, and went public within the last year as private equity firm Doughty Hanson sold it after a 2004 acquisition for a very sizable return.
Tumi sells Briefcases, Backpacks, Totes, Messenger Bags, Luggage, Small Leather Goods, iPhone/iPad cases, Belts, Umbrellas, Electronics and Eyewear. The goods are all made in Asia, and most large items retail for $500-$1,000, however Tumi discounts its merchandise at outlet stores and off price retailers.
Doughty spent much of 2004-2011 modernizing Tumi's infrastructure and supply chain, enabling the company to efficiently compete on an international stage and preparing it to go public. Margins are still nowhere near Coach's, however.

(Source: Yahoo! Finance, Company 10K )
Sales Breakdown
International expansion is a big part of Tumi's future, and the company plans to open additional stores in the coming months. Of the 16 stores opened in the first 3Q of 2012, all but 2 were in North America, bringing the total number of standalone stores to 111. There is clearly room to expand, although over 65% of sales still come from North America. Notably, only 5% of net sales came from directly selling to international consumers ($5m).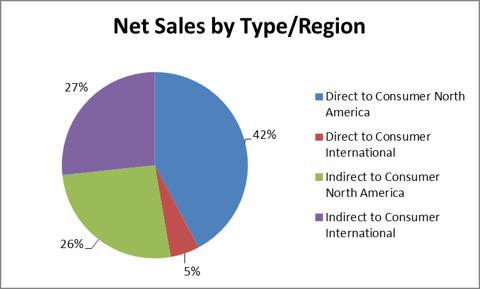 (Source: Tumi 10q)
Tumi does not look great compared to Coach when comparing efficiency and liquidity ratios. Tumi has a fairly weak balance sheet, does not declare a dividend, and has an inventory turnover ratio below 2. The market shares these concerns, as the percent of float held short is over 20%.

(Source: Yahoo! Finance, Company 10K )
Environment
The luggage and accessories space is crowded, with low barriers to entry and similar products that all function in essentially the same way (despite what the manufacturers may want you to think). While there are some differences in quality among brands, notably the use of lighter alloys or better leathers, there is a wide array of options for business professionals to choose from. Tumi does not have a true corner on any end of the market and have recently begun to expand their focus from male business professional to upscale consumer. They make a good product, but so do competitors Samsonite, Targus, Kors, Ralph Lauren, etc.
Indirect selling also dilutes brand value. I've seen $250 Tumi laptop bags right next to $30 Targus bags at Staples. They were in cardboard displays and strewn about in a visually unappealing manner. Why would anybody perceive them as a premium brand when this is how the product is displayed? Tumi must exhibit a tighter degree of control over where and how its products are shown to consumers.
Valuation and Pricing

(Source: Yahoo! Finance, Company 10K )
As evidenced by the PE ratio, the market clearly expects strong EPS growth in the coming quarters, but I think a miss is on the horizon. They may hit the .25 4Q EPS number, but a slowdown should manifest itself in 2013 as the brand struggles to mature and meet the street's high expectations. A PE in the low 30s would be more appropriate for a growth company like Tumi (and even that is being generous). Using analyst estimates and previous quarter's sales trends, my base case ttm earnings at this time next year is $0.78. Applying a multiple in the low 30s yields a price in the mid to lower twenties, yielding no upside from the current valuation.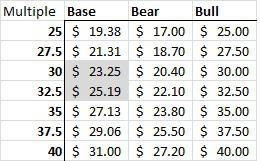 There have been absolutely no notable insider purchases since the company has gone public; only sales, with Richard Hanson in particular cashing out $300 million worth of stock. As the mid-tier luxury market begins to slow, Tumi will quickly fall from grace.
Disclosure: I have no positions in any stocks mentioned, and no plans to initiate any positions within the next 72 hours. I wrote this article myself, and it expresses my own opinions. I am not receiving compensation for it (other than from Seeking Alpha). I have no business relationship with any company whose stock is mentioned in this article.