As the news comes out now early in 2013, it appears that the MLP companies focused on petroleum refining are poised to pay some very large distributions to investors for the year. With three recent IPOs and one older, but not widely followed, company in the group, it seems the market has not yet priced in the cash flows these companies are currently generating and will pass through to investors over the next few quarters and possibly through the end of 2013 and beyond.
Note: MLP companies have units and pay distributions. The words stock, shares and dividends may be used here with the understanding that the rules of MLP units apply including the tax consequences of investing in MLP units.
Refining Business Primer
Petroleum refining makes money by turning crude oil into fuels and other petroleum by-products. This is a very complicated process done in a very expensive refinery. The profitability of a refinery is a little simpler; money is made by selling the products produced for more than it costs to buy crude oil and to run the refinery. The "crack spread," the difference between the selling value of the products produced from a barrel of oil minus the cost of a barrel of crude oil, is the gross profit margin that shows the profitability of refinery operations.
For refiners getting crude oil out of middle America or from Canada, the cost of crude is significantly less than companies are paying to feed refineries on the coasts. However, the price these refineries are receiving for produced products are more uniform across the country, resulting in very attractive crack spreads for well located refining companies.
The Refinery MLPs
Of the four refining focused MLP stocks to be discussed here, three are recent IPOs, and performance results are just starting to surface. The following information is based on what has happened to date, and the IPO MLPs discussed have not yet reported year-end results, which should flesh out the prospects going forward.
Northern Tier Energy LP (NYSE:NTI) went public with an IPO in July 2012. The company owns an 85,000 bpd crude oil refinery located in St. Paul Park, Minnesota and a chain of convenience stores in Minnesota and Wisconsin. For the 2012 third quarter, the $1.48 dividend was for two months of operations. Questions remained whether that type of 20%+ yield was sustainable. Last week NTI declared a $1.27 distribution for the 2012 fourth quarter, which is much higher than a $25 share price would indicate. At a $5 annual distribution rate, NTI currently yields 16% on the $30 unit price.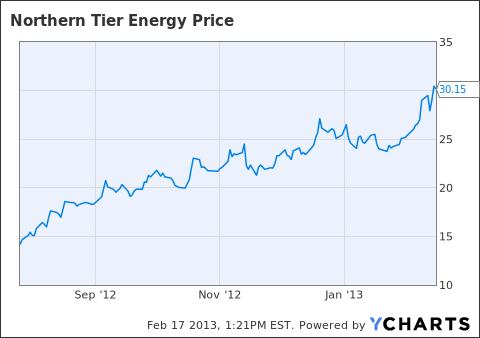 Alon USA Partners LP. (NYSE:ALDW) was spun off by Alon USA Energy (NYSE:ALJ) in a November 2012 IPO. Alon USA Partners holds the company's 70,000 bpd refinery located in Big Springs, Texas. ALDW just announced a pro-rated fourth quarter distribution of 57 cents per unit. However, if the payout had been for a full quarter, the dividend would have been $1.92. The latter number puts a 25%+ yield on Alon USA Partners. The payout rate is probably not sustainable, but the amount paid for the fourth quarter shows that this refinery is also experiencing very profitable times.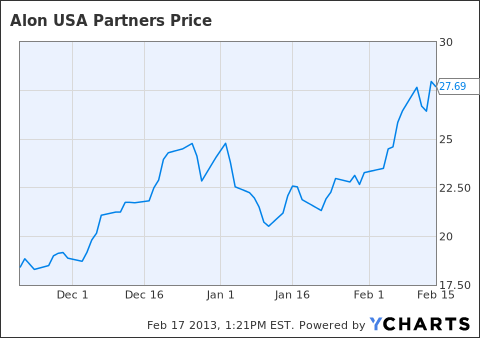 CVR Refining, LP (NYSE:CVRR) went public in January 2013. The company owns two refineries in Coffeyville, Kansas and Wynnewood, Oklahoma with a combined capacity of 185,000 bpd. Assets also include 350 miles of pipeline, 6 million barrels of crude storage and 125 crude oil transports. As a brand new IPO, VR Refining has not yet made any distributions. The company will report results on March 11, but it will be the first quarter results coming probably in April that will start to paint a picture for this refining MLP.
Calumet Specialty Products Partners, LP (NASDAQ:CLMT) is the old-timer of this bunch and has been a publicly traded MLP since 2006. Since mid 2010 Calumet has been strongly increasing the distribution rate and still yields over 7%. The 65 cents per unit dividend declared for the fourth quarter was 16% greater than the year earlier rate. The company has purchased two more refineries and entered into a joint venture to build a third since October of last year. Additional Reading: Can Calumet Specialty Products Maintain Aggressive Dividend Growth?
Conclusions
From this group of refining companies, Calumet Specialty Product Partners should continue to provide a hard to beat combo of attractive yield and strong distribution growth. There are more question marks around the three new refining IPOs, however, it seems the current share prices severely underestimate the amount of distributions these companies could potentially pay. The crack spread is a very variable metric, but it is very possible that the growing oil supplies out of the Bakken and Canada could keep the crude costs down and fuel price will be stubbornly high.
When I wrote about Northern Tier Energy, I forecast a share price in the $40s. About one-third of the ground has been made up in the month since the article was published. NTI along with Alon USA Partners and CVR Refining are speculative bets where I see the odds stacked in the favor of investors who get in early in 2013.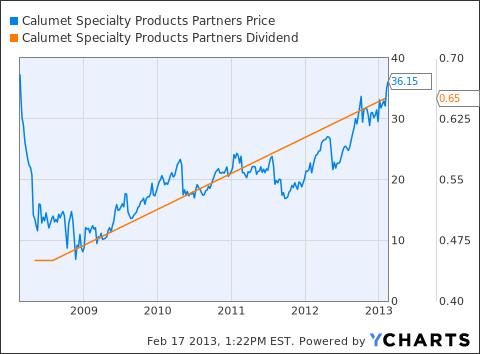 Disclosure: I have no positions in any stocks mentioned, and no plans to initiate any positions within the next 72 hours. I wrote this article myself, and it expresses my own opinions. I am not receiving compensation for it (other than from Seeking Alpha). I have no business relationship with any company whose stock is mentioned in this article.