McDonald's Corp. (NYSE:MCD) recently reported a global sales decline of 1.9% for January. This was steeper than the analysts' estimates for a 1.1% drop in sales. The decrease was seen in a few key regions. Countries like France and Germany were weak which helped to create a 2.1% drop for Europe. Other regions like Asia and the Middle East were down about 9.5% which was primarily blamed on weak sales in Japan and China. The United States managed a small gain of .9% thanks in part to new menu offerings.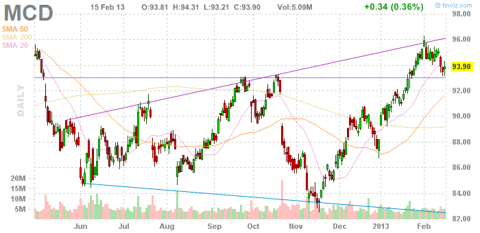 McDonald's shares have seen a solid rise since bottoming out in November. However, as shown in the chart above, McDonald's stock now appears overbought and it is trading near the top end of its recent trading range. It also shows that since June of 2012, the shares found support levels around $83 to $84. It seems like this stock could be range-bound as results from many key regions around the globe are likely to stay under pressure. Consumer confidence may also be impacted in coming months from negative headlines regarding the debt ceiling debate and the government spending cuts that could be coming on March 1, with sequestration.
Furthermore, results in the United States could come under pressure as consumers might start cutting back on restaurants due to a recent 2% increase in payroll taxes. In what seems to be the first indications of the economic impact of this tax hike, a high-level Wal-Mart executive recently said that February sales have been a "total disaster" and he blamed the payroll tax increase for the decrease in consumer spending. With McDonald's catering to the same value-oriented consumer as Wal-Mart in many cases, this could mean that consumers are cutting back on meals as well as merchandise in response to the payroll tax increase.
At least one analyst seems to agree that investors should consider the recent rally as an opportunity to sell this stock. Andy Barish, an analyst at Jefferies has a price target of $85. A recent CNBC article sums up the challenges facing McDonald's and it states:
"McDonald's also faces stiffer competition from Burger King (BKC) and
Wendy's. (NYSE:WEN) "It feels like the other national competitors as well as regional players in quick service have stolen pages from McDonald's playbook over the last 10 years that have helped drive such impressive U.S. results," Barish said. "They just have new stuff, while McDonald's is running out of arrows in their quiver." Early data is also suggesting consumers may be more reluctant to eat out as the payroll tax increase bites into income."
With the stock at elevated levels, and a number of challenges looming, the upside of holding this stock appears limited at best and the downside could be several points lower. That's why investors might want to consider this stock as range-bound and worth selling now while it is still at the top end of the recent trading range. Investors who take profits now, might get a chance to buy the stock for about 10% less in the coming weeks and months.
Here are some key points for MCD:
Current share price: $94
The 52 week range is $83.31 to $101.04
Earnings estimates for 2013: $5.80 per share
Earnings estimates for 2014: $6.37 per share
Annual dividend: $3.08 per share which yields 3.2%
Data is sourced from Yahoo Finance. No guarantees or representations are made. Hawkinvest is not a registered investment advisor and does not provide specific investment advice. The information is for informational purposes only. You should always consult a financial advisor.
Disclosure: I have no positions in any stocks mentioned, and no plans to initiate any positions within the next 72 hours. I wrote this article myself, and it expresses my own opinions. I am not receiving compensation for it (other than from Seeking Alpha). I have no business relationship with any company whose stock is mentioned in this article.