The SPDR S&P 500 Trust ETF (NYSEARCA:SPY) is a default benchmark for most investors across the country, and most investors aim to bet their benchmark either on an absolute basis or a risk adjusted basis. Most investors however give little time to thinking about what actually makes up their benchmark. Instead, many investors dive in to selecting individual stocks, but studies show that the biggest impact on returns is asset allocation, not individual security selection. So once you have decided what percentage to allocate into securities, the next logical step is to allocate that money into different sectors. Sectors performance from year to year can vary greatly; for example, the top sector in the S&P in 2011 was the Utilities Select Sector SPDR ETF (NYSEARCA:XLU), up 19.51%. However in 2012, it was the worst performing sector, up just 1.1%.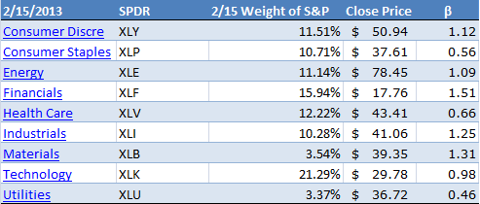 Click to enlarge
Technology Select Sector SPDR ETF (NYSEARCA:XLK) and Financial Select Sector SPDR ETF (NYSEARCA:XLF) represent the largest parts of the S&P, accounting for 21.29% and 15.94% of the index on Friday, February 15th. However Financials also bring the most risk to the market with a beta of over 1.5. The more defensive sectors are represented by the Consumer Staples Select Sector SPDR (NYSEARCA:XLP), the Health Care Select Sector SPDR ETF (NYSEARCA:XLV), and the XLU (XLU) with betas of 0.56, 0.66, and 0.46 respectively. The remaining cyclical sectors are represented by the Consumer Discretionary Select Sector SPDR (NYSEARCA:XLY), the Energy Select Sector SPDR ETF (NYSEARCA:XLE), the Industrial Select Sector SPDR ETF (NYSEARCA:XLI), and the Materials Select Sector SPDR ETF (NYSEARCA:XLB), all carrying betas over one.
With the goal in mind of achieving superior returns with better allocation, we can adjust each sectors weight in our portfolio for that of the benchmark. One of the best ways to achieve superior returns is by limiting your losses. This is because of one of the most important rules in investing that can be summarized by the following example. If you start with $100 and lose 33.33% in the first year and gain 50% in the second your total return for the two years is 0% not 16.67%, and it works the same if the gain is in the first year and the lose is in the second. However if you make just 5% return in each of the two years you end up with $110.25. It was far less exciting but it got the job done.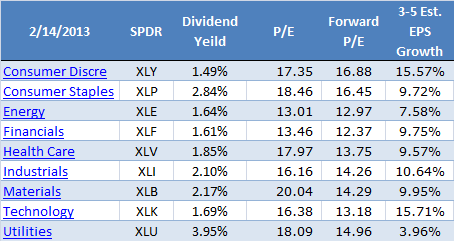 Overweight Sectors
So with that in mind, the first sector I would look to over weight in at this time is utilities. The beta .46 coupled with almost 4% yield is just too hard to pass up. But when you dig deeper you will find that the sector has been in the top three performing sectors of the S&P in 6 out of the last 10 years. Furthermore many analysts are looking for the market to at least pullback some after getting off to such a hot start; this defensive sector might help provide some relief.
The next sector to look at to overweight is energy. The sector, which was hot back in 2004 to 2007, has underperformed lately only performing in the top 4 sectors in the S&P once since 2007. However the sector does have some things going for it, for example it has the lowest P/E and the second lowest forward P/E of any sector. Also, Energy stocks tend to perform well as we get later into an expansionary period. With the market working on its five straight year of gains, I think we could see some of the sectors that perform well later in the economic cycle perform well in the near to medium term.
To add growth to the portfolio, I would look to the technology sector. This sector has a lot going for it; the highest estimated long term EPS growth rate, a forward P/E of only 13.18, and a beta of less than one. Furthermore, even though the sector as a whole only yields 1.69%, there are plenty of high yielding stocks with low payout ratios in this sector. The sector also has a tendency of late to not deviate too far for the overall market, in part because it makes up such a large part of the market.
Underweight Sectors
The first sector to consider underweighting is consumer discretionary. Reports are already circling about how the tax increases as a result of the cliff deal may have hurt consumer spending. Furthermore, any deal to reduce budget deficits will have to come, at least in part, from consumer's pockets, whether it be in the form of higher taxes or decreased government benefits. The only thing that could provide a boost to consumer spending would be stronger job growth, and after years of hoping, it does not appear to be right around the corner. Job growth, while steady appears firmly stuck in 1st gear, just barely keeping up with the population growth.
The next sector falling into the underweight category would be industrials. While the sector has a decent yield and a long term double digit growth rate, it also needs the world economy to be running at near full speed. Also this sector has a lot of companies in it that are dependent on government spending, and with looming budgets in March, it is best avoided. Over the long term, investors might find value here, but right now, there are just too many question marks around this sector.
Financials could be the most important sector to pick the allocation of, as they are most volatile, with a beta of 1.5, and representing about 16% of the market. However, the risk matched with the second lowest yield of all the sectors make financials too unappealing at this point. This sector recovered well in 2012, leading the S&P with a 28.51% return for the yea,r however the interest rate environment is still on contusive to growing banks' profits. The sector's low dividend yield is also likely to stay low for some time, as banks must get dividend plans approved by the Fed slowing the process of returning capital to shareholders.
The last sector in the underweight category is consumer staples. It holds up better than consumer discretionary if there is a decrease in consumer spending, but could still be affected by consumers cutting back. Furthermore, the sector has the second highest P/E and forward P/E. However, given the low beta and high dividend yield, it is not one to significantly underweight.
Market Weight Sectors
That leaves two sectors that are best left near their market weights: healthcare and materials. The materials sector does have some things going for it; it has the best earnings growth estimates for this year and it also has a good dividend yield of 2.17%. However, there remains too much uncertainty over commodities prices to recommend overweighting the sector. With respect to healthcare, it does have strong estimated earnings growth in 2013, but its average long term estimated growth rate and average dividend yield are nothing to get too excited about. Also, the sector has underperformed the market in 5 of the last 10 years, including being the worst performing sector in three of those years.

Click to enlarge
In conclusion, this is the model portfolio I propose to take on the challenges laying ahead for this market. It is a portfolio with characteristics near the market as a whole: a beta just under one, a dividend yield near 2% and forward P/E of just under 14. However, I believe this allocation could help pave the way to superior risk adjusted returns we are all seeking. Let me know how you would adjust this allocation to bet the market over the next year.
Data Sourced From: http://www.sectorspdr.com/, www.spdrs.com, www.cnbc.com, and Yahoo!Finance
Disclosure: I have no positions in any stocks mentioned, and no plans to initiate any positions within the next 72 hours. I wrote this article myself, and it expresses my own opinions. I am not receiving compensation for it (other than from Seeking Alpha). I have no business relationship with any company whose stock is mentioned in this article.