AT&T (NYSE:T) continues to be one of the more shareholder friendly companies out there. In 2012, AT&T returned $23B, or nearly 11% of its market cap, to shareholders via dividends and share buybacks. AT&T currently offers a $0.45 quarterly dividend. At current prices, AT&T offers a 5.1% dividend yield.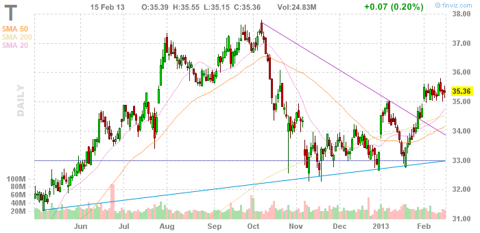 On January 24, AT&T reported its Q4 and full-year 2012 results. When excluding adjustments, revenues, operating income, and EPS all showed growth in 2012. Year-over-year revenues grew 2.4% to $126.4B for FY 2012. Adjusted EPS was up 8.5% and adjusted operating income was up 4.8%. AT&T reported a record $19.4B of free cash flow in 2012, including $4.6B in Q4.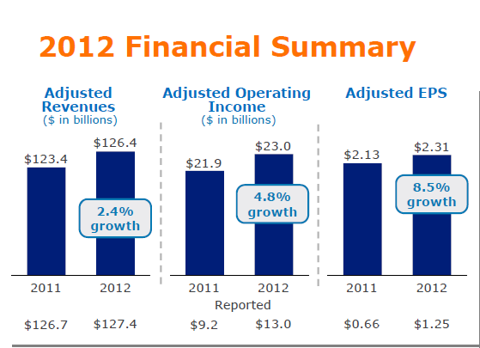 AT&T has been able to almost completely diversify itself away from wireline voice revenue. In Q4 2012, 81% of revenues were from wireless, wireline data, and managed IT services. Wireless revenues continues to comprise the majority of revenue for AT&T, at 54%. When excluding wireline voice, AT&T saw revenues grow $1.4B, or 5.7%, for Q4 2012.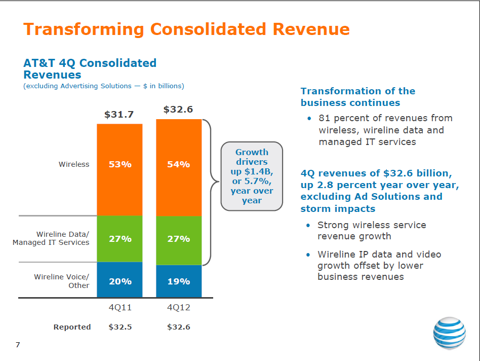 Total wireless revenues for AT&T grew by $900M, or 5.7%, in Q4 2012. AT&T's wireless revenue growth has been driven primarily by increases in mobile data revenue. In Q4 2012, data revenues increased 14.7%, to $6.8B.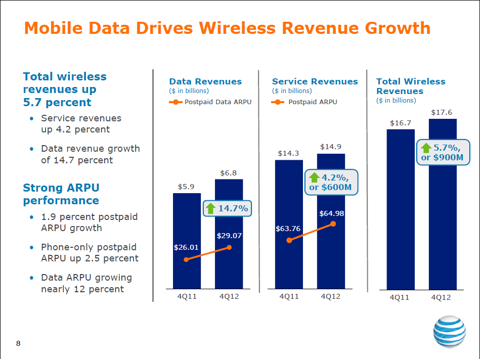 Year-over year, AT&T has grown its total wireless subscribers by 3.8M, to 107M. During Q4, AT&T added 1.1M net wireless subscribers and was able to lower its postpaid churn rate 2 basis points, to 1.19%.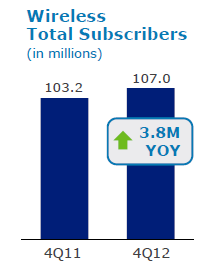 Postpaid smartphone devices now make up nearly 67%, or 47.1M, of AT&T's postpaid base. Two-thirds of smartphone subscribers are now on usage-based plans. AT&T sold a record total of 10.2M smartphones, with 8.6M of these consisting of iPhones, during Q4. Smartphones now comprise 89% of postpaid phone sales.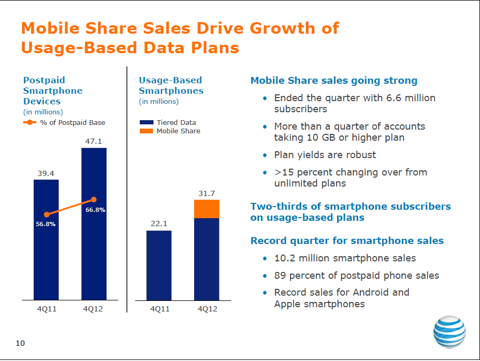 During 2012, AT&T returned a total of $23B to its shareholders via $10.2B in dividends and $12.8B in share repurchases. AT&T bought back over 6% of its float, or 371M shares, in 2012, thereby reducing annualized dividend payments by $700M. AT&T was able to fund these returns due to its massive cash flow. AT&T generated $19.4B in free cash flow for 2012. While AT&T did increase its debt load for the year, the net debt to adjusted EBITDA ratio is still only 1.58.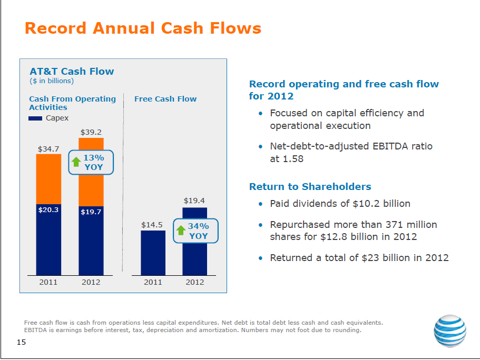 AT&T also provided guidance for 2013. AT&T anticipates high single digit EPS growth and low single digit revenue growth in 2013. Free cash flow is expected to decline to $14B, primarily due to increased capital expenditures of $21B. This capex is mainly focused on expanding AT&T's 4G LTE network.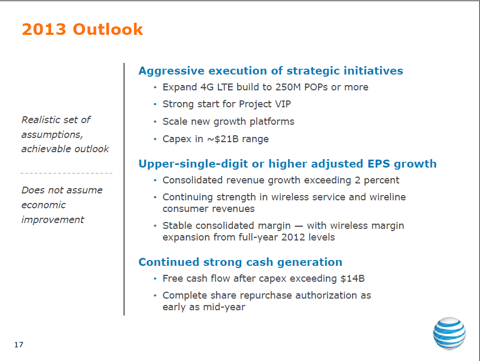 Over a 1-year period, AT&T has been able to generate outsized returns via both share buybacks and high dividends. When compared with the rural telecoms: Frontier (NYSE:FTR), CenturyLink (NYSE:CTL), and Windstream (NASDAQ:WIN), AT&T's share price has been an oasis of stability, returning over 16%, compared with sharp declines in the share prices for the rural telecoms.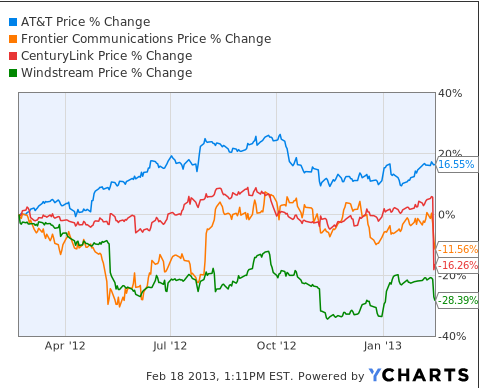 Even with its lower dividend yield, AT&T still returns a large chunk of cash to its shareholders. This is due to its large amount of share repurchases. Below is a chart that expresses the "TTM net payout ratio" for AT&T and the rural telecoms. This basically combines the dividends and buyback payments and expresses them as a yield: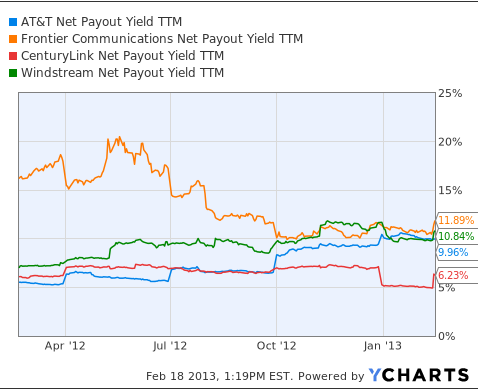 Conclusion
AT&T and its shareholders had a great 2012. AT&T generated massive amounts of FCF and was therefore able to reward its shareholders with a large amount of share repurchases. 2013 seems to be more of an "investment" year, so I would suspect that AT&T will not be as generous this year with share buybacks.
Disclosure: I have no positions in any stocks mentioned, and no plans to initiate any positions within the next 72 hours. I wrote this article myself, and it expresses my own opinions. I am not receiving compensation for it (other than from Seeking Alpha). I have no business relationship with any company whose stock is mentioned in this article.