There's tons of talk about the 'great rotation' and how a massive re-allocation into risky assets (i.e. stocks) is taking place. The biggest question from investors holding bonds (NYSEARCA:AGG) and gold (NYSEARCA:GLD) is this: how will these assets perform if stocks (NYSEARCA:SPY) continue to rise? Many anticipate that a resurgence of 'risk on' sentiment could have disastrous results for bonds and gold.
There are many ways to answer this question, but (right or wrong) today I will use recent history as a barometer. Of course, no two periods are identical, so actual results may vary. Nevertheless, it is important to observe real world market behavior in combination with forward-looking analysis to help formulate an outlook for the future. This article focuses on the past.
Specifically, I will look at the period between February 2003 and October 2007, during which the S&P 500 rose about 80% in price terms (95% in total returns terms). During that period I will compare the performance with various bonds and gold to see if reality met expectations.
1. US High Yield Bonds
The chart below compares the BofA Merrill Lynch US High Yield Master II Index (NYSEARCA:HYG) can be used to access the High Yield market) with the S&P 500. While the S&P 500 price index outperformed high yield bonds, the margin of difference was only about 15 cumulative percentage points.
As the duration of high yield bonds is generally lower than investment grade and government bonds one would expect the performance to keep up during a stock market boom. It appears like high yield bonds delivered.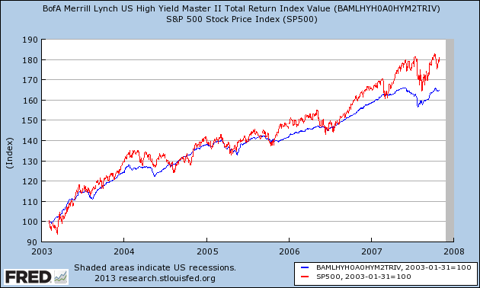 Click to enlarge
2. US AAA Corporate Bonds
This is where the variance begins to widen. The chart below compares the performance of the BofA Merrill Lynch US Corp AAA Bond Index (NYSEARCA:LQD) (the LQD can be used to access the broader investment grade corporate bond market) with the S&P 500. As you can see, in this comparison, the relatively safe AAA bonds underperformed by about 55 cumulative percentage points.
Still, while the variance is quite wide the AAA bonds provided a decent return, given the comparatively lower risk involved. Perhaps alleviating investors' worst fears, safer corporate bonds did not provide a negative return during the last equity bull market.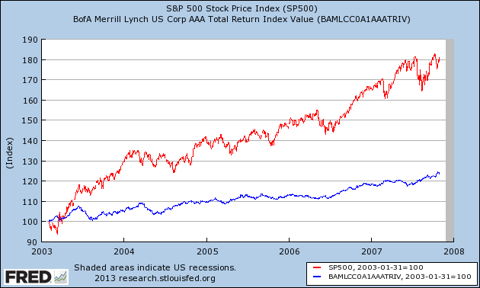 Click to enlarge
3. 10 Year US Treasury Bonds
To do this particular comparison, I had to resort to calendar year returns starting at the end of 2002 to the end of 2007, due to data availability. Nevertheless, the story is told, and one can see from the chart below that 10 Year US Treasury Bonds (NYSEARCA:TLT) (TLT can be used to access the long term (20+ years) US Treasuries market) experienced a cumulative performance similar to that of AAA corporate bonds. Not an unreasonable performance considering the risk-free nature of Treasuries during the time.
At the same time (see second chart below) interest rates were rising. One might have expected that with interest rates rising about 400 basis points that Treasuries (and AAA corporate bonds) would have plummeted into negative territory. Clearly this was not the case.
Data Source: Damodaran Online
Effective Federal Funds Rate data by YCharts
4. Gold
Now for the kicker. What beat stocks during the last 'great rotation' into risky assets? Gold. That's right. While the S&P 500 rose about 80% gold rose by about 110%.
To be fair, the charts in this article don't include reinvested dividends, for the S&P 500 but that only adds about 15% cumulatively during this period (bringing the total returns performance for the S&P 500 during this period to 95%). Regardless of the calculation methodology, despite the general view that gold only performs well during sideways or down markets, gold still outperformed stocks.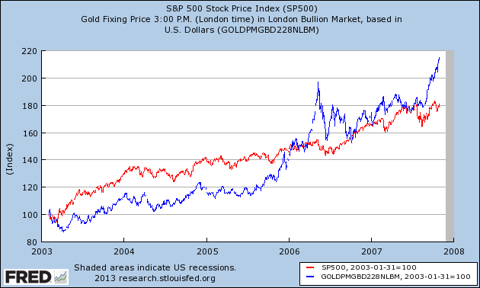 Click to enlarge
While I'm not necessarily predicting a repeat of the past, my point is that investing intuition can be very wrong. During the equity bull market that lasted from 2003-2007, you might have expected (with rising rates) 10 Year US Treasuries to collapse and (with falling risk aversion) gold to crash. In reality, rising reinvestment rates and a declining dollar helped provide for an unexpected outcome.
Moral of the story: Just because something sounds like it should happen, doesn't mean it will.
Disclosure: I have no positions in any stocks mentioned, and no plans to initiate any positions within the next 72 hours. I wrote this article myself, and it expresses my own opinions. I am not receiving compensation for it (other than from Seeking Alpha). I have no business relationship with any company whose stock is mentioned in this article.
Disclaimer: By using this site you agree to the 'Terms of Use'. This is not advice. This site features the opinions of the various authors and sources. While Plan B Economics makes every effort to provide high quality information, the information is not guaranteed to be accurate and should not be relied on. Investing involves risk and you could lose all your money. Consult a professional advisor before making any investing decisions.