On February 1 2013 the International Monetary Fund [IMF] issued a declaration of censure against Argentina in connection with its breach of obligation to the Fund, or more precisely, for failing to supply accurate economic data. In IMF terms, this was an unusually strong step; it represented the first time such action has been taken against an IMF member country. The IMF seems to believe that Argentina has continually misrepresented inflation rates and GDP growth.
The inflation rate as reported by the Argentinian government is just over 10% per year. Banca Ciudad, a leading Argentinian bank, says it's more like 25%, quoting in-house research. Only three other countries have a higher inflation rate than this. Ecolatina, a well-reputed consultancy based in Buenos Aires, reports GDP growth between 2007 and 2011 at 25.35% while official data puts this number at 39%. Just over a week ago. Argentina's leader, Cristina Kirchner, imposed a two month price freeze on all goods sold in supermarkets around the country, indicating that inflation is indeed a problem. Poverty is a very real threat to increasing numbers of people in Argentina as a result of rampant inflation in combination with a slowing economy.
The OECD rates the Argentine country risk as a 7; that's 7 out of 7, with 1 being the best grade. Other countries receiving this rating include Afghanistan, Iraq, North Korea or Mali. This rating is produced by the OECD to reflect country risk defined as transfer and convertibility risk. The Economist Intelligence Unit rate Argentina's sovereign risk as CCC defined as 'Questionable capacity and commitment to honour obligations. Patchy payment record.' Other sources play to a similar tune. Numerous recent commentaries have pointed out the increasing risk of investing in Argentina and have laid out the arguments in detail.
Only a few years ago, Argentina was regarded as an economic success story that emerged from the 2001 default, and foreign investments in Argentina were deemed relatively safe. We believe that in the light of recent events, the situation needs to be re-assessed, and investment risk adjusted. And in fact, the shifting nature of the situation in Argentina is our main concern with regards to making an investment in this country. Other countries also pose high sovereign risks, but these risks have been known for enough time to be priced into investment vehicles.
Resource nationalism is a common knee-jerk reaction of governments having to deal with economic turmoil and indeed, there are some signs that Argentina is not adverse to such measures as evidenced by last year's nationalisation of YPF. In addition to actions taken by the central government Argentina's provinces also have considerable power to introduce local tax regimes. Financial strain within the provinces might also lead to increasing pressure on resource companies operating within these provinces' boundaries. It has been pointed out that mining companies are still investing large amounts of money in Argentina and it has been commented that mining executives would surely have instruments to evaluate the risks of investing in this jurisdiction. However, in our opinion, the picture of ongoing investments in Argentina is skewed by a few very large development projects that have gone past the point of no return. We are doubtful, that any new large investments will be started in the current risk climate and we opine that mining investments will sharply decrease in coming years.
Last week, we wrote an article pointing to the country risk of a precious metal producer with operations in Argentina; and we drew some criticism for singling out one particular company. In acknowledging this criticism we set out to find other US-listed mining companies with exposure to Argentina. We decided that we would not consider exploration companies, and instead would concentrate on precious metal producers with active operations and/or advanced development projects in Argentina. Our search yielded the following list of companies that complied with our search criteria: Barrick Gold (NYSE:ABX), GoldCorp (NYSE:GG), Yamana Gold (NYSE:AUY), AngoGold Ashanti (NYSE:AU), Pan American Silver (NASDAQ:PAAS), Hochschild Mining (OTCPK:HCHDF), Coeur D'Alene Mining (NYSE:CDE), Silver Standard Resources (NASDAQ:SSRI), McEwen Mining (NYSE:MUX) and Troy Resources (OTCPK:TRYRF). In this context mention must be made of Newmont Mining (NYSE:NEM) who sold all their Argentinian assets in 2002.
The table below gives a first impression of the level of exposure by comparing the precious metal reserves of these companies located in Argentina with the overall company reserves. The unit [Moz Au-eq] stands for million ounces of gold equivalent and a silver-to-gold ratio of 50 was assumed to compute the values. 2011 end-of-the-year reserve statements were used for most companies except where newer statements were available at the time of writing.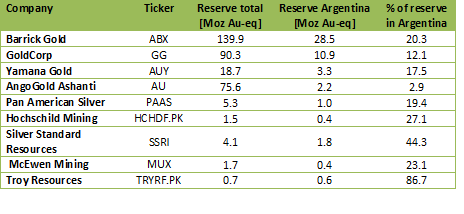 In order to refine this first impression, we proceeded to look at each company individually. A summary of each company's exposure to Argentina is given in the following.
Barrick Gold currently own one operating mine in Argentina, the Veladero mine and they are developing the Pascua Lama mine, which is located right on the border to Chile. According to a recent report $2.4B of investments are planned for 2013 at these two mines, with the majority of these funds going towards construction of the Pascua Lama mine. The Pascua Lama mine will be the world's largest gold mine when completed and the Veladero mine is currently the seventh largest with an output of close to 1M oz of gold per year. The delays and cost overruns of the Pascua Lama mine construction have helped to fill many news columns and Barrick Gold's future is firmly tied to finally reaping the benefits of this mine.
GoldCorp has a 37.5% interest in the Alumbrera mine where production is currently declining and little prospect for near-mine exploration exists. The joint venture with Xstrata (OTC:XSRAF) and Yamana Gold has resolved to continue their cooperation and jointly develop the Agua Rica project only 35km away from Alumbrera. A feasibility study for the Agua Rica project is currently underway. Another important growth project for GoldCorp in Argentina is the Cerro Negro project which is described as a world class asset with first production expected this year.
Yamana Gold has 16% of its production coming from two active mines in Argentina, namely the Gualcamayo mine and a 12.5% interest in the Alumbrera mine. In addition, Yamana retained a 12.5% interest in the Agua Rica project and they are developing the Cerro Morro project.
AngloGold Ashanti operate the Cerro Vanguardia mine in joint venture with the mining company of the Santa Cruz province called FOMICRUZ (7.5%). With an output of 196,000 attributable oz Au-eq this mine is a sizeable asset, but certainly not a company breaker.
Pan American Silver operate the Manantial Espejo Silver mine in Argentina, and additionally, they are developing the Navidad and Calcitreu projects in the country. In a news release in January 2012 the Navidad project was dubbed Pan American Silver's most important silver development project. In another news release published in July 2012 Pan American Silver state their concern that the Navidad project may become uneconomical due to new legislation drafted by the Chubut province. Future success of the company will be influenced to a high degree by the success of the two Argentinian development projects.
Hochschild Mining specialise in underground epithermal vein mines and therefore reserves might not be the best indicator for the size and longevity of a deposit. However, it is noted that in excess of a quarter of Hochschild's reserve are located in Argentina. They are operating the San Jose mine in joint venture with McEwen Mining in the south of the country and they also own four exploration projects in the same general region. The San Jose mine is listed as one of three main operations of the company.
Silver Standard Resources operate one mine, the Pirquitas mine in Argentina which also commands close to half of the company's reserves. Additionally, one out of three of the company's development projects is situated in Argentina, namely the Diablillos project. The Pirquita mine is currently the company's only producing asset.
McEwen Mining own a 49% interest in the San Jose mine. This mine is in close proximity to GoldCorps' Cerro Negro project and produced 200,000 oz Au-eq in 2012. In May 2012 Mr Rob McEwen, chief owner of the company, gave a webcast presentation expressing his concerns about developments in Argentina. The company has since started production at their second mine in a different jurisdiction and has therefore reduced overall exposure to Argentina considerably. However, McEwen Mining have another PEA-stage project in Argentina and continue to invest in this property.
Troy Resources operate the Casposo mine in Argentina. The Casposo mine is referred to as the Crown Jewels of the company in the presentation and the success of the company clearly depends on this asset.
Coeur D'Alene Mining used to operate the Martha mine in Argentina but operations were wound down last year and the mine is no longer active. Coeur D'Alene control the advanced exploration Joaquin project in Southern Argentina which might provide future exposure for the company.
Disclosure: I have no positions in any stocks mentioned, and no plans to initiate any positions within the next 72 hours. I wrote this article myself, and it expresses my own opinions. I am not receiving compensation for it (other than from Seeking Alpha). I have no business relationship with any company whose stock is mentioned in this article.