With the recent announcement last week that CyrusOne, Inc. (NASDAQ:CONE) had converted to a REIT, the newest player becomes the 4th peer in a growing roster of publicly-traded cloud storage landlords. In an article last week, I explained that the "big dog" in the lineup, Digital Realty (NYSE:DLR), has become a dominating REIT with a global portfolio of 116 properties and well over 23 million square feet. As I wrote:
I recommend Digital Realty shares at the current price of $65.40. Digital is indeed the "big dog" of the Data Center space. In addition, Digital has a proven track record for paying and maintaining dividends, and with considerable demand for high-quality data storage, the big dog has plenty of room to run. Digital Realty barks louder than the smaller peers as the San Francisco-based REIT has a beastly dividend yield of 4.46%.
Clearly, storing data is a very specialized sector and now that more companies are converting to a REIT model, it is apparent that the industry is gaining broader acceptance as a legitimate REIT sub-sector. As Michael Aneiro explained in a May 16, 2012 edition of Barron's:
Data centers first gained popularity as a specialized asset class in the late 1990s during the dot-com boom when the need to house, power and cool increasing volumes of computer equipment first became a business priority. Since then, they've been evolving to today's standard of an industrial shell with ample additional power capacity, increased load-bearing capability, raised floors and secure access features.

From an investor's perspective, the sector's benefits include positive near-term demand and high barriers to entry, while its main challenge is that data centers have few alternative uses and it's not certain demand will be sustained long-term.
While the Data Center REITs have gained in popularity - primarily due to strong capital management - the risks of owning specialized and more costly real estate has made the value proposition for ownership less attractive. In other words, there is a limited pool of institutional buyers willing to pay for specialized buildings that could one day become obsolete. As Moody's analyst Maria Maslovsky explained (in the above mentioned Barron's article):
Datacenter REITs have to address the fundamental risk inherent in the highly specialized nature of their spaces and the costly improvements they make in them, which leads to few, if any, alternative uses being available at the same level of return. Another major concern for datacenter REITs revolves around threats to long-term demand trends. While demand has grown by double-digits in recent years, the likelihood of sustained long-term growth at that pace is low.
More Datacenter REITs on the Way
In a Seeking Alpha article last week (mentioned above) I explained the growth of the hi-tech storage sector:
It's clear to see that the demand for the growing internet cloud and specifically storing digital data has become a very popular and attractive REIT alternative. Likewise, investors are benefiting from the continued demand and added diversification that provides growing exposure to just about every real estate product and/or sector imaginable.
The investor demand is justified as Tiernan Ray explained in a recent (February 18th) article in Barron's:
We learned during the dot-com boom, and the subsequent bust, that it takes real money to build the Internet, meaning that the growth of online advertising, e-commerce, social networking, and all the rest doesn't offer a magic formula for profit.
Ray went on to explain:
…despite heavy expenses on land and property, many investors consider it sort of a sure thing that these outfits will continually lever up and return money to shareholders.
As Tiernan Ray pointed out, "investors have cooled a bit on some of the best-known data-center REITs, such as Digital Realty Trust and Dupont Fabros Technology (NYSE:DFT)." Even after the earnings results posted by Digital last week shares traded down around 2.5% (closing price was $23.09).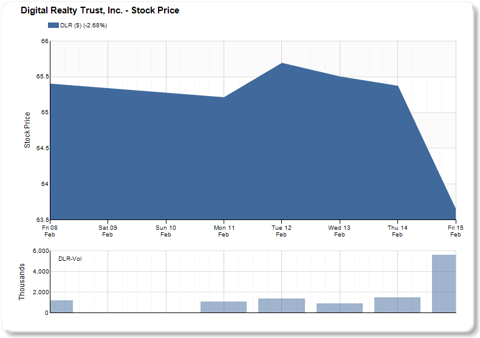 As Ray pointed (in Barron's) investors are beginning to wonder if the Data Sector can "sustain the magic" and questions remain regarding the non-REIT companies that are likely to become the newest publicly-listed data-lords.
Remember that the Data Storage sector is still just a small slice of the $561 billion equity REIT marketplace. Combined, the four publicly-listed Data Sector REITs have a market capitalization of around $10.5 billion (Digital is the largest at around $8 billion) still dwarfing the larger "pure play" food group of Industrial ($24.9 billion), Office ($56.5 billion), Shopping Centers ($44.1 billion), Malls ($87.7 billion), and Apartments ($75.9 billion).

However, in all likelihood two new data storage companies will convert to REITs soon and the massive "brick and mortar" data-lords will almost triple the size of the sector.
Rackspace Hosting (NYSE:RAX) and Equinix (NASDAQ:EQIX), with markets caps of $8.09 billion and $10.93 billion respectively, will likely enter the REIT-dom as both companies look to exploit the favorable tax friendly structure.
It's plain to see the benefits for converting to a REIT structure as Mr. Market has rewarded both data companies for the mere suggestion of being a REIT. The same has been true for other REIT wannabes including Iron Mountain (NYSE:IRM), Lamar Advertising (NASDAQ:LAMR), and Penn National Gaming (NASDAQ:PENN).
I suppose that's great for yield-hungry investors who are looking for added diversification in the form of sustainable rental income that is paid out in the form of dividends. But let's take a closer look at the two new players in data-dom and see if there's a reason to reserve a seat, in advance, for the flight to REIT-dom…
Is Rackspace a Buy?
Tiernan Ray wrote (in Barron's):
RACKSPACE IS AN EXCELLENT company with a real, growing business; it added an amazing 7,900 customers in the quarter. But it makes nowhere near enough money to support its stock valuation. Its entire appeal is conjecture: potential future profit.

At a recent price of $59, Rackspace trades at 58 times the $1.01 per share it is projected to make this year. Most of its cash, moreover, is eaten up by capital investments, such as buying more servers, developing software to run clients' operations, or buying land.
Since Rackspace went public in late summer of 2008, the company has grown operating earnings at a compounded rate of 42.3%. Earnings have advanced from $.20 a share in 2008 to $.78 per share in 2012. The consensus of 18 analysts reporting to Standard & Poor's Capital IQ expect a surge in growth in 2013 and then leveling off at approximately 25% per annum after that.
All of this growth has not escaped the attention of Wall Street which has consistently priced Rackspace shares at astronomical P/E ratios. Nevertheless, it appears that the market is pricing the shares at a significant premium to earnings justified levels.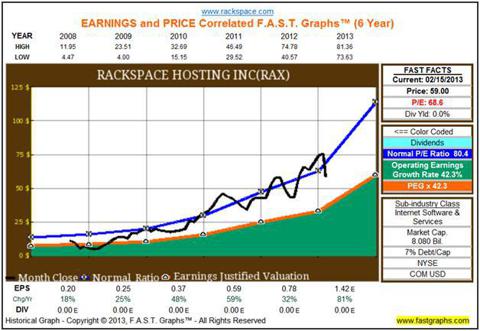 However, in spite of overvaluation, shareholders have received a total return of 44.6% per annum which correlates very closely to the firm's 42.3% annual earnings growth rate. A simple $1000 investment on August 29, 2008 would have grown to over $5,198 by February 15, 2013.

Is Equinix a Buy?
Tiernan Ray (Barron's) went on to explain:
Equinix is wildly expensive but each quarter helps the Street to put the best spin on things. The company trades at 62 times reported earnings, based on this year's projected GAAP profits of $3.62 per share. But, in fact, it has yet to be profitable on a cash basis, given that capital spending of $765 million last year wiped out its $632 million in total operating cash flow.
Wow. This is one heck of an expansion machine, or shall we say sponge (for soaking up all cash flow). As Ray pointed out,
If Equinix stopped expanding, it would have had free cash flow last year of $475 million, or a whopping $9.13 per share.
Equinix has grown operating earnings at a compound growth rate of 34.6% per annum. Since 2009, the first year the company turned profitable, earnings have increased from $1.79 per share to $3.06 per share in 2012.
A strong record of earnings growth has not gone unnoticed by Wall Street as their shares have historically commanded a price earnings ratio of 63, and are currently trading at a P/E ratio of 72.2, significantly above its historical lofty level. Therefore, these shares appear to be significantly overvalued, and very exposed to any bad news.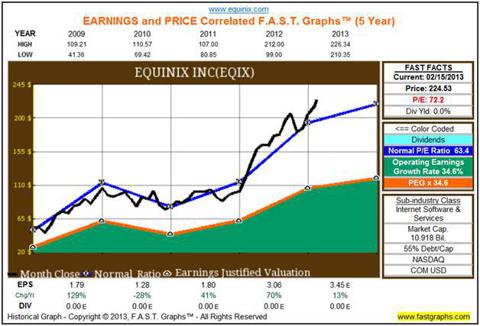 Since the beginning of 2009, strong earnings growth and premium pricing have lavishly rewarded Equinix shareholders. A simple $1000 investment on December 31, 2008 would have grown to $4,221.16 by February 15, 2013. However, the significantly high valuation represents a red flag.

The Clouds Keep Climbing with No Rain in Site
Last week Rackspace reported earnings and as Tiernan Ray explained:
The market (last week) punished Rackspace for failing to live up to the loftiest expectations, largely because the nature of a REIT is to keep demonstrating Ebitda growth that will some day support massive borrowing, and fat dividends.
On a similar note, that is the same reason that shares of Digital Realty and Dupont Fabros have fallen. It seems that Mr. Market has high expectations for the cloud surfing REITs and the notion of reporting less than angelic results is simply a "rain dance" for investors.
For Digital, it appears to be a good time to buy. Shares are trading at $63.65 with a healthy 4.9% dividend yield. As far as the Rackspace, I would wait. The company pays no dividend today and I don't see the prospects for growth that will support the current valuation ($8.09 billion).
Equinix is a coin toss. I like the fact that the company has the lowest ratio of net debt to adjusted EBITDA, (2.6 times); however, it appears that the company will not list as a REIT until January 2015. For dividend investors there is no reason to buy into data storage for the internet cloud until Equinix can support its ability to generate consistent cash flow.
Tiernan Ray summed it up best (in Barron's):
Two years is a while to wait. In the meantime, given that this is all fantasy profit, Equinix shares will continue to trade based on whether they can deliver upside each quarter, however slight. If not, the pricey stock may face a bit of a Rackspace reaction.

For now, the demand for cloud space is growing steadily, and so are REIT dividends. As my mother used to say, "let's make some hay while the sun is shining". More appropriately, REIT investors should say. "let's collect some dividends while the cloud REITs are pouring". My favored of the group, Digital Realty, increased its dividend by 7.4% in 2011 and increased its dividend paid by over 17% from 2005 through 2012.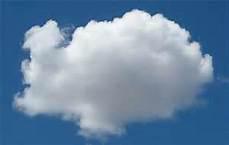 The sun seems to be shining on Digital Realty and I like the sound of dividends raining from the "best in class" cloud storage REIT. Something about the rain...makes me "sleep well at night".
Specials thanks to FAST Graphs and SNL Financial.
Disclosure: I have no positions in any stocks mentioned, and no plans to initiate any positions within the next 72 hours. I wrote this article myself, and it expresses my own opinions. I am not receiving compensation for it (other than from Seeking Alpha). I have no business relationship with any company whose stock is mentioned in this article.