It's being reported by CNBC.com that OfficeMax (NYSE:OMX) and Office Depot (NYSE:ODP) are in talks for a merger, inadvertently leading to plenty of retail shoppers like myself asking themselves:
"Wait; these are two completely separate stores to begin with? Seriously?"
Alright, I already know what you're thinking. I can see the comments lining up already:
"Quoth, you massive investing bonehead, anyone with retail investing savvy knows that these are two totally separate entities with two totally separate management teams and two totally different (insert all plausible nuanced differences between the two companies, all the way down to brand of urinal cakes used in corporate headquarters)."
Maybe you're right, alert reader, but how many of these stores could simply just erect signs tomorrow that say "OfficeMax Depot" without any retail shoppers even noticing? Most OfficeMax patrons aren't stopping by because they loathe the people at the arch-nemesis Office Depot; they're stopping by because they need a super futuristic task chair, #2 pencils or copy services, and it's the closest place to them.
The talks are reportedly for a stock-for-stock transaction. Citing competition from online shops and big box retailers like Wal-Mart (NYSE:WMT) and Best Buy (NYSE:BBY), it only makes sense that these two companies merge.
Here are four legitimate reasons why a merger is best for both companies:
1. They Finally Stop Cannibalizing Each Other
Right off the bat, this is going to consolidate workforces and result in less store closings than if these companies stayed separate. It's common knowledge that many of Office Depot's and OfficeMax's stores reside in the same complexes. If not in the same complexes, they're often just miles from one other. A merger here means massive benefits in customer base due to the association and cannibalizing between the two companies.
Am I the only idiot that has always, even as an investor, thought of these companies as interchangeable? Right down to the font they use on their store sign, these companies look and feel exactly the same to any average retail shopper. There's going to be almost zero branding issues that need to be addressed. There will be no money spent on changing images or re-labeling products. Minimal change will be necessary, assuming they go with one of the two names already in existence.
Retail, as a sector, is losing steam due to online shopping. Office supply retail is even worse with Staples (NASDAQ:SPLS) and these two companies going head-to-head not only with online retailers, but with each other. The field for office supply retail is currently super saturated.
2. They'll Have What They Need to Take on Staples
In the retail office supply sector, Staples is the head honcho, leading by a ton in almost every metric available. OfficeMax and Office Depot are both fighting the same enemy. Staples eclipses both of these companies separately in almost every category and does it handily. However, here's a comparison of Office Depot and OfficeMax totals together compared to Staples.
| | | |
| --- | --- | --- |
| | OMX & ODP Combined | Staples |
| Worldwide Locations | 2,632 | 2,281 |
| Revenue | $19.244 billion | $25.02 billion |
| Net Income | $661.8 million | $984.66 million |
| Employees | 71,000 | 51,542 |
| Market Cap | $2.24 billion | $8.7 billion |
This gives the combined company the infrastructure needed to make a run at Staples for number one in the industry. They're going to have more locations worldwide and are going to be able to retain inventory assets while having leeway to unload costs that this investor is going to guess starts over 10,000 retail employees.
The Chicago Tribune recently reported:
Both companies have struggled in recent years from declining revenue in their retail stores. In OfficeMax's most recent quarter, it was able to grow net income by cutting costs despite lower revenue. Slumping retail sales were somewhat offset by OfficeMax's U.S. contract business, where it works directly with businesses to help operate more efficiently and reduce office expenses.

If combined, OfficeMax and Office Depot, the world's second and third largest office products companies by revenue, would still not eclipse the segment's largest business, Staples Inc.
This merger is going to allow them to rebound with a greater focus on online shopping. It's going to free up capital and give them an excuse to shift more of a focus on online sales, which is the major growth opportunity for all retail companies. This is going to be integral if they want to take on not only Staples, but their big online competitors like Wal-Mart and Amazon (NASDAQ:AMZN).
3. Both Companies are In Significant Uptrends
Both of these companies have been trading in significant technical uptrends, near their 52-week highs. Both companies have healthy looking RSI indicators and both companies appear to have been condensing the past three weeks. Condensing traditionally means that a stock is getting ready to run or drop, pending a catalyst. Saying a merger might qualify as an upside catalyst is like saying Jim Cramer might have occasionally manipulated markets to his benefit.
Let's see how the two have fared over the last six months:
OfficeMax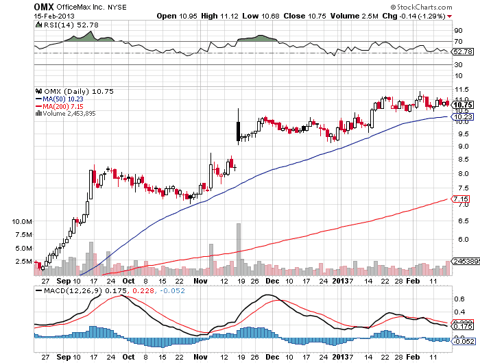 Office Depot
Kapitall, citing hedge funds and insider buyers reported on Office Depot's institutional and inside buying recently:
Net institutional purchases in the current quarter at 18.9M shares, which represents about 8.04% of the company's float of 235.07M shares. The 2 top holders of the stock are Starboard Value, and The Vanguard Group.
Over the last six months, insiders were net buyers of 6,916,980 shares, which represents about 2.94% of the company's 235.07M share float. The 2 top holders of the stock are Starboard Value, and Neil Austrian.
The stock's average daily alpha vs. the S&P 500 index stands at 0.93% (measured close to close, over the last month). During this period, the longest winning streak lasted 6 days (i.e. the stock's daily returns outperformed the S&P 500 for 6 consecutive days). The longest losing streak lasted 2 days (i.e. a win streak / losing streak ratio of 3.).
4. It's Going to Bring Attention to the Company and Benefit Shareholders
Simply put, this is a newsworthy event. Did you follow investing competition in these two companies before this news broke? If you answered "yes," automatically disqualify yourself if you can make a 15 minute or longer argument as to why I should be using Boston staplers versus Swingline, or vice versa.
All joking aside, I didn't follow either, and while I'm sure there's somebody right now in an Office Depot polo shirt who's been rooting for the company his whole life and could name you 50 reasons why it's better than OfficeMax, most mom and pop investors are going to be hearing about these companies from an investing perspective this week for the first time. Retail money coming in means inflated prices and overbuying; inflated prices and overbuying means profit taking opportunities for the sharks (that's you) while uninformed retail investors pay big bucks to buy into the big headline.
Both stocks are going to get coverage and it's going to be great for existing shareholders of both companies. Depending on how they structure the stock-for-stock deal, it could result in special dividends, bonus shares, and other perks for shareholders. Lest we forget, both stocks are trading at their highest valuation in the last year, so any premium on either company's price is going to be even more icing on current investors' cakes.
Potential Bearish Arguments
There are a couple of bearish arguments here, none of which outweigh the potential benefits - but I want to touch on them anyway.
There is a chance that the real enemy is big box retailers like Wal-Mart & BestBuy combined with online purchasing.
If layoffs and resizing are not done correctly, we could wind up with a company that's bloated and has twice the problems of the original two companies.
Staples now only has one competitor to strategically focus against, rather than two.
With OfficeMax scheduled to report earnings this upcoming Thursday, we could be privy to more details early this week. Best of luck to all current Office Depot and OfficeMax shareholders; this could be the grand slam for your investment that you've been waiting for.
Disclosure: I have no positions in any stocks mentioned, and no plans to initiate any positions within the next 72 hours. I wrote this article myself, and it expresses my own opinions. I am not receiving compensation for it (other than from Seeking Alpha). I have no business relationship with any company whose stock is mentioned in this article.