Movie theater owner/operator Regal (NYSE:RGC) announced strong fourth quarter results Feb 7. Revenue jumped 18% year-over-year to $723 million, easily exceeding consensus estimates. Earnings were also stronger than consensus expectations, more than doubling compared to the year ago period to $0.28 per share (adjusted for certain items).
The firm's fourth quarter greatly benefited from a favorable release slate, which tends to be one of the primary drivers of performance. In addition to more high-grossing films, management noted that the breadth of films also helped drive ticket sales during the quarter. Attendance grew 15% year-over-year, but average ticket prices were 2% higher and average concessions per patron jumped 3%. Regal's price increases and large jumps in attendance have led to solid earnings gains. We're always happy to see price increases stick, and the firm's ability to hike prices and still see concession dollars increase may suggest the economy is improving. Free cash flow for the year surged 31% to $144 million, allowing the company to pay its generous quarterly dividend of $0.21 per share, which equates to a yield of 5.4% at current levels. We note, however, that due to Regal's large debt load, its Valuentum Dividend Cushion score is not great (the measure resides well below 1).
Regal has been using cash in a few different ways, including adding new screens via strategic acquisitions. Management noted that expansion opportunities may face regulatory scrutiny in existing markets, but the firm could look to add more screens in new areas. The firm acquired Great Escape theaters in November, and mentioned it was already yielding benefits, noting:
"…we were extremely pleased to complete the acquisition of Great Escape theaters for $91 million in cash in late November. The acquired portfolio includes 301 high-quality, well-maintained screens located primarily in small and midsize markets in Kentucky, Indiana, Pennsylvania and surrounding states. 93% of the screens feature stadium seating and 77% came already equipped with digital projectors, the integration of the Great Escape screens into our management and procurement program is complete and we have already begun realizing the operating synergies associated with the transaction."
Open Road Films, Regal's joint-venture with AMC Theaters, posted a solid year, with its six films collectively grossing $150 million. This continues to be a huge opportunity for the company, as creating films gives the theater cost-savings via vertical integration. Of course, creating films increases the company's risk profile-imagine if the firm was strapped with a John Carter-but the potential upside is phenomenal. Management remains optimistic that the studio will be able to push out more films, and we think Open Road will focus on filling the demographic holes that the traditional studios are leaving open.
Still, Regal remains largely dependent on Hollywood to drive sales and earnings, so the popularity of 2013 film releases will be the number one determinant of how they year goes for Regal. Disney (NYSE:DIS) anticipates a strong showing from its 2013 release slate, which includes Iron Man 3, the second installment of the Thor franchise, and Monsters University, and we see some potential blockbusters ahead like The Great Gatsby, Man of Steel, World War Z, the new Carrie, Lion Gate's (NYSE:LGF) The Hunger Games: Catching Fire, and the long-awaited Anchorman sequel. Is the lineup as good as it was in 2012? Box office sales were up 6.5% compared to 2011, and we think it will be tough to make up for lost sales in a year without The Avengers and a Batman film. Still, 2013 should be a good year. Pasted below are the top 10 films from 2012 (Image Source: BoxOfficeMojo.com).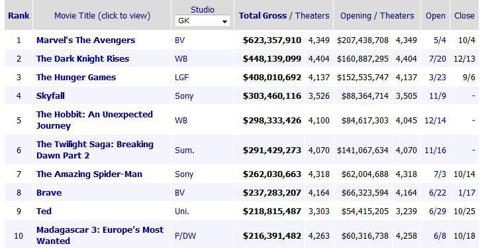 Click to enlarge
Nevertheless, we believe shares of Regal look compelling (from a valuation standpoint) at current levels. Not only do we think threats of small screen competition are overblown, but we think the increasing costs of production for studios is forcing them to produce movies that people will want to go see on the screen. However, let's not forget that the studios are far from perfect, and there are only so many films an A-list actor can do in a single year.
Ultimately, we think box office sales are poised to continue growing, albeit in a lumpy fashion. Though Regal has considerable financial leverage, we think its business model is quite stable, especially since the company had no problems issuing a special $1 dividend in 2012. Consumers have enjoyed the silver-screen for nearly a century, and we think consolidation among theaters will ultimately keep prices rising steadily. Even during the depths of the Great Recession, Regal's operating cash flow remained steady.
Importantly, however, shares score just a 3 on the Valuentum Buying Index (our stock-selection methodology), so we continue to wait for improved technicals to consider the name for the portfolio of our Best Ideas Newsletter.
Disclosure: I have no positions in any stocks mentioned, and no plans to initiate any positions within the next 72 hours. I wrote this article myself, and it expresses my own opinions. I am not receiving compensation for it (other than from Seeking Alpha). I have no business relationship with any company whose stock is mentioned in this article.