The gold price traded down last week after a three-week consolidation and hit a fresh six-month low on Friday, February 16. It opened at $1,660 per ounce on Euro depreciation and dropped to nearly $1,640 after the dollar index bounced back. The gold price was under high selling pressure from funds and then its losses were extended after increasing sell-stop orders were hit below the important near-term technical support at the January low of $1,640. By the end of the trading week, the gold price had retreated to nearly $1,610.
Fundamentally, there are three reasons why the gold price has been sliding:
First, before the G-20 summit in Russia, the dollar's appreciation had already made the gold price drop below its critical technical support. Following the G-20's pledge not to promote their economies through currency manipulation as policymakers sought to tame fears of a new global currency war, safe-haven demand for gold was sharply reduced as investors believed that the imaginary currency war was less likely to happen.
Second, economic data from the Euro-zone is gloomy. Eurostat released that the Euro-zone economy contracted 0.6% in the fourth quarter compared with the previous quarter-the largest economy contraction since 2009, signaling that the European Central Bank is likely to lower interest rates in order to protect and stimulate the still-delicate economy. The Euro-zone reading comes after national data released earlier on Thursday, February 14, showed that Germany, Europe's largest economy, and France, the second-largest, each saw their respective GDP shrink more than expected in the final three months of 2012. For the full year, Euro-zone GDP shrank 0.5%, according to Eurostat. If economic contraction in German and France continues, both economies could fall into recessions. The fact that the Euro-zone economy hasn't come back on the right track of economic growth has undermined investors' confidence in the gold market and sparked selling.
Third, besides the news mentioned above, market rumors about George Soros, chairman of the Soros Fund Management, reducing his bets on gold and silver during the fourth quarter of 2012 triggered negative ripple effects in the market and increased the selling pressure on gold. Taking everything into account, it is reasonable to believe that most investors were sensitive to the rumors and sold off their holdings as George Soros might have done.
The prices of gold and silver are still trending downward. With the Asian market re-opening after Chinese Lunar New Year, more investors might participate and support a market rebound. Gold and silver prices are expected to have a small rebound. Due to the lack of supportive market news, the trends for gold and silver are still downward, so the possibility of strong rebounds is very low. Gold may show some signs of a technical rebound, while silver descends due to inertia.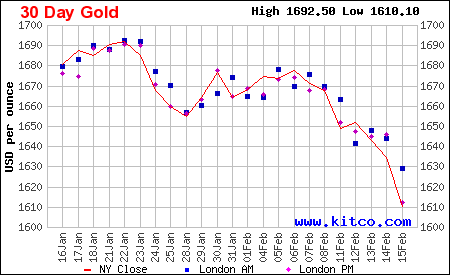 Under the impact of the recent downtrends of gold and silver, gold ETFs such as SPDR Gold Trust ETF (NYSEARCA:GLD) and iShare COMEX Gold Trust ETF (NYSEARCA:IAU) and Ishare COMEX Gold Trust ETF are depressed and gold and precious metal mining stocks such as Barrick Gold Corp. (NYSE:ABX), Gold Corp. Inc. (NYSE:GG), and Agnico Eagle Mines Ltd. (NYSE:AEM) underperformed.
In conclusion, the global economic recovery and the relief from financial crises have weakened the safe-haven demands for gold, and consequently the market's expectations for the end of current quantitative easing will suppress the rebounding of gold prices. Since the fundamentals for a bullish gold market, notably the financial crisis and economic recession and quantitative easing, have been undermined, it is just a matter of time before gold drops below its critical technical support at $1,600.
Disclosure: I have no positions in any stocks mentioned, and no plans to initiate any positions within the next 72 hours. I wrote this article myself, and it expresses my own opinions. I am not receiving compensation for it (other than from Seeking Alpha). I have no business relationship with any company whose stock is mentioned in this article.
Additional disclosure: Maxsoar is a team of financial analysts specializing in emerging market stocks. This article was written by one of our analyst. Maxsoar did not receive compensation for this article (other than from Seeking Alpha), and we have no business relationship with any company whose stock is mentioned in this article. Use of MaxSoar Financial and Investments LLC's research is at your own risk. In no event should MaxSoar Financial and Investments LLC or any affiliated party be liable for any direct or indirect trading losses caused by any information in this report or on its website MaxSoar.com.