Earnings from M&A advice and capital raising via the debt and equity markets are currently in the doldrums. According to Thomson Reuters, fees from these business lines through year-to-date December 19, 2012 were $72.1 billion, down 6% versus the same time last year. In fact, this was some of the lowest fee volume for the investment banking industry since the collapse of Lehman in 2008. Within those business lines, fees from M&A advisory, equity, and loans decreased 15%, 18% and 13%, respectively.
However, fees from bond underwriting increased 30% over the period. Moreover, M&A advisory-- which firms like Morgan Stanley (NYSE:MS) and Goldman Sachs (NYSE:GS) specialize in-- may face stiffer headwinds; when business leaders are struggling with their own companies, they are hesitant to take on additional business risks presented by acquisitions.
Fourth Quarter 2012 Results Robust
Prior to Morgan Stanley's fourth quarter 2012 earnings release, I expected to hear negative news on par with the company's third quarter 2012 results. However, the company reported net revenues of $7.0 billion, 23% and 32% above net revenues of $5.3 billion and $5.7 billion for fourth quarter 2011 and third quarter 2012, respectively. Morgan Stanley also reported income from continuing operations of $764 million, which compares favorably to a loss of $158 million for the same period a year earlier.
Fixed Income and Commodities sales and trading revenues were $811 million compared to losses of $493 million a year earlier. Results were also a sharp departure from the disappointing results of its bond-trading unit in third quarter 2012, leading to announced lay-offs of 1,600 employees.
Morgan Stanley's compensation expense, which investors will focus on going forward, was 53.5% of revenues; this metric improved from 70.2% and 72.3% for fourth quarter 2011, and third quarter 2012, respectively.
However, there may still be pain ahead for Morgan Stanley for the following reasons:
Annual Financial Results Are Trending Lower
The following table illustrates Morgan Stanley's historical financial results from 2009 to 2012.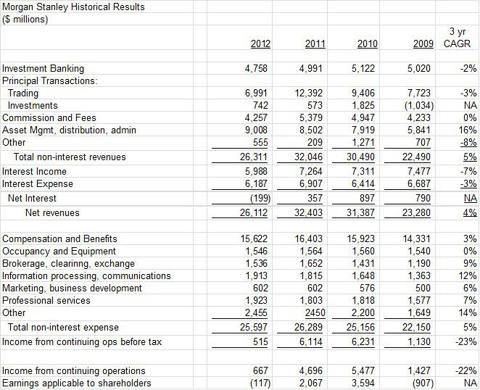 Revenue growth has been flat, achieving a three year compound annual growth rate ("CAGR") of about 4%. A key driver of revenue growth is the company's Asset Management division, which was positively impacted by gains on principal investments in the Merchant Banking and Real Estate Investing businesses.
The "Volcker Rule" which was designed to prevent banks from taking excessive risks from trading their own capital, later became a section of the 2010 Dodd-Frank Act. It prohibits banks from investing in private equity funds and hedge funds, and making "short-term" investments with its own capital. Goldman Sa

chs

skirted the Volcker Rule with its Multi-Strategy Group which makes long-term wagers with Goldman's capital. It is unclear how Morgan Stanley's principal investing activities will be disaffected by the Volcker Rule, if at all.
Secondly, gains from principal investments add a level of volatility and inconsistency to the company's revenue stream.
Overall, income from continuing operations declined from $1.1 billion in 2009 to $515 million in 2012. The decline does not appear

to abate any time soon.
Compensation Expense Is Below Industry Standard
Former GE Capital CEO, Gary Wendt, was known to refer to investment banks as having "elevator assets" - they take the elevator home at night. That said, annual expenses associated with Morgan Stanley's elevator assets - compensation expense - remains below industry standard.
The "rule of thumb" is that compensation expense at investment banks should be no more than 50% of revenue; the metric for Morgan Stanley was 63.7%, 52.2%, 51.2% and 59.4% for 2009, 2010, 2011 and 2012, respectively.
If revenue continues to decline, management may be unable to reduce costs as rapidly. Senior executives need to take less compensation in the lean years in order to keep compensation in line with investors' expectations. Whether current management is willing, capable even, to rein in compensation expense is unclear.
U.S. Economy Providing Stiff Headwinds
An anemic U.S. economy is not helping matters. Morgan Stanley's core business of M&A and capital raising is cyclical in nature and should continue to track GDP growth, which is expected to remain anemic. According to Long Term Unemployment And 'The Pain Ahead,"
Big ticket items like housing and autos drive the economy. The Fed initiated its Quantitative Easing program in the fourth quarter of 2008. Yet housing starts have been flat since that period; starts were 906 thousand in 2008 and ranged from 554 thousand to 609 thousand from 2009 to 2011. Auto sales were 13.5 million in 2008, reached a trough of 10.6 million in 2009 and rebounded to 13 million in 2011. But they still pale in comparison to the roughly 17 million just prior to the financial crisis.
Conclusion
Whether [i] Morgan Stanley can realize consistent gains from merchant banking and principal investing and [ii] senior management can reduce compensation expense in line with revenue deterioration, remains to be seen. However, its core investment banking business will most likely mirror the contraction in the U.S. economy. That said, I recommend avoiding the stock until its financial performance and long-term business prospects improve.
Disclosure: I have no positions in any stocks mentioned, and no plans to initiate any positions within the next 72 hours. I wrote this article myself, and it expresses my own opinions. I am not receiving compensation for it (other than from Seeking Alpha). I have no business relationship with any company whose stock is mentioned in this article.