Michael Kors (NYSE:KORS) earnings and sales continued to handily beat estimates in the latest quarter. 2012 was a great year for the stock, and there are indications for another great year for investors holding this glamour stock. I wrote about Michael Kors a month ago - Michael Kors Shines On The Runway, where I said that the stock needs a catalyst, and that was probably going to be the earnings. Indeed, that was correct; earnings sent the stock to new all time-highs.
FQ3 Highlights
Earnings and sales continued to surge, with a triple-digit earnings increase, and a 70% rise in sales. Gross margin expanded 80 basis points to 60.2%, driven by lower markdowns.
The company continues to execute very well on its six initiatives for growth:
1. Comparable store sales in North America increased 41% over last year, which was the 27th consecutive quarter of comparable store growth in the region.
2. Retail expansion in North America continued, with 14 new stores in the quarter, and total of 228 locations in the region.
3. Conversion of North American wholesale department store doors into branded shop-in-shops, which is resulting in significant increase in sales volume per door.
4. Expanding presence in Europe with nine new retail locations, and new wholesales doors. Revenue increase in Europe was 112% to $58 million, with comparable store sales rising 58%, despite continued weakness of European economy.
5. Japan as a huge growth opportunity, with continuing development of business there. Revenues in Japan increased 103% to $6 million, with comparable store sales increasing 11%. They opened five stores during the third quarter and ended the quarter with 26 locations.
6. Growth in other areas of the Far East through regional licenses.
The company is beginning the transition process with e-commerce, with an in-house site expected in February 2014. The new platform will enable the company to create an omni-channel experience for customers and offer a broader range of Michael Kors luxury products. The long term expectation for the e-commerce is to be a multi-million dollar channel opportunity.
The company expects total revenue for the fourth quarter to be in $515 million to $525 million range. Comparable store sales increase is expected in the low to mid-20% range. Earnings per share are expected to be in $0.32 to $0.34 range. For the full fiscal 2013, they expect $2.1 billion revenue and $1.80 to $1.82 earnings per share.
Valuation and Competition
Michael Kors has a PE of 37.10; forward PE is 26.25 with a PEG ratio of 1.05, according to Yahoo Finance. It seems like a pretty fair valuation at the moment, but the company is showing hefty surprise levels, so a 5-year expected growth rate of 32.63% seems to underestimate the strength and growth of the company. EPS surprise rate in last four quarters ranged from 22.5% to 70%, with a 56% surprise in the latest quarter. In addition, EPS trends are going up, with estimates for the current year going up from 1.54 ninety days ago to 1.85, and from 1.99 to 2.41 for the next fiscal year.
Michael Kors seems to be in a completely different category, when compared to its peers in the Apparel Stores industry group. I selected the stocks with similar market capitalization: Gap Inc. (NYSE:GPS), Ross Stores Inc. (NASDAQ:ROST), Limited Brands Inc. (LTD) and Nordstrom Inc. (NYSE:JWN). Although it has more than twice Price to Earnings ratio than all of its peers, it has a quite lower PEG ratio, and more than twice the expected growth level, not to mention the growth rates it had in recent quarters and compared to its peers.






Source for data: Ycharts, StreetInsider, Yahoo Finance
Price Action
The stock entered a six-month consolidation after stellar August earnings and a September SPO. Then it had a failed breakout in late January, and found support at the 50 day moving average (10 week average as shown on the weekly chart). It broke out on huge volume after reporting earnings on 12th February. It seems to be holding the gap-up price.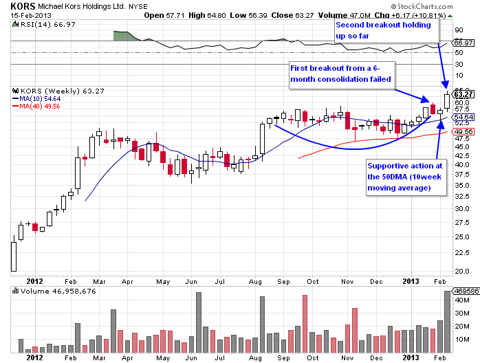 Conclusion
Michael Kors is by far the best pick in Apparel Stores industry group, and a great growth stock. Its surging earnings and sales, fashionable luxury products, together with hefty surprise rates are giving some compelling arguments for investors holding the stock, and ones that are considering buying it.
Disclosure: I have no positions in any stocks mentioned, but may initiate a long position in KORS over the next 72 hours. I wrote this article myself, and it expresses my own opinions. I am not receiving compensation for it (other than from Seeking Alpha). I have no business relationship with any company whose stock is mentioned in this article.