You have to learn to love volatility for the sake of the system. Because variability gives you information that makes you adapt very quickly.

- Nassim Taleb in an interview with Motley Fool on the Benefits of Uncertainty (2012)

People think that the goodness of [markets is] providing information. In fact, they are great at masking information. That's why it works…it prevents panics. Volatility prevents big collapses…But what happened with Greenspan, by stabilizing everything, no volatility, or minimizing volatility, something they call the Great Moderation…you had a lot of hidden risks in the system. Very explosive. Ready to explode and effectively, we saw what happened, they blew up.

- Nassim Taleb in Authors@Google (2012)
Nassim Taleb has been on a tour promoting his new book "Antifragile: Things That Gain from Disorder." He provides related links and interviews on his Antifragile web site where he emphasizes the point that governments and regulators should not strive to drive out volatility from the financial markets in an effort to make markets appear "safe." Taleb considers volatility a tool for failing quickly, learning fast, and building robustness. I listened/watched his talks for a second time this weekend in honor of the volatility index, the VIX, which has amazingly dropped to seven year lows.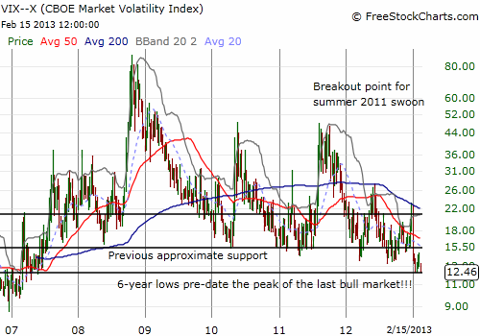 The VIX has dropped to an incredible 7-year low: "wake me when something happens"
Volatility has not only declined precipitously in U.S. markets. This dynamic is global. The latest statement on monetary policy from the Reserve Bank of Australia (RBA) earlier this month contains some very instructive graphs on the worldwide, nearly synchronized, decline in volatility.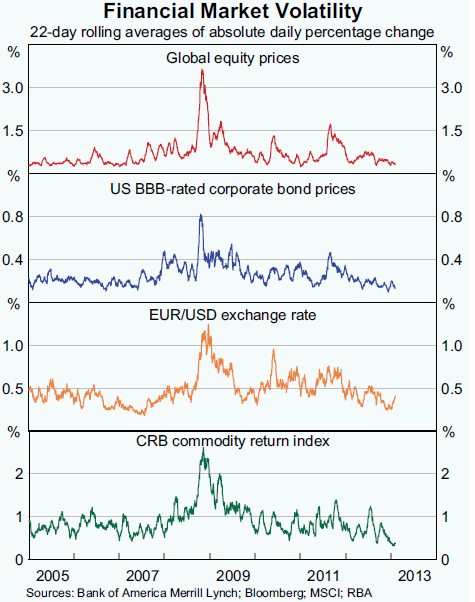 Volatility has moved in near unison to track to multi-year lows across multiple financial markets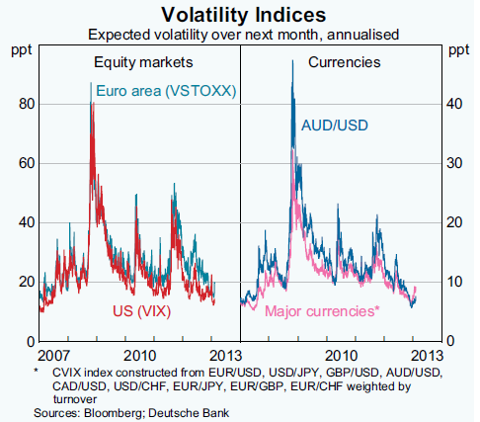 Expected volatility in global stock markets and currencies has also moved in near unison to levels last seen before the financial panic
From one perspective, one might say that the periodic bursts of volatility we have experienced since 2008 have taught us well; that is, financial systems are robustly and flexibly adapting to new realities. However, the financial markets have not healed on their own. During this time, global central banks have engaged in aggressive campaigns of monetary easing, even in major economies like Australia which did not even experience a recession during the financial panic. The swell of asset purchases and money-printing seem to have provided a massive cushion that dampens noise, and, as Taleb would likely say, effectively hide all sorts of underlying risks (I would say one of the biggest unseen and under-appreciated risks is inflation although the United Kingdom knows it all too well).
The relative calm in the markets is further highlighted by the continued decline in trading volumes in financial stock markets. In the U.S., trading volumes have been particularly anemic since the rally off the March 2009 lows began. According to the data below, this too is a global dynamic. Foreign exchange turnover has also declined slightly in recent years, but it remains elevated relative to the time of the financial panic.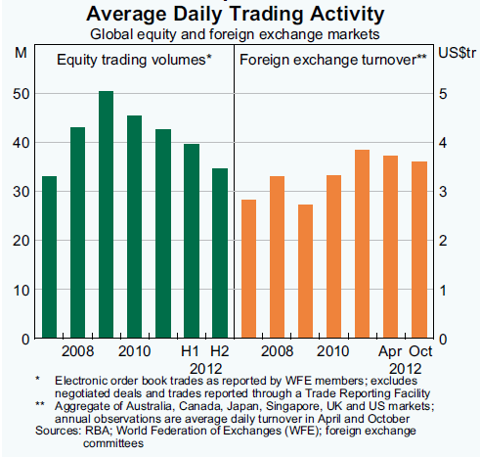 Average daily trading activity in stocks has declined every year since the financial panic peaked
The RBA points to actions by the European Central Bank (ECB) and the Federal Reserve as primary contributors to driving down stock market volatility (and trading) in 2012:
The step down in volatility since the middle of 2012 followed policy actions by major central banks. Conditions in European sovereign debt markets improved markedly after European Central Bank President Draghi indicated in late July 2012 that the ECB was prepared to take decisive action to preserve
the euro, and improved further on the subsequent announcement of the ECB's Outright Monetary Transactions program. Together with developments such as the recent commitment to provide further official funding to Greece, this appears to have helped alleviate investor concerns about extreme scenarios such as a break up of the euro area.

In the United States, the Fed announced further asset purchases in the second half of 2012…and has been providing explicit guidance on the expected path of its policy rate since the second half of 2011. This has led to less uncertainty about the future path of short-term interest rates in the United States, which in turn is likely to have influenced volatility in a range of other markets.
Even more notable is that the RBA points to currency interventions as an explanation for the recent decline in volatility in foreign exchange markets.
In currency markets, policy actions taken by major central banks have also prompted the authorities in a number of other countries to introduce measures designed to counter the resulting appreciation pressures on their exchange rates. These measures, which include (actual or implied) foreign exchange market intervention, may have also contributed to the reduction in volatility in currency markets in the latter half of 2012.
The aggressiveness and size of the monetary interventions is likely an attempt to match up against the deeply entrenched deflationary mentality that settled into the consciousness of markets during and after the 2008/2009 panic. Central bankers and governments have worked hard at tinkering with the markets to help their citizens regain a sense that the financial system is "safe." Certainly, those efforts are finally paying off in the U.S. as the S&P 500 (NYSEARCA:SPY) sits at 5-year highs even as it stares down the barrel of a major budget battle in D.C.
The interesting and contrary irony here is that we could consider the stock market, especially now, to be LESS safe, specifically because volatility is so eerily calm. The chart below shows how the S&P 500 has practically floated higher and higher this year with very little interruption despite trading in overbought territory the entire time. Overbought conditions finally ended on Friday, February 15th, creating some interesting trading scenarios (including my adjustment higher of my presumed next downside target).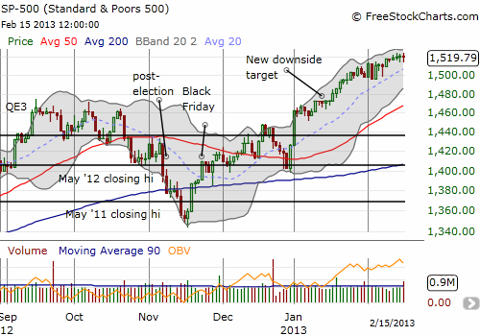 You can't tell that a 31-day overbought period just ended.
Currently, the "Black Friday trade" remains firmly grounded in bullish mode, but I am definitely not one to interpret the relative calm as a sign that the water is just now getting safe for swimming. Dips are buyable because some amount of downside risk drops from the table. The same holds true now for me. Market technicians have a truism that I hold dear in times like these: periods of extremely low volatility precede periods of high volatility. We may not know what will stoke the flames only that the flames WILL eventually get stoked somehow, someway.
Be careful out there!
Disclosure: I am long VXX. I wrote this article myself, and it expresses my own opinions. I am not receiving compensation for it (other than from Seeking Alpha). I have no business relationship with any company whose stock is mentioned in this article.
Additional disclosure: I am long VXX shares and puts. I will likely buy SSO puts within the next 72 hours.