By Jason Napodano, CFA
Last week OxySure Systems (OTCPK:OXYS) announced it had expanded its product offering to include six brands of Automated External Defibrillators (AEDs), as well as all related AED accessories. We view this as an astute and highly strategic move by the company. The AED market is large and growing handsomely, and OxySure's Model 615 emergency oxygen device is the ideal counterpart to an AED purchase order.
Over the next several months, we expect to see OxySure expand the number of distributors and independent sales agents in the field from the current several dozen to over 200. Making available the leading AEDs allows these commission-based independent agents to offer a full solution of life-saving devices that includes both AEDs and emergency oxygen products. The company should benefit from both increased sales of its own Model 615 device and accessories, along with distribution payments on the six brands of AEDs that will become available through the company's expanded network. We believe this can be accomplished at minimal upfront cost to OxySure.
The AED Market
AEDs account for around 40% of the total external defibrillator market, with manual external defibrillators accounting for the other 60%. We estimate approximately $220 million, or around 140,000 units at an average price of around $1,600 per unit, were sold in 2012. Frost & Sullivan estimates the size of the AED market to grow to around $300 million by 2016 (~190,000 units), with 6-7% CAGR.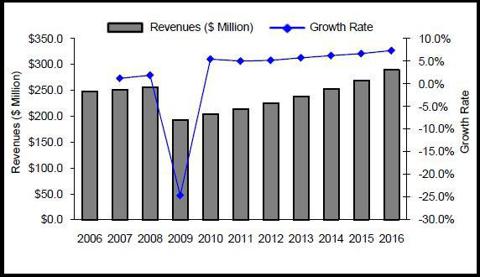 Source: Frost & Sullivan
Roughly 60% of AED units are placed in public areas such as airports and bus stations, government and municipal buildings, shopping malls, sports stadiums, schools, casinos, fitness clubs, etc. First responders account for around 25% of all AED use. The remaining 15% of AED use is found inside hospitals and alternative care settings. In the U.S., we estimate there are roughly 2 million AED units placed, with another 1 million units found outside the U.S.
Legislative mandates are the primary driver of AED placements. The Federal Cardiac Arrest Survival Act (2000, updated 2009, revised 2013) provides AED users and acquirers with liability protection. Additional protection is afforded under U.S. Good Samaritan Laws. The Aviation Medical Assistance Act (1998) requires that all passenger commercial aircraft carry AEDs. All 50 U.S. states have specific AED laws and regulations. According to Heartsafe.com, 27 States have laws requiring AEDs in schools, nursing homes, or government offices. Several organizations are lobbying for a federal law.
The average age of a patient with sudden cardiac arrest (SCA) is 67 years, although approximately 10% of all SCAs occur in subjects under the age of 40. Each year, over one million Americans suffer a sudden cardiac event, and over 460,000 die of SCA - more than lung cancer, colorectal cancer, breast cancer, prostate cancer, auto accidents, and firearms combined. AEDs (and emergency oxygen) can lead to improved outcomes for subjects having sudden cardiac arrest or cardiac arrhythmias. SCA is the No. 1 cause of death at work. Given increasing legislation mandating placement and availability of AEDs, impetus exists for schools, shopping malls, airports, etc. to stay ahead of the laws and to potentially reduce liability of not having an on-site AED.
Yet, despite state and local mandates, and Good Samaritan Laws, organizations may be concerned with the legal and financial liability of having untrained employees, clients, customers, or patrons administering the AED to a subject experiencing an SCA or cardiac arrhythmia. Budget constraints and costs of the AED and training are the primary reasons why more units are not placed in the U.S. For schools, shopping malls, airports, hotels, sports stadiums, etc..., the cost of the AED, while not overly prohibitive, is not offset by any gain in revenues.
Lack of awareness is not necessarily an impediment to AED placements, but proper compliance with federal or state and local laws is required for sale into a school or municipal building. Business and organizations may not be aware that AEDs exist, how easy they are to use, or that legislative mandates and favorable liability protection existing to facilitate its purchase.
The AED market is dominated by three players: Philips Healthcare (NYSE:PHG) with an estimated 34% market share, Cardiac Science with an estimated 27% market share, and Zoll Medical (NASDAQ:ZOLL) with an estimated 22% market share. Other players such as Physio-Control with 9% market share, Defibtech with 4% market share, and HeartSine with 3% market share are key players. Products offer unique characteristics, including different sizes, weights, colors, displays, shock levels, battery life, usability, complexity, and of course cost.
Why This Makes Sense For OxySure
OxySure now has distribution or sub-distribution agreements with all the major AED players. These products will be made available through the company's expanded network of distributors and independent commission-based sales agents. We believe meaningful revenue growth can be accomplished with only marginal upfront costs to the company, including training and commission draws. These independent agents will provide a second level of distribution at favorable economics beyond the company's existing distribution agreements with key partners such as Grainger, Global Industrial / Systemax, AED Professionals, and DrugStore.com.
The OxySure Model 615 is the perfect adjunct product to be placed next to an AED. AED market growth over the past several years has been impressive and we expect the trend to continue. By offering AEDs to its customers, OxySure now has the ability to piggyback the Model 615 device on the backs of a growing industry that has the necessary awareness and legislative mandates in place to drive uptake.
OxySure's Model 615 is both more affordable and accessible than AEDs, and data shows a person is up to 300x more likely to require supplemental oxygen in their lifetime than external defibrillation. Non-cardiac uses for OxySure's Model 615 include acute allergy, asthma or COPD attacks, which occur far more frequently than SCAs. Other uses include heat exhaustion, hypoxia / altitude sickness, migraine attacks, poisoning / overdose, diabetic emergencies, smoke inhalation, seizures, chest pain, fainting, dehydration, near drowning, hyperthermia, and injury with trauma. Needless to say, we think this is a big potential opportunity for the company.
The OxySure Model 615 Emergency Oxygen device is like the oxygen equivalent of a fire extinguisher - it provides a safety net in the event of a medical emergency. It can be placed / pre-positioned in public settings just like an AED or fire extinguisher, in schools, homes, businesses, churches, corporate and government buildings, sports stadiums, and shopping centers across the US, at a cost far less than roughly $1,600 for an AED. The Model 615 costs only $349 (MSRP) for the initial unit and $149 (MSRP) for each replacement cartridge.
Two key impediments to the Model 615 growth over the past few years has been a lack of awareness and lack of legislative protection / mandates for use. OxySure is currently looking to piggyback on AED legislation and reimbursement to help facilitate uptake of the Model 615 device. And by offering AEDs to primarily the same customers that might purchase the Model 615 device, management is specifically addressing the awareness issue by positioning the product as an accessory / adjunct to AEDs. With over 3 million AEDs placed worldwide, acceptance of the Model 615 as a logical supplement has the potential to create a "hockey-stick" like ramp in revenues.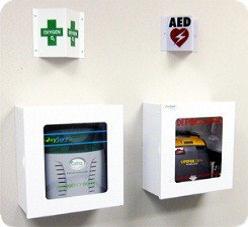 ...A Little Background Info...
The Model 615 unit has been cleared by the U.S. Food and Drug Administration (FDA) for over-the-counter (OTC) sale without the need for a prescription (510k/Class-II). The product is also currently available in South Africa, Turkey, Brazil, and Israel.
With the Model 615 unit, oxygen is generated on demand from two inert dry powders. There is no storage of oxygen, no compressed tanks, no dials, no valves, no regulatory maintenance, no hydrostatic testing, no batteries, no required training, and none of the hazards associated with traditional oxygen provision systems.
The OxySure Model 615 is safe and simple to use, and provides oxygen instantly with the turn of a knob. It can be used by any lay person, and bridges the gap between the onset of a medical emergency and the time that the first responders arrive on the scene. In the U.S., that gap between calling 911 and emergency medical professionals arriving is 6 to 15 minutes, depending on traffic conditions and other factors. If the medical emergency is of a cardiovascular nature, this gap can be critical, since irreparable damage to brain tissue can occur starting after only three minutes of oxygen deprivation.
We've built an aggressive financial model based on surging sales of the Model 615 device and distribution payments from AED partners. Growth should be facilitated by existing distribution agreements with large partners like Grainger and DrugStore.com, along with the company's growing army of independent commission-based agents. By offering AEDs, OxySure can now ramp-up its marketing and promotional efforts, and better penetrate both the placement and "at risk" markets thanks to improving reimbursement and legislative mandates piggybacking on procedures already in place for AEDs. We think this new expanded offering can be accomplished with only marginal upfront costs and paid for by creative financings, including royalty agreements and vendor financing from partners.
We think that OxySure can turn cash flow positive in 2016, and generate over $10 million in operating cash flow in 2018. We built a 10-year discounted cash flow model that pegs fair-valuation between $1.50 and $2.00 per share. We would be buyers of the stock today.
Disclosure: I have no positions in any stocks mentioned, and no plans to initiate any positions within the next 72 hours. I wrote this article myself, and it expresses my own opinions. I am not receiving compensation for it (other than from Seeking Alpha). I have no business relationship with any company whose stock is mentioned in this article.