In regards to economic news, today will not be very busy at all. We have one indicator out and it is the NAHB Housing Market Index. Later this week the news will pick up, as is usually the case, with some important manufacturing, housing and jobs numbers. That could provide for some excitement and added volatility if we deviate from the trend which has developed over the past few weeks.
On Friday, even though the market closed lower, it was up earlier and there were 443 new 52-week highs, pretty impressive especially after the huge run-up we have seen over the past few weeks.
Chart of the Day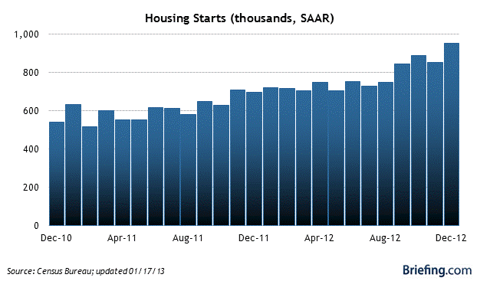 Click to enlarge
Chart courtesy of Briefing.
We have economic news due out today, and it is as follows:
NAHB Housing Market Index (10:00 AM EST): 48
Asian markets finished mixed today:
All Ordinaries - up 0.36%
Shanghai Composite - down 1.60%
Nikkei 225 - down 0.31%
NZSE 50 - up 0.71%
Seoul Composite - up 0.20%
In Europe markets are higher this morning:
CAC 40 - up 1.00%
DAX - up 0.91%
FTSE 100 - up 0.33%
OSE - up 0.64%
Consumer Goods
We have long been bullish of Pepsico (NYSE:PEP) and believe that the company is correct to keep their various segments under one roof rather than splitting up. Yes they have had 'activist' hedge funds purchase shares and take an active role in trying to initiate change, but ever since then the company has managed to perform and at least meet estimates. It has always been a pendulum of sorts in this industry where when Pepsico does well, Coca-Cola (NYSE:KO) lags and when Coca-Cola outperforms Pepsico lags. Well, after lagging it appears to us that Pepsico is gaining momentum while Coca-Cola appears to be losing it. This could be setting up an interesting trade whereby one goes long Pepsico and short Coca-Cola.
Regarding any potential break-up of Pepsico, it was our opinion then, and it is our opinion now, that any such proposal was dead upon arrival. Yes one is able to create wealth by splitting up, however the diversification is lost and it does alter portfolio allocations. Investors purchased shares in Pepsico to own both the soft drinks business as well as the snacks business. If they had simply wanted a beverage stock they would have purchased either Coca-Cola or Dr. Pepper Snapple Group. It really is as simple as that.
Retail
Shares in The Gap (NYSE:GPS) turned higher Friday on the strength in retail sales. The company's shares rose $1.52 (4.85%) to close at $32.88/share rising from that $30/share level where the shares found support after the pullback late last year. We still think that the company is one of the better run retailers out there and should continue to lead the way higher with their stable of premier brands which seem to be performing well in the current retail environment. Yes comps will be a tougher compare as each quarter the prior year's numbers become better and better but the company is still performing at a higher level from an operational standpoint than many key rivals.
The big news out over President's Day here in the US was that Office Depot (NASDAQ:ODP) and Office Max (NYSE:OMX) were in talks to merge. There has been nothing official at this time, but the business networks are all discussing the deal in enough detail that it appears that something will happen here. It has been long rumored, and with the competition out there it should get by the Justice Department.
From what we have read, the deal would consist of all stock and would be centered around the concept of creating a company large enough to compete with Staples (NASDAQ:SPLS) while also enabling some consolidation among store counts to improve margins by decreasing overhead. This deal could unfortunately be too late on arrival as even Staples has had some issues recently with discount retailers like Wal-Mart (NYSE:WMT) and others offering office supplies at steep discounts in an attempt to attract business customers. Time will tell, but for now this will be a story to watch as it develops this week.
Disclosure: I have no positions in any stocks mentioned, and no plans to initiate any positions within the next 72 hours. I wrote this article myself, and it expresses my own opinions. I am not receiving compensation for it (other than from Seeking Alpha). I have no business relationship with any company whose stock is mentioned in this article.