Ever since the bottom back in 2009, the iShares Dow Jones US Real Estate (NYSEARCA:IYR) has been on a tear, gaining more than 200% in value. More than an immediate recovery in real estate fundamentals, such rally was fed by the hunger for yield.
Even today, when both residential and commercial real estate have already bottomed and are on the mend, yield continues to be a strong attractor, with the fund still yielding 3.65%. This has led the fund to grow to be $5 billion in size.
At this point, however, two theses might be on a collision course.
The bullish thesis
If we look into IYR's composition (reproduced below), commercial real estate has a large weighting in IYR, with "Specialty retail", "Retail REITS", "Industrial and office REITS" and "Hotel and lodging REITS" accounting, together, for 72.5% of the fund. Residential real estate can also be seen as relevant at 13.4% (Source: iShares U.S. Real Estate ETF website).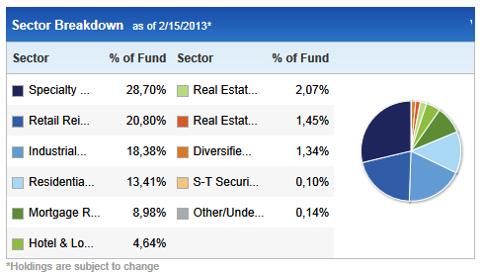 Click to enlarge
Real estate, both commercial and residential, is on the mend. The commercial side is supposed to gain from economic recovery, and indeed as illustrated by Calafia Beach Pundit in his article "Commercial Real Estate Recovery Is Very Impressive", commercial real estate values have already been heading up.
As for residential real estate, the rent market recovered early as people lost their homes or access to credit and renting became the only option.
So overall, the fundamentals have improved along with IYR's share price, and could usually be expected to continue improving as the economy itself improves.
The bearish thesis
However, a competing thesis -- borne out elsewhere in the Amazon.com (NASDAQ:AMZN) grounds -- could have significant negative implications for commercial real estate. If one believes that the online disruption will continue and grow much stronger, one thing is certain -- a lot less retail and possibly office space will be necessary. Not only will less big-box retailers be needed, but many small retailers would also probably go out of business or migrate mostly online as 3P (third party) sellers in Amazon.com or eBay (NASDAQ:EBAY).
The evidence for this can be found in such bankruptcies as Blockbuster, Borders or Circuit City. Also, estimates showing Amazon.com doing $200 billion or more in revenues in 2020, if they come to fruition, must mean that a lot of that revenue will have to come from elsewhere.
The obvious implication of believing this thesis would be a severe impact at least on the sectors "Specialty retail" and "Retail REITS", accounting for 49.5% of IYR.
Conclusion
At this point, the iShares Dow Jones US Real Estate ETF seems to discount only the bullish thesis and a huge hunger for yield. If one does believe the continued growth of online retailing, however, at some point retail commercial real estate has to suffer significantly, with negative implications for IYR. My own opinion is that the online retail growth will converge with overall growth rates in retail well before such a negative event takes place, but the share prices of Amazon.com, Best Buy (NYSE:BBY), RadioShack (NYSE:RSH) and other retailers are not really consistent with my opinion.
In short, the market both believes that real estate - including retail real estate - will do well, and that online sellers will crush bricks & mortar. One of those can't be right.
Disclosure: I am short AMZN. I wrote this article myself, and it expresses my own opinions. I am not receiving compensation for it (other than from Seeking Alpha). I have no business relationship with any company whose stock is mentioned in this article.