Diversified technology company 3M (NYSE:MMM) apparently likes those tri-sequences of same letter words, which now includes its strategy for Preparation, Progress and Performance ("PPP") where the company is aligning its organizations more closely with its customers and markets. Sounds like a good strategy, as companies don't usually remain viable if they don't cater to their customers and markets.
As part of its "PPP" strategy, the company has combined its security systems division and its safety systems division, as the performance for these segments has not been up-to-par. By combining the divisions, the company expects to benefit from increases in synergy. The security and safety markets have been performing poorly of late due to decreased government spending with respect to those particular areas. As a result of the combination, the company's business groups are now organized as Consumer, Electronics and Energy, Health Care, Industrial, and Safety and Graphics.
In 3M's Q4 2012 earnings call held on January 24, 2013, Inge Thulin, Chairman of the Board, President and CEO noted the company's most significant progress during last year was due to strengthening the company's commitment to innovation, and a large part of that innovation was advanced through its acquisition to FSTech and Ceradyne.
3M acquired FSTech from Federal Signal Corporation (NYSE:FSS). FSTech is a provider of electronic toll collection and parking management equipment and services. 3M has been involved in traffic related market for many years, and the FSTech acquisition will add to the company's traffic-related product portfolio.
Ceradyne is a provider of ceramic products for automotive, defense, electronics, industrial, medical, nuclear, oil and gas and solar market segments. Mr. Thulin noted the Ceradyne acquisition is a good business with a strong technology play and will provide 3M the capability to help build out its ceramic product offerings.
For 2012, 3M reported sales of nearly $30 billion and saw strength in Latin America/Canada with 11% growth. Sales for the U.S. were up 4%, Asia Pacific was flat as a result of the soft consumer electronics industry and on a negative note, Europe, Middle East and Africa sales were down 1%.
3M's David Meline, CFO and Senior Vice President, noted that while Europe, Middle East and Africa sales were down, the geographic region appears to have stabilized. Mr. Meline reported the company experienced double-digit growth in Latin America/Canada for healthcare, safety, protection services, consumer and office and electro and communications. Mr. Meline also indicated 3M posted double-digit growth in liquid filtration and aerospace and aircraft maintenance market segments. Additionally, Mr. Meline noted the company improved its operating margin by 50 basis points due to lower raw material costs and higher selling prices. On a negative note, the company reported its renewable energy business segment declined 12%.
Going forward, the company is cautious for the near term, noting that even though some economies are growing, others are exhibiting slower recovery. While the company is seeing recovery in China, the Chinese electronic market is a question mark. On a very positive note, the company was pleased with its consumer market segment performance over the 2012 holiday season.
The company's Price-to-Earnings ratio of 16 and Price-to-Sales ratio of 2.5 are respectable for a technology company the caliber of 3M. The company's stock price has gone ballistic over the last several months as shown below: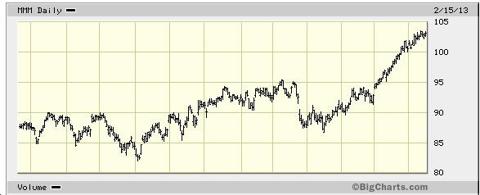 In a previous article related to 3M, a married put position was considered for the company, as it provided an investor with unlimited upside with limited downside, just in case the company hit a rough spot with regard to China. The position mentioned in the previous article is now up about 10%, and only has about a month or so until the put option expires, so a new married put position is considered for 3M. The married put position can be entered by purchasing a put option against a long stock position. The expiration month for the put option is usually selected several months out in the future in order to reduce the per-day costs of the "put option insurance."
Using PowerOptions, several viable married put positions were found for 3M for expiration in July of 2013 as shown below: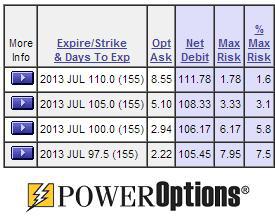 The married put using the 2013 Jul 105 put option looks attractive with a maximum potential loss of 3.1%. However, when considering expected dividend payments during the holding time, the maximum risk is reduced to 2.5%. So, even if 3M's stock price drops to zero, the maximum loss which can be sustained is 2.5%. The details for entering the position are shown below:
3M Married Put Position:
Buy MMM stock (existing or purchased)
Buy MMM 2013 Jul 105 Put at $5.10
A profit/loss graph for one contract of the 3M married put position, including consideration for expected dividend payments during the holding period, is shown below: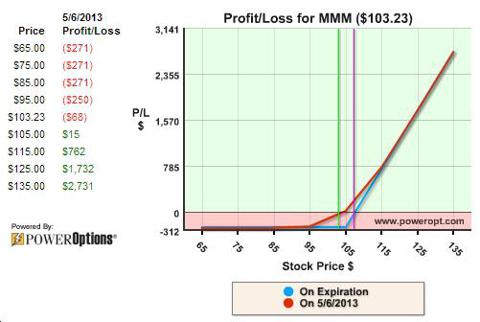 For an increasing stock price, the value of the married put increases, and for a decreasing stock price, the value of the married put position remains unchanged below the $105 strike price of the put option. And, if the price of the stock increases to above the $105 strike price of the put option, then income methods may be applied in order to reduce risk and receive income as taught by RadioActiveTrading.com.
Look forward to your comments below!
Disclosure: I have no positions in any stocks mentioned, and no plans to initiate any positions within the next 72 hours. I wrote this article myself, and it expresses my own opinions. I am not receiving compensation for it (other than from Seeking Alpha). I have no business relationship with any company whose stock is mentioned in this article.