We recently argued that the emerging bear case for Ellie Mae (NYSEMKT:ELLI) was way overdone. This bear case seemed to have been produced by a report from analyst house William Blair, arguing that the company would not be able to sustain its conversion rate in users of self-hosted software (mainly Encompass) to Ellie Mae hosted software as a service (SAAS).
Another element of the bear thesis (or Blair thesis, if one wishes) is that for this year, there is a good deal of headwind in the mortgage origination numbers. That might be somewhat surprising when we hear soundbites about a recovery in the housing market, but it isn't as it's based on prognostications from Freddie Mac (OTCQB:FMCC), Fannie Mae (OTCQB:FNMA) and the Mortgage Bankers Association.
These organizations produce monthly forecasts and assume the fall in the number of refinancing existing mortgages will trump the number of new mortgages by some considerable number, the latest forecast is a 17% decline in overall origination.
We argued in the earlier article that these predictions are old news, so we could not fathom why this would cause a sudden 30%+ drop in the Ellie Mae share price in less than two weeks. That should have been in the price for some time, as we pointed out that in the Q3 conference call, the company itself assumed a 20% headwind in the market for this year. Even then it expected a 25% revenue increase in 2013 over 2012.
Well, last Thursday February 14, the company produced the Q4 and full year results, and guess what? The bear (Blair) thesis has been comprehensively proven wrong. The results blasted past every consensus expectation, and the company also increased guidance for Q1 2013 and full year 2013.
While the shares have recovered $3 or so from where we argued they were seriously oversold ($19), with the market at record levels Ellie Mae's shares are nowhere near their own records ($30), a top which they've already been at multiple times.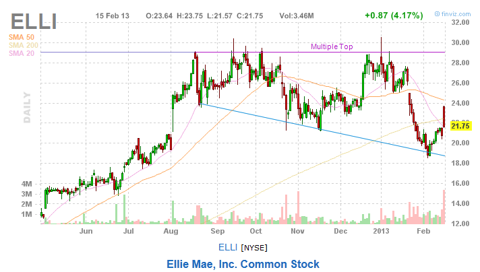 Click to enlarge
In September of 2012 we argued that at the high 20s, the stock was getting expensive, but after last week's stellar results, it's quite difficult to argue that, even for these levels. Which is why we think these shares have nowhere to go but up. The sellers already largely sold, and the premise on which they sold has been proven wrong. But let us demonstrate that in a little more detail. Here is a summary of the results:
Revenue +84% y/y to $101.8M
Q4 revenue +60% to $29.9M
Adjusted EBITDA +397% y/y to $32.8M
Q4 EPS $0.27 from $0.13 in Q4 2011
EPS for 2012 at $1.09 versus $0.24 in 2011
Q1 guidance raised. Revenues to $30-30.5M and EPS to 23-24 cent
Full year 2013 guidance raised: Revenues to $127.5-$129M and EPS to $1.06-$1.09 (15% above what analysts were assuming before the results)
As impressive as these figures are, it's interesting to see where they come from, which gives us a better idea about whether they can be sustained. We listened in on the conference call late on Thursday and we're pleased to see that Seeking Alpha has, for the first time, made the conference call transcript available (Thanks!).
There is no better description of the drivers of success than the way CEO Sig Anderman opened the conference call, with an extensive overview. We'll go through the growth drivers in concise fashion.
1) New sales
The company has expanded its sales force quite substantially in recent times, and this is already paying off. In the year, 40% new customers were added and in Q4 the company added 3000 new seats for the SaaS Encompass offering, a new record. According to President and COO Jonathan Corr, new sales "were almost 2.5 times any previous quarter in terms of new user bookings, brand new customers." [Q4 CC]
CEO Anderman added during the CC that they have a "very healthy sales pipeline and terrific momentum going into the New Year." He also noted that according to the
Bureau of Labor Statistics that there are about 190,000 mortgage professionals in our universe, individuals working for non-mega bank lenders. We will continue to keep the pedal to the metal to expose these not yet Encompass users to our robust solutions and bring them into the fold. [Q4 CC]
2) Conversion to SaaS
In Q4, their company managed to add 6000 seats to their SaaS Encompass which either used the self-hosted version or solutions from DataTrac, the biggest competitor, but taken over by Ellie Mae. Is the end of this in sight? Well, here is CEO Anderman:
over 30,000 users still on the Encompass self-posted licensed versions of Encompass and more than two-thirds of our DataTrac users still left to migrate to our SaaS platform, we continue to see good runway for conversions. [Q4 CC]
One might also realize that these conversions will need a 6-9 months transition period before they start generating significant revenues, which gives a considerable degree of visibility for the year.
3) Increasing revenue per user
The conversion from self hosted software with a perpetual license to Ellie Mae hosted software as a service provision will add revenue per user. This isn't just a gimmick, the fact is that the SaaS model provides more service, so customers are willing to pay more for it.
It saves them IT expenditure and maintenance and ensures the software is always updated with the latest changes (which are rife in this industry that is suffering from an avalanche of new regulation and compliance issues).
Anderman described it as follows:
We now have 74,000 Encompass users. Then, in a land and expand strategy, we identify all those additional functions and tasks that they automate or should be automating and then expand our software functionality and increase network usage as well. It makes our customers' lives easier and steadily increases our revenue per user until we approach what we believe to be a $2 billion to $3 billion total addressable market. [Q4 CC]
A land and expand strategy, we like that one. One should also take into consideration that they hardly lose any customers, there are lock-in and network effects providing significant switching costs, which serves as a barrier to go elsewhere.
This strategy was already quite successful in 2012. Revenue per active SaaS Encompass user (41,000 active users by the end of 2012) increased 41% in 2012 to $1444.
4) Increasing returns: scale and network effects
Being the biggest brings several advantages here. There is tremendous regulatory and compliance change, but since these are essentially fixed costs it pays to be big like Ellie Mae. CEO Anderman:
At the same time, our offerings become even more attractive when mortgage companies base increasing regulatory demands because once again our customers will be relying on us to help them jump through the hoops. Our compliance capabilities, our ability and our commitment to upgrade software to reflect changing regulatory requirements in a timely manner, our financial resources and our experienced team together give us a terrific competitive advantage, which we believe will provide significant long-term growth opportunities for Ellie Mae. [Q4 CC]
Even with investments in sales people and technology, the cost of revenue sank from 26% in Q4 2011 to 22% of revenue in Q4 2012, sales and marketing expenses similarly declined from 22% to 18% of revenue over the same period, R&D expenses declined from 22% to 16% of revenue over the same period, and general and administrative expenses declined from 25% to 20% of revenue over the same period, all testifying to these economies of scale.
Network effects are different from scale effects but they are also a form of increasing returns. A network effect exists when the network becomes more valuable to its user the more users there are (a telephone network of two users isn't much use, but one encompassing the globe is).
We believe Ellie Mae's network of users contain network effects; once again, nobody explains it better than the CEO:
Revenue per user is also driven by network transactions. These are the transactions conducted by lenders over the Ellie Mae network, ordering things like credit, flood, title and appraisal reports from participating vendors and many other services, which they order for which those vendors pay us transaction fees. Our grand vision is that some day, some day lenders will order all these dozen or so services and get all orders fulfilled completely electronically over our network. Right now, an average of six of those services are ordered over our network. That has increased from about five a year ago. Adoption is slow, but steady but efficiency is pushing lenders and providers alike toward full automation. [Q4 CC]
Not all investors fully appreciate these effects, which essentially come from the fact that Ellie Mae is becoming a platform provider, rather than a mere technology solutions provider. The SaaS platform allows clients (lenders) to run their entire business operations with minimal IT infrastructure needs, superior security and instantaneous scalability and connections to third party service providers.
There are not too many SaaS plays that have managed this (Salesforce.com comes to mind) and it allows Ellie Mae deep capture of clients operations and selling of additional services. One also has to realize that the mortgage industry lags in the adoption of SaaS solutions, in fact, it's not out of the question that Ellie Mae might automate other client processes (accounting, budgeting, forecasting, risk management, hedging, government regulation, sales force management, business analytics, customer relationship management, etc. etc.).
It's that land and expand strategy and then creating integral solutions which takes the headache out of these processes for customers that offer real win-win situations for both parties here. These opportunities are under-appreciated by the market, we feel.
5) New services
The 'land and expand' strategy described above by the CEO, and the network effects already explain how the existing base can be offered more services and thereby increase average revenue per user. The mortgage process is still fragmented and rife with inefficiencies and duplication screaming to be streamlined and the process is changing fast which creates an enormous burden especially on smaller players to keep up with all the requirements.
But there are other, additional new services that Ellie Mae is offering. One is their Total Quality Loan program, applying best practices to loan origination:
It is the holy grail of automation that some day all the necessary verifications will be undertaken by the lender electronically on every loan in a way that everyone else in the value chain, investor, servicers, securitizers trust the process, and no step will have to be repeated ever by anyone else in the value chain. As many of you know, this was developed by us in collaboration with some of the nation's leading investors and the first and limited version was introduced last year by Wells Fargo [Q4 CC]
Even this has some network effects
As it turns out, when a lender embraces the Total Quality Loan concept, they usually use the same best practices for all the loans they originate and not just for those being delivered to Wells Fargo. [Q4 CC]
CitiMortgage has also begun to participate in the program. It's still small, the expected revenue for the TQL program is about $5m for 2013, but it has ample opportunity to grow its user base and drive more customers to use Ellie's services and network.
What are the risks?
This all sounds pretty good, but what about that bear (Blair) thesis? Well, we'll be curious what William Blair has to say in their update (if one, in fact, will materialize) but there isn't much, if any, sign of any slowdown in conversion rates to their SaaS. The other worry comes from the mortgage origination itself, where some headwind is expected (and was expected for quite some time).
The mortgage origination predictions
Predictions about the mortgage origination volumes are generated on a monthly basis by Fannie Mae, Freddie Mac, and the Mortgage Bankers Association. One has to realize that only half of Ellie Mae's revenue has some sensitivity to these numbers, but still, that's a good chunk.
Another thing one has to realize is that these predictions are approximations, and can be off with surprisingly big margins. For instance, according to CEO Anderman:
Current estimates are that $1.9 trillion in new loans were funded in 2012, way beyond the trillion dollars predicted at the beginning of 2012 by Fannie Mae, Freddie Mac, and the Mortgage Bankers Association. [Q4 CC]
Well, this means that there is downside risk, as well as upside risk here. However, the noises from the industry seem to be rather bullish in terms of the housing recovery. And to some extent, this is already reflected in the predictions. In the Q3 CC, a 20% market headwind was expected for 2013; this has declined somewhat to a minus 17% now. Not everybody is equally pessimistic. Here is Anderman again:
a number of other external data points suggest potential upside to these national forecast numbers. For example, Barclays' consumer finance team has projected $1.9 trillion in originations for 2013, basically flat to 2012.... In addition, CoreLogic data suggests that continued signs of home price appreciation might enable many of the 69% of homeowners with rates above 5% to refinance into current historically low rates. In summary, I'm very pleased with our strong performance in 2012 but I feel even better about the future. [Q4CC]
Investments
Ellie Mae made considerable investments in 2012, expanding its sales force (now at 20, fully scaled for the moment) and redesigning and upgrading all its data centers, which significantly increased capacity and reliability. It is not unreasonable to assume that most of the returns of these investments will accrue this year and beyond, while most of the costs have been incurred in 2012. The fact that CapEx was $8.1M, or 8% of revenues in 2012, whilst it is expected to fall to $6M or 5% of revenues this year testifies to that.
Against that, some negative impact on EPS:
Increased share count of approximately $3.5M as a result of an offering in Q3 2012
A doubling of stock based compensation to approximately $13M due to hiring
Full tax bill arriving: 38%, versus just 8% in 2012.
Balance sheet
This was rather nicely summarized by Brian Schwartz from Oppenheimer during the CC's question and answer session:
If you look at your cash balance now, you are over $100 million, you have got no debt, you're throwing off 35% EBITDA margin and you're guiding to $23 million in free cash flow. [Q4 CC]
It's rather difficult to add anything here, these numbers speak for themselves.
Valuation
For reasons discussed above, SaaS companies usually achieve significantly higher gross margins, and Ellie Mae isn't an exception, running on 78% gross margins. However, compared to many other SaaS plays, Ellie Mae is significantly undervalued. For instance, the 2013 price earnings (P/E) of other SaaS providers like Salesforce (80+), NetSuite (200+) or Concur Technologies (70+) are way higher than Ellie Mae's (20). We don't really see much reason for this large gap.
If you're still not convinced, ponder this cute little valuation table from Oppenheimer for a little while.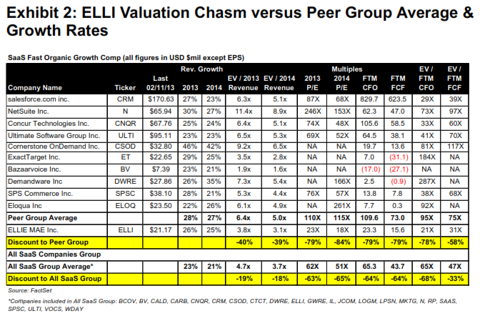 Click to enlarge
Conclusion
Even with an assumed 17% headwind, the company expects revenues to grow nearly 30% in 2013. Although EPS is expected to remain flat due to the hugely increased tax bill and increasing shares and share based compensation, the company is very cheap for a platform based SaaS provider and it has a history of beating expectations.
And that 17% expected headwind baked into the guidance, well, we'll have to see about that. This year turned out to be a lot better than 2011 (a whopping 90% improvement versus expectations early in the year) and there are many sounds in the industry that things are picking up. Here is Jonathan Corr, President and COO:
every time I talk to a lender asking what they think 2013 is going to look like, I am hearing as good, if not better [Q4 CC]
We think these shares have nowhere to go but up in the medium term. How quickly that develops depends also on market conditions, needless to say, but it's a near inevitability in our view.
Disclosure: I am long ELLI. I wrote this article myself, and it expresses my own opinions. I am not receiving compensation for it (other than from Seeking Alpha). I have no business relationship with any company whose stock is mentioned in this article.