Starwood Property Trust Inc. (NYSE:STWD) originates, invests in, finances, and manages commercial and residential real estate, CMBS, and RMBS, and other related debt vehicles. It is externally managed by SPT Management LLC, an affiliate of Starwood Capital Group. STWD qualifies as an REIT for tax purposes. It pays a 6.6% dividend; and its stock price has been trending strongly upward since the fall of 2011 (see chart far below). It is the largest US commercial mortgage REIT with a $3.1B market cap.
In January 2013 STWD announced that it entered into an agreement to acquire LNR Property LLC for a total purchase price of $1.05B in cash. STWD will acquire the following business segments:
US Special Servicer -- the largest US special servicer with over $131B in loans under management and real estate owned.
US Investment Securities Portfolio -- a portfolio of legacy whole loans, CMBS, and CDO investments.
Archetype Mortgage Capital -- a commercial real estate conduit loan origination platform designed to provide unique financing solutions throughout the US.
Archetype Financial Institution Services -- an acquirer, manager, and servicer of portfolios of small balance commercial loans and real estate assets.
LNR Europe -- consists of Hatfield Philips, the largest independent primary and special servicer in Europe, and LNR European Investment Fund, a European CRE debt fund.
LNR's US Commercial Property Group.
100% of LNR's minority, non-controlling ownership interest in Auction.com -- the US' leading real estate exchange, which sells residential and commercial real estate via auction.
To partially pay for the above and for the purpose of conducting its normal business, STWD has recently announced a public offering of $525,000,000 of 4.55% Convertible Senior Notes due in 2018 with a 30-day option for the underwriters to purchase an additional $75,000,000 to cover over allotments. The conversion price will be approximately $28.138. The current stock price is $26.53. This means there is significant "option" incentive to buying these notes. They will be convertible only upon certain circumstances and during certain periods before September 1, 2017. After that they will convertible at any time prior to the close of business on the second trading day prior to the date of maturity.
The LNR acquisition is huge for STWD. It will allow STWD to more easily expand in many different areas, especially in Europe when a recovery eventually takes hold there. STWD has shown it is well managed. The LNR acquisition is yet another example of that good management. STWD appears to be a stock that has given tremendous growth in the recent past; and it is likely to do so in the future.
The recent earnings results testify to its great recent performance. In Q3 2012 STWD had non-GAAP core earnings of $58.8 million ($0.50/diluted share). This was a 49% increase over Q3 results in 2011. Then core earnings were $39.3 million ($0.42/diluted share). For the first nine months of 2012 core earnings were $163.8 million ($1.52/share). This result was an approximate 19% improvement over the first nine months of 2011. The net income differences were even more spectacular.
STWD invested $599.0 million during Q3 2012, primarily in the origination and acquisition of new investments. The net investment balance as of September 30, 2012 was $2.2B. STWD's loan portfolio's current loan-to-value ratio of 63% has declined as the overall value of the collateral securing its loans has increased over time. STWD expects its strong investment pace to continue into 2013. The acquisition of LNR Property (expected to close in Q2 2013) should make this even more true. The carrying amount of STWD's target assets held for investment was approximately $3.1B at the end of Q3 2012. STWD expects these will generate an annualized levered return of between 11.6% and 12.1% on an annually compounded basis over the life of the investment. That sounds great to this investor. It sounds even better when you realize that the LNR Property acquisition will add greatly to this. STWD is a buy. There are good reasons its uptrend looks so strong on its chart (see below).
The two year chart of STWD provides some technical direction for this trade.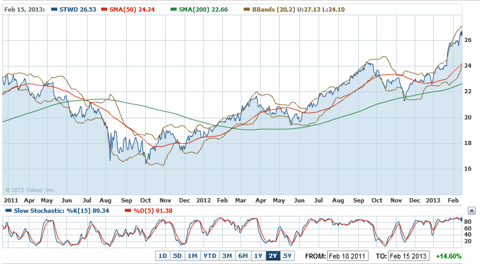 Click to enlarge
The slow stochastic sub chart shows that STWD is highly overbought at the current time. The main chart shows that STWD is trending strongly upward. Its 50-day SMA is strongly above its 200-day SMA. Its price line is far above its 50-day SMA. Normally when a stock is this far extended, it is due for a pullback. Since the overall market also is overbought, it may be smart to wait for a pullback in the overall market before buying. However, STWD does appear to be a stock that an investor would like to own long term. Its investment portfolio growth alone should tell you this (see chart below).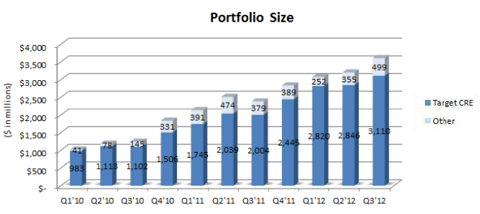 Click to enlarge
STWD has also spread its investments out among many different industries (see chart below). This should give it added stability.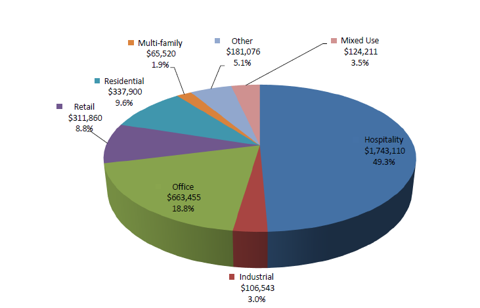 Click to enlarge
STWD has considerably varied the type of its investments, which shows further good management. The table describing its investments distribution as of September 30, 2012 is below.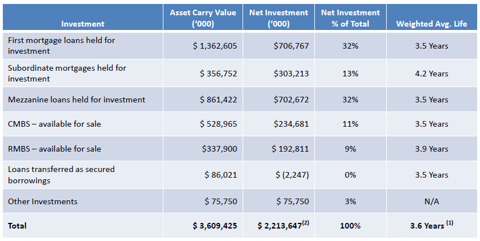 Click to enlarge
The above looks impressive, but its is even more impressive when you look at it in terms of STWD's loan-to-value ratios of the loans (see chart below).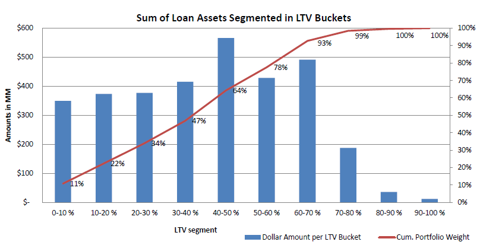 Click to enlarge
This last shows health, safety, and good management. You can buy STWD with little worry.
All the above being said, many pundits think we may have seen the highs of 2013 already. Doug Kass, who has made a lot of correct market turn calls in recent years is among these. With this in mind, it is probably a good idea to average into STWD over the course of 2013. The US could go into a recession this year. An astute investor will get an average good entry price by averaging in over the entire year.
I would not start averaging in until STWD pulls back to at least its 50-day SMA. It is too overextended now. Yes, the LNR Property acquisition increases STWD's future prospects, but it still should get a pullback with an overall market pullback. Plus its price/book ratio is already 1.35, which many consider high for this kind of stock. However, the average analyst has given STWD a recommendation of 1.6 (a buy); and CAPS gives it five stars. I think it is a strong buy with the LNR purchase. You won't go too far wrong with STWD. The commercial property space is a long way from a full recovery, but it does seem to have bottomed. As it recovers more fully, STWD should be able to reap huge profits. With the Fed backing the real estate markets with QE3 and QE4, there is little chance for a reversal downward. Don't fight the Fed. Profit from its machinations.
NOTE: Some of the fundamental fiscal data above is from Yahoo Finance.
Good Luck Trading.
Disclosure: I have no positions in any stocks mentioned, but may initiate a long position in STWD over the next 72 hours. I wrote this article myself, and it expresses my own opinions. I am not receiving compensation for it (other than from Seeking Alpha). I have no business relationship with any company whose stock is mentioned in this article.