Valuation is always relative and in flux. A stock's relative value can move as the securities with which it is compared change, even in the absence of price fluctuation or changes to the underlying company. The more comparisons by which a security is a relative value, the better its value. In this article we will examine 4 blue-chip REITs, which have become a value relative to the market as a whole, to other blue chips, to their respective sectors and to themselves.
Blue-chip companies are generally considered the cream of the crop for their strong financials, high credit ratings, operational fortitude and market presence. As such, they command the respect of investors and tend to trade at premium multiples. Presently, with the U.S. equity REITs trading at an average FFO multiple of 16.4, most blue-chips exchange hands in the 20-25 range. However, a select few have slipped through the cracks giving investors the rare opportunity to invest in premium companies at a reasonable price.
| | | | |
| --- | --- | --- | --- |
| Company (ticker) | Price/FFO** | Market Capitalization $ | Credit rating* |
| Digital Realty Trust (NYSE:DLR) | 13.12 | $8.179B | Baa2/BBB/BBB |
| Duke Realty (NYSE:DRE) | 14.66 | $5.057B | Baa3/BBB-/BBB- |
| HCP Inc. (NYSE:HCP) | 16.09 | $20.998B | Baa1/BBB+/BBB+ |
| DDR Corp. (NYSE:DDR) | 15.45 | $5.356B | Baa3/BB+/BB+ |
*Moody's, S&P and Fitch respectively
** 2/18/13 market price divided by 2013 FactSet consensus FFO estimate
Digital Realty Trust
DLR is a global provider of data centers, which it leases to tenants for a variety of purposes. A large portion of the leases are triple net and the aggregate have an average remaining lease term of 6.9 years.

This business model provides stable cashflows, which DLR has used to consistently grow its dividend

The industry is destined to grow in an increasingly data reliant world, but it may experience tightening of profit margins as competition grows. At a P/FFO of 13.12 Digital Realty is a value relative to other data center companies such as DuPont Fabros ( ~ 16.4) CoreSite Realty (~ 17.26) and Equinix ( ~ 17.28). It is also cheaper than REITs in general, which currently trade around 16.4X FFO.
Duke Realty Corp.
Duke has recently transformed itself, disposing of out-of-favor and difficult to lease office buildings and acquiring high quality industrial properties along with medical office buildings or MOBs. In terms of its direct effect on FFO, the transformation was not substantial. Unwanted office buildings tend to sell cheaply and the types of properties Duke acquired are highly sought after so cap-rates were somewhat compressed. This lack of accretion can be seen clearly in its FFO history as it earned $1.07/share in 2011, $102/share in 2012, and an estimated $1.08/share in 2013.
While the transformation has done little for Duke in the near-term, the new property portfolio provides a stronger outlook going forward.

Post-transformation, Duke consists of about 75% industrial and medical office, and it is very cheap compared with REITs of those categories. Industrials trade at an average multiple of 18.4 and healthcare REITs around 17.5X, so Duke at 14.6X is cheap exposure to each of these sectors.
Duke's industry outlook
The demand for industrial properties is strong, but as we saw in 2008, when industrials crashed even harder than the overall market, the sector is particularly susceptible to oversupply. Duke, however, is well-positioned against supply risk as it has larger and higher quality properties, which have an inherently higher barrier to entry.

MOBs are used as offices for doctors and can house small clinical operations. As such, their demand is closely tied to that for outpatient visits. As the ratio of outpatient to inpatient demand increases, so does the ratio of demand for MOBs to hospital beds.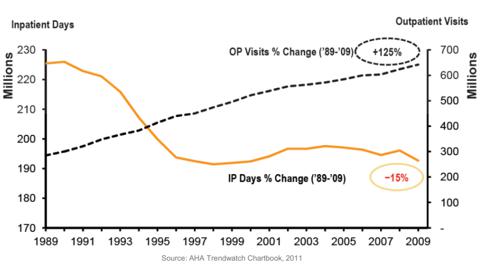 Having been published in 2011, one could argue that this chart is somewhat outdated, but a 30-year trend is certainly worth considering. I believe the trend will continue as insurance companies pressure hospitals to reduce costs by only providing the necessary care and allowing patients to make most of their recoveries at home.
HCP Inc.
HCP epitomizes the term "blue-chip" as it is strong and stable in every aspect of its operations. It has over $1.4B of annual triple net leased rent, $1.133B of which is locked in until after 2016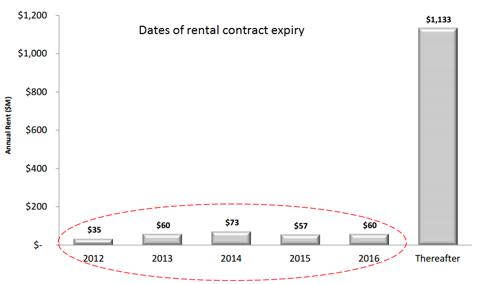 The leases have attached rent escalators providing organic growth. As these leases are with individually strong and well diversified tenants, delinquency risk is minimal. With healthcare REITs, the other source of risk to income is that from policy changes to Medicare and Medicaid. In this regard, HCP is comparatively healthy as only 13% of the revenue associated with its properties is from Medicaid and 21% from Medicare.
The strong, growing and predictable earnings of HCP allow it to continuously raise its dividend. It has one of the most impressive dividend histories of all REITs

Given the current state of the healthcare industry with improving demographics providing increasing demand, HCP seems likely to continue to grow both dividends and earnings over the foreseeable future.
In the quantitatively eased economy with low yields on bonds, companies with reliable and growing dividends tend to trade at a premium. HCP, however, with a P/FFO of 16.09 is cheap relative to its sector, other dividend REITs, and the market as a whole.
DDR Corp.
The term "blue-chip" only loosely applies to retail, as the sector is so susceptible to the cyclicality of both the local and national economies. Diversified retail REITs are somewhat sheltered from minor fluctuations as their income comes from the companies that comprise their tenant bases rather than directly from consumers. Therefore, retail REITs only feel downturns if they are substantial enough to result in delinquency or occur during tenant turnover. DDR goes one step further in creating reliable cashflows through stringent qualifications on its asset portfolio. It primarily owns power centers (multiple anchor tenants) in prime locations with high population density and affluent consumers. Specifically, its power center trade areas average 450K people with fairly affluent household incomes averaging $80K annually. DDR's power center portfolio also features superior average size at 326K sq. ft. of GLA and a healthy portion of countercyclical tenants like Walmart. Such a portfolio has increased reliability of cashflows for the following reasons:
The presence of multiple anchors creates synergistic consumer traffic, which maintains property value and affords greater success in releasing.
Strong locations increase the barrier to entry, which reduces competition, allowing DDR to charge competitive rates.
Countercyclical tenants maintain the dominance of these power centers in their local shopping districts during downturns.
DDR's tenant base is 88% national retailers, most of which are credit rated at a weighted average BBB.
Overall, DDR's power center portfolio has reduced susceptibility to cyclicality, delinquency and vacancy. While we must keep in mind that only about 55% of DDR's overall assets are power centers, I believe this portion of DDR will provide sufficient cushion from the dangers of retail that it can be placed firmly in the category of blue chip.
DDR Corp's financial outlook also seems secure as it recently sourced over $1.15B of refinancing. Its new $750mm credit facility is set at LIBOR + 140 bps, which is 25bps cheaper than its former facility and a new term loan at LIBOR + 155bps saves 15bp compared with the former version. While the savings, even when fully drawn, are fairly small, the larger benefit comes with the extension of maturity dates. DDR now has ample liquidity through April of 2017.
At an Earnings multiple of 15.45X DDR is cheap relative to retail REITs (averaging 17.4X), Equity REITs in general (16.4) and certainly cheap compared with most blue chips.
Conclusion
Valuation is always relative and in flux. Occasionally, certain companies, which should (and usually do) garner the respect of the market, trade at cheap prices. Now is one of those times and investors have a brief opportunity to pick up these 4 blue chips at reasonable prices.

Disclosure: I have no positions in any stocks mentioned, but may initiate a long position in DLR, DRE, HCP, DDR over the next 72 hours. I wrote this article myself, and it expresses my own opinions. I am not receiving compensation for it (other than from Seeking Alpha). I have no business relationship with any company whose stock is mentioned in this article.
Disclaimer: This article is for informational purposes only. It is not a recommendation to buy or sell any security and is strictly the opinion of the writer.