Thomas Properties Group (NYSE:TPGI) is a real estate investment trust that owns, acquires, develops and manages primarily office, as well as mixed-use and residential properties on a nationwide basis, and they are in trouble. The fund started shorting this company at around $10 in September, and there is still more downside. TPGI has $691 million in consolidated assets, but the real story is the unconsolidated joint ventures. TPGI is involved with numerous joint ventures that consist of under-performing properties that it believes can be brought to market potential through improved management. This includes value-add properties that are characterized by unstable net operating income for an extended period of time, occupancy less than 90% and/or physical or management problems.
CONTRACTUAL OBLIGATIONS
For the nine months ended September 30, 2008 TPGI generated $3.983 million in cash from its operations, and ended the period $78.474 million in unrestricted cash. The company spent an additional $93.294 million on capital expenditure in the first nine months of 2008, and 7.087 million on dividends. It received $51.135 million from the sale of condominiums. The Company's contractual obligations are laid out below.
Contractual Obligations
A summary of our contractual obligations at September 30, 2008 is as follows (in thousands):

click to enlarge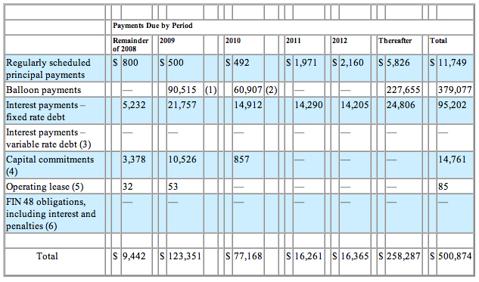 Click to enlarge
As for the contractual obligations the company says it best in its own words:
The amount and timing of costs associated with our development and redevelopment projects is inherently uncertain due to market and economic conditions. We presently intend to fund development and redevelopment expenditures primarily through construction or refurbishment financing.… Presently, we have not obtained construction financing for the development at Campus El Segundo. If we finance these development projects through construction loans and are unable to obtain permanent financing on advantageous terms or at all, we would need to fund these obligations from cash flow from operations or seek alternative capital sources. If unsuccessful, this could adversely impact our financial condition and results of operations and impair our ability to satisfy our debt service obligations
UNCONSOLIDATED ENTITIES
Following are the stated ownership percentages, prior to any preferred or special allocations, as of September 30, 2008:

Click to enlarge
TPGI's joint ventures were entered into primarily with CalSTRS, UBS and Lehman Brothers (OTC:LEHMQ). These joint ventures have an additional 2.69 billion in assets, and lost $76,193,000 in the first 9 months of 2008. The majority of the properties in all these Joint Ventures were purchased in 2005, 2006 and 2007 for what can only be assumed to be more than they are worth today.
The properties the joint venture bought were already underperforming before the massive spike in layoffs and business closures in the fourth quarter. The company owns a 21.3% share of the City National Plaza JV which has $563 million in loans expiring July 17 2009. Debt on all other properties, excluding the Austin Portfolio JV and City National Plaza, due in 2009 and 2010 is $542 million. As of September 30, 2008, leases representing 3.0% and 5.1% of the rentable square feet of the office and mixed-use properties will expire in 2008 and 2009, respectively. Further, an additional 13.3% of the square footage of these properties was available for lease as of September 30, 2008.
The Lehman affiliate that owns the equity interest in the Austin Portfolio Joint Venture is 100% indirectly owned by Lehman Brothers Holdings, Inc. In addition, two Lehman Brothers Holdings, Inc. affiliates consisting of Lehman Commercial Paper Inc. and Lehman Brothers Inc., are administrative agent and lead arranger, respectively, under the Austin Portfolio Joint Venture's $292.5 million credit agreement, which includes a $100 million revolving credit facility and a $192.5 million term loan. The $192.5 million term loan has been fully funded by Lehman Commercial Paper Inc. and is secured by certain properties held in the joint venture and secondary liens on other joint venture properties. This is happening at a time when banks are cutting unused credit.
13.3% of TPGI's revenues were derived from fees from the CalSTRS relationship in the 9 months ending in September 30 2008. All management decisions are handled by CalSTRS on the joint ventures. The relationship with CalSTRS is also subject to the following provision.
… Under the buy-sell provision either our Operating Partnership or CalSTRS can initiate a buy-out by delivering a notice to the other specifying a purchase price for all the joint venture's assets; the other venture partner then has the option to sell its joint venture interest or purchase the interest of the initiating venture partner… In addition, CalSTRS has the ability to initiate this provision upon certain events of default by us under the joint venture agreement…Upon the occurrence of a Buyout Default by the Company, CalSTRS may elect to purchase our joint venture interest based on a three percent discount to the appraised fair market value.
TPGI barely broke even in 2008 before considering capital expenditures. It is highly dependent on the CalSTRS to survive. If CalSTRS was to sever its money-losing relationship with TPGI, the company will probably be forced into bankruptcy. CalSTRS can end this relationship at any time. TPGI has to roll a tremendous amount of debt in its joint ventures and consolidated operations. TPGI will probably begin to burn cash from operations within the next few months. The company also has cross default provisions where if it defaults on one mortgage it will push the company into default on other mortgages as well. I anticipate a chapter 11 bankruptcy filing during 2009 as it is likely that CalSTRS pulls out of the joint ventures, and the company will not be able to secure access to additional lending.
Disclosure: Short TPGI