There is much hype about 3D Systems Corp. (NYSE:DDD) and 3D printing in general. The company is the largest by market cap, from companies involved in 3D printing. Its main competitor is Stratasys Ltd. (NASDAQ:SSYS), and a recent IPO, The ExOne Company (NASDAQ:XONE).
I have featured the stock in a recent quick pick article - 3 Short Squeeze Plays. At the time of writing, the stock was at/or near all time highs, and the situation has changed quickly since. And as I wrote in the article, short interest can serve both ways, putting pressure on the stock when the price direction turns south. The stock price is at a key level at the moment, getting support at its 50 day moving average line, with quite elevated volume recently. Stratasys on the other hand, broke down hard, slicing through its 50 day moving average, with no support at all. The most recent selloff was attributed to Citron Research, and their report on 3D Systems, calling it a bubble stock. There have been other worries about the company, with some questioning their accounting methods. The company will announce earnings next week, and could provide a "make or break" situation for the near-term stock movement, which has been volatile recently.
Valuation and fundamentals
With current valuations, the company seems overvalued. Trailing PE is 87.42; forward PE is 37.68, with a PEG ratio of 1.94, according to Yahoo Finance. Earnings growth was modest in recent quarters until the last quarter report, and is expected to soar, with analysts expecting 137% and 78% rise in EPS in next two quarters. Sales growth has been great, with an average rise of 52% in last four quarters, and with an expected growth rate of 48% and 27% in next two quarters. EPS trends are trending slightly up.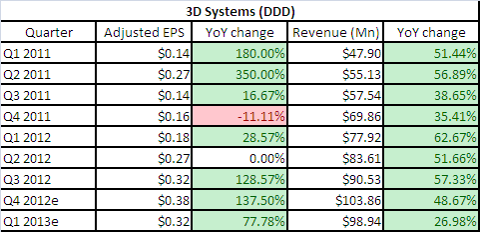 Source for data: Earnings.com, Ycharts, Yahoo Finance
But valuations are often not a proper indicator of potential of a growth company. Apple's (NASDAQ:AAPL) PE was 115 at the start of its tremendous run in 2003. A rise in the stock price of few hundred percent would also constrain investors and traders into buying the stock. That was the situation with Apple in all these years before the run ended late last year (I think it is better to say that the high growth phase ended). This might be the situation with 3D Systems, although it is not warranted. If the growth level of 3D Systems increases drastically, which is expected in the near term, and looking at exciting prospects of the technology, so would the valuation metrics deflate. Forward PE of 37 is not very high, provided the company keeps the growth rate, and analysts tend to miss hugely on the next quarter or year, and much more the further they look and project.
You can look at this article as an example. Estimates for 2011 were 2011 were 0.55, and the company delivered 0.71 in adjusted earnings (nine months from the article), which was a 29% beat. And for the 2012, expectations were for 0.7 EPS, and if the 3D Systems delivers in-line for the last quarter of 2012, that would be a 64% more than estimated two years ago.
On the third quarter conference call, the management noted the focus on 5 growth initiatives:
1. Acceleration of 3D printer penetration, including projects in Zprinter brands, with new products and channel extension.
2. Growth of healthcare solutions, with Bespoke and Vidar brands through expanded applications.
3. Extension of on-demand parts services, including leading Quickparts brand and its organic growth, and through acquisitions and investments
4. Building a significant consumer presence, including the Cubify brand.
5. Integration of 3d authoring tools which include Rapidform and Alibre brands.
The first three growth initiatives have delivered significant results, and are driving record revenue growth and earnings. The other two, in which the company is investing, are not yet material to revenue, but the management believes could represent a significant growth opportunity in the next 3 to 5 years, and they could potentially dwarf the existing business.
Stratasys has not been as aggressive as 3D Systems, but it is enjoying the 3D printing trends. It has similar valuation as 3D Systems, with PE of 80.82, forward PE of 36.50, and a PEG ratio of 2.04. It will report earnings in early March. It corrected more, and sliced through its 50 day moving average after getting support at that level in late January.

Source for data: Earnings.com, Ycharts, Yahoo Finance
Proto Labs (NYSE:PRLB) does not produce 3D printers, but provides related services. The stock reached new highs after reporting better than expected results, but pulled back at the time when Citron issued the negative research report on 3D Systems.
Price Action
The stock had a tremendous run last year, rising 270%, and is currently up 11% year-to-date. Latest price action is of concern, with increased volatility and heavy distribution. Volatility is expected in the near term, especially with earnings release coming next week. The decline has stopped at the 50 day moving average, which might be a key support level. If it is breached, the fall might continue. If that happens, a new base building effort should take place, and an investor should be patient, as it could take months or longer in order to consolidate the volatile action it had. Peer price action, especially of Stratasys, is not good for 3D Systems, as much of a stocks' move is attributed to group movements.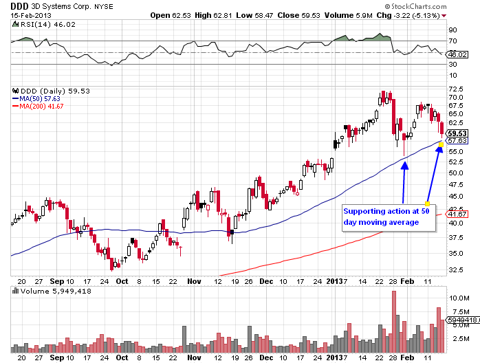 Source: Stockcharts
This latest price movement reminds of similar cases that did not end well afterwards. Invensense (NYSE:INVN) had a chart that looked like this one of 3D Systems. Two tests of the 50 day moving average. Apple looked like this in early October. Both stocks broke down afterwards.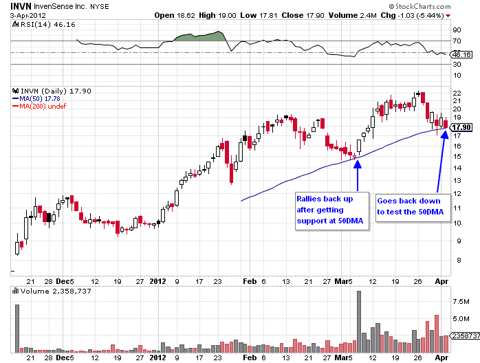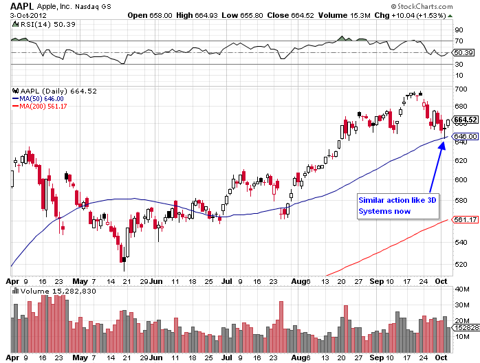 Source: Stockcharts
Conclusion
Despite being overvalued at the moment, 3D Systems is a leader in a promising new technology. Analysts tend to underestimate growth potential of new promising companies with cutting edge and fast evolving technologies. However, the Citron bubble report should not be taken lightly, especially if on looks at examples of stocks that were short sale targets of the company. Current price action is wild and volatile, and the stock is currently at a key support level. Should it break that level, we may see a correction similar to those of Apple and Invensense. So, 3D Systems could provide a good shorting opportunity in the near term (if it breaks the key support level), and a great investment afterwards, and at a lower price level, if it continues to deliver solid revenue and earnings growth.
Disclosure: I have no positions in any stocks mentioned, and no plans to initiate any positions within the next 72 hours. I wrote this article myself, and it expresses my own opinions. I am not receiving compensation for it (other than from Seeking Alpha). I have no business relationship with any company whose stock is mentioned in this article.
Additional disclosure: This writing reflects my personal opinion, and is for informational purposes only.