Recently, we at T&T Capital Management profiled Express Scripts (NASDAQ:ESRX), which we believe offers compelling long-term value and growth in the current market environment. I'd suggest going back to that article for a comprehensive analysis before this update. On February 18th, the company released impressive earnings and guidance that we believe bodes extremely well for the company's shareholders. 2012 was truly a transformational year for Express Scripts, which has a history of successful acquisitions, and the company swallowed its biggest fish yet with the $30 billion Medco deal. This pricey merger not only removed one of the stronger competitors in the PBM industry, but it also sets the table for large and substantive synergies that will bolster profit margins moving forward. The essential need to both lower medical costs and improve patient outcomes provides the most effective and efficient operators, such as Express Scripts, a huge opportunity to rake in profits at the expense of less efficient competitors. At a recent price in the mid $50s, ESRX offers the long-term investor double-digit per annum return potential over the next 3-5 years.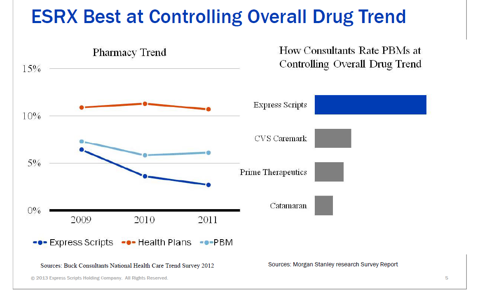 J.P. Morgan Global Healthcare Conference
Express Scripts' enhanced scale and expertise in the industry allows it to provide the greatest cost-benefits to its customers. Pharmaceutical costs are roughly 10% of overall health care costs. The fact that Express Scripts has mid-single digit operating margins highlights the fact that Express Scripts' profit is an extremely low component of overall healthcare spending, so any incremental benefit the company can provide more than warrants its value of such a large expense pie.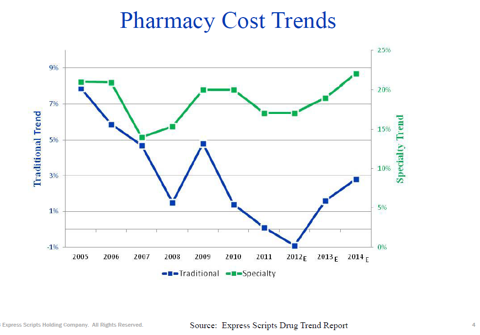 J.P. Morgan Global Healthcare Conference
Keeping costs low is essential, as medical costs continue to climb well in excess of stated inflation trends, and unsupportable entitlements and deficits jeopardize our nation's economic future. Companies and the government will be incentivized to favor the lowest-cost operators. Because Express Scripts operates at single digit profit margins with huge scale, it is very difficult for competitors to compete with the company's growing durable competitive advantages. If profit margins were higher, it would be a lot easier for competitor to compete only on price, which would likely disrupt the whole industry. Express Scripts provides clinical expertise to its clients, as opposed to focusing only on procuring pharmaceuticals at the lowest price possible, which of course is another part of the plan. By adding more value than many of its competitors that have different business models, I believe Express Scripts really differentiates itself. It is my opinion that the industry could see more consolidation, which ultimately should further enhance the economics for the surviving entities, and I believe ESRX will continue to be the market leader far into the future.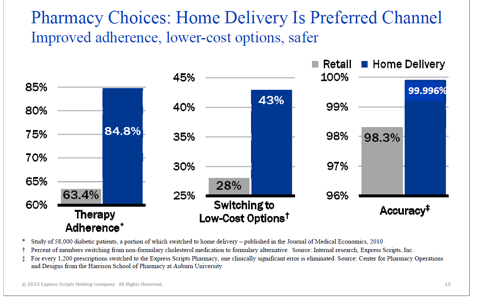 J.P. Morgan Global Healthcare Conference
Non-adherence to prescribed medicines adds dramatically to health care costs. In addition, the informed utilization of generic instead of branded drugs results in huge cost-savings. Currently, Express Scripts and the second largest competitor CVS Caremark (NYSE:CVS) are competing to win market share in the home delivery market. Home delivery has lower costs and higher margins for PBM's than retail, and I believe the Express Scripts-Medco deal will lead to significant synergies in fulfillment, as home delivery becomes even a larger portion of PBM business over the next few years.
Express Scripts numbers are obviously substantially different after completing the Medco acquisition in the 2nd quarter of 2012, as the company is far larger but each quarter I expect to see more evidence of the value that the combined companies will provide to long-term shareholders. The company announced 2012 4th quarter and full year net income attributable to shareholders from continuing operations of $515.9 MM and $1.3405 billion, respectively. This is equivalent to $0.62 and $1.79, respectively, on a diluted per share basis. Adjusted earnings are going to be the key metric over the short-term, and adjusted diluted eps for the 4th quarter and full year were $1.05 and $3.74, respectively.
In the 4th quarter, adjusted claims of 410.8MM were up 111% YoY, while gross profit of $2.3 billion was up 160%. EBITDA of $1.6 billion was up 131% YoY, while EBITDA per adjusted claim of $4.01 was up 10%. Cash flow from operations of $2.6 billion was up from $.5 billion in the 4th quarter of 2011. EBITDA per adjusted claim is a key metric to watch in the future because it should encapsulate the improved profitability that the company should possess through an estimated $1 billion in merger synergies. For the full year 2012, adjusted claims of 1395.7MM were up 86%, and gross profit of $7.5 billion was up 123%. EBITDA of $5.4 billion was up 103%, while EBITDA per adjusted claim of $3.87 was up 9%. Cash flow from operations of $4.8 billion, including merger-related costs, was up from $2.2 billion in 2011.
In November, Express Scripts stock started to drop when management proclaimed that earnings estimates might be a bit high. This was about the time when we at TTCM started getting more interested in the stock and began looking to accumulate a position. Analysts' concerns should be somewhat assuaged with the company's relatively strong 2013 guidance. Express Scripts expects adjusted earnings per diluted share from continuing operations for 2013 in the range of $4.20 to $4.30, which would represent 12-15% growth from 2012. Total adjusted claims are expected to grow 5-7% from the 1,395.7 MM in adjusted claims reported in 2012. Selling, general and administrative expenses are expected to decline 8% to 10% from $2,365.9MM reported on an adjusted basis in 2012. The Medco deal allows the combined companies to take out significant costs through increased purchasing volume, a reduction of redundant administrative costs and through the utilization of best practices throughout the company. EBITDA per adjusted claim is expected to grow 15-18% from the $3.87 reported on an adjusted basis in 2012. The effective tax rate is expected to be 39%, while the company expects diluted shares outstanding to be between 825MM-835MM. These numbers are above the worst case consensus and should improve confidence that the company is moving in the right direction on the right time frame.
At a current price around $56, Express Scripts trades at just over 13 times adjusted 2013 earnings. I have very little doubt that this company can grow earnings per share by 10-13% at minimum for the next 3-5 years. The company earns a return on its capital well in excess of its cost of capital and the merger with Medco, should leverage the bet that Express Scripts can continue to increase its advantages versus its competition. Huge structural problems such as the growing government debts and deficits, and the dilemma caused by entitlements provide tailwinds for a healthcare cost-cutter such as Express Scripts well into the future. Management has proven itself to be an astute capital allocator and I believe that the company will be aggressive in reducing debt. Eventually, stock buybacks could be highly accretive unless the stock rallies significantly in the short-term.
Disclosure: I am long ESRX. I wrote this article myself, and it expresses my own opinions. I am not receiving compensation for it (other than from Seeking Alpha). I have no business relationship with any company whose stock is mentioned in this article.