Give me five minutes and I'll give you a low risk stock that can go up fivefold over the next year, and then double after that.
Why is it low risk? Because it's down a lot and sells for less than net working capital and just slightly more than cash. Why might it go up fivefold over the next year? Like I said, just give me five minutes.

THESIS
13% of this country, or 15 million homes, do not have access to broadband, and rectifying that situation is one of President Obama's highest priorities.
Congress has just come to an agreement on an economic stimulus bill that will allocate $6 billion to rolling out broadband to rural and other unserved and underserved areas. You are going to see a lot of headlines where the words "broadband" and "stimulus" are used in very close proximity to each other, but make no mistake, the initial round of spending will be highly targeted to the rural America that currently has no access to broadband. This is a niche market, and the biggest beneficiary is going to be a company that I am sure you've never heard of.
You will read about a lot of companies who will supposedly benefit—like Cisco (NASDAQ:CSCO), Adtran (NASDAQ:ADTN) and Ciena (NASDAQ:CIEN)—and that is all sort of true, but they aren't likely to benefit in a way that will transform the company and radically alter investor perceptions.
I believe the biggest beneficiary will be a small company called Occam Networks (OCNW), one of the leading providers of broadband access equipment to the rural market. I can't put it more succinctly than this: it is almost as if the broadband portion of the stimulus bill were custom written for them.

A GRAHAM AND DODD VALUE
As a stock, Occam isn't just cheap, it's extraordinarily cheap—the kind of cheapness usually reserved for troubled companies posting massive losses or drowning in debt. But Occam is neither of the two. It's just unknown, and right now it is the proverbial baby being thrown out with the bathwater.
The company has a cash rich balance sheet, has grown revenues from $17 million to $95 million over the past four years, and is now poised for highly profitable, if not potentially explosive, growth in 2009 and beyond.
There are 20.0 million shares outstanding and at the current share price of $2.60, Occam's market capitalization is just $52 million. At September 30, there was almost $39 million of cash, meaning the company's real enterprise value is just $13 million.
For the September quarter, the company reported essentially breakeven results (before stock option expense) on just over $25 million of revenue. The company will report fourth quarter results on February 27, and I think there is a strong likelihood of profitability.

WHY OCCAM?
During the eight years of the Bush administration, the United States fell from 4th to 19th place in terms of broadband penetration by country. President Obama has made it a priority to reverse that course. Over the next four years, he is going to do wonderful things for the nation's telecommunications infrastructure. In fact, I strongly believe that he will do for the internet what Eisenhower did for the federal highway system and what Kennedy did for space exploration. He will not just fund it and enable it, but he will make it a core value of the national psyche. We are going to have more and faster of everything, but that is getting ahead of the story.
In the short term, Obama is going to extend broadband to every nook and cranny of the United States. Essentially, he is elevating broadband to the status of the telephone. It's not a luxury but a necessity for business, education and health care, all important components of social equity. As you can imagine, the 15 million homes that don't now get broadband aren't exactly in the big cities. They are spread out all over rural America, and they aren't serviced by Verizon (NYSE:VZ) or AT&T (NYSE:T), but carriers like Fairpoint Communications (NASDAQ:FRP) (1.8 million lines) or Surewest (NASDAQ:SURW) (150,000 lines) or Blackfoot Communications (17,000 lines). There are over a thousand of these tier-2 and tier-3 phone companies and, in the aggregate, it is a $500 million annual market, albeit one that is about to get a whole lot bigger.
The big early winners from the broadband stimulus package are going to be the companies who will supply the equipment for this rural deployment. Sure, Cisco and Adtran and Ciena will get incremental business, but it won't be nearly enough to be more than a modest positive in their overall picture. Even Adtran, the smallest of the three I mentioned, has $500 million in annual revenues and a market capitalization approaching one billion dollars.
But this is where Occam lives, and pretty much the only place it lives. Their bread and butter is the small local carrier that is upgrading its infrastructure to provide broadband and IPTV to a rural customer base. Historically, many of these smaller carriers have relied on low interest loans from the federal government's Rural Utilities Services to fund their broadband expansion programs. Occam's products are qualified for this program and, in fact, I estimate that about half of Occam's business comes from smaller carriers reliant upon low interest rate RUS funding. Now, low interest rate loans are nice, but in the end they have to be paid back and so they are really only a modest incentive to deploy broadband. What we are talking about now is $6 billion of outright grants which will be a powerful incentive for carriers to deploy broadband to the most remote corners of the country.
So why Occam? Because it is small (now) and this is its business. It has a best in class access product that has been optimized for rural topologies. It is doing well now, but business is likely to get a whole lot better. Did I mention the stock was dirt cheap?

THE FAIRPOINT CONTRACT
2009 was going to be a very good year for Occam, with or without Obama, and one of the reasons is a massive contract from Fairpoint Communications.
Earlier this year, Fairpoint acquired about 1.5 million rural lines in Maine, Vermont and New Hampshire from Verizon. Verizon is busy focusing on its Fios deployment in the big cities, and basically couldn't be bothered with these lines. For Fairpoint, however, they are bread and butter. Over the next five years, Fairpoint will be upgrading these rural lines for high speed broadband access and potentially even IPTV.
Acquiring these lines was no easy task for Fairpoint, and it had to clear a number of regulatory hurdles. The state public utility commissions just didn't trust a small company like Fairpoint, and as part of the deal, Fairpoint contractually committed to $632 million in spending over the next five years to upgrade the newly acquired network. Over 80% occurs in the first three years.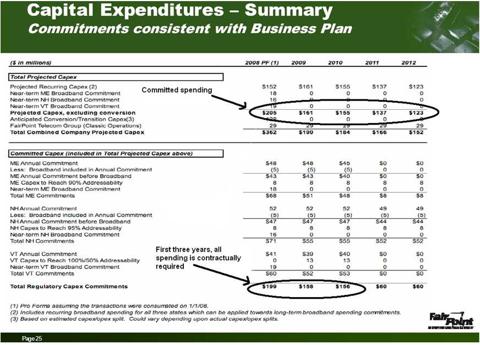 In what can only be described as a stunning triumph, and a strong affirmation of its technological superiority, Fairpoint awarded virtually the entirety of the access portion of the deployment to Occam. For a company that has built its business on 10,000 line carriers, this was a transformative contract that significantly elevated the company's status in the communications world.
So what's the Fairpoint contract worth? The company has been pretty tight lipped, but Andrew Schmitt at Nyquist Capital estimates the contract is worth at least $125 million, with $80 million coming in the just the next 18 to 24 months. I have heard other estimates that are somewhat higher, but there is no disagreement about three things: the deployment is large, mandatory and very front-end loaded.
Like I said, 2009 was going to be a very good year regardless. Now, with $6 billion in economic stimulus directed squarely at the rural broadband market, I can't see how it can be anything less than a great year, and the beginning of many great years.
OCCAM: A BETTER MOUSETRAP
Why did a small company like Occam win the large Fairpoint contract on a single source basis over much larger and better capitalized rivals such as Adtran? Because it has a best in class product that was built from the ground up to handle next generation broadband access.
I don't want to make this a technological tutorial and get the reader lost in buzzwords like GPON or ADSL or FTTH. For the moment, suffice it to say that over the past five years they have grown quarterly revenues from almost nothing to $25 million by creating a technologically superior next generation platform for the delivery of broadband and IPTV that is optimized for rural topologies and their longer local loops. The company has won numerous awards, including Internet Telephony product of the year awards in 2008, 2007 and 2005. The company has diligently focused on the rural broadband market and won a tremendous amount of customer loyalty, and this has shown up in the form of growing revenues and customer counts even in a difficult environment. With a favorable regulatory tailwind, I think revenue growth will materially accelerate.

OCCAM: A 2009 EARNINGS MODEL
Here's how I figure 2009 revenues and earnings on a pre-stimulus basis.
For the September quarter, Occam reported $25 million in revenues, of which $2 million was from the beginning of the Fairpoint ramp and $23mm was from the rest of the business. The company has been successfully winning new customers and has just begun shipping its new fiber based GPON products. Notwithstanding the current economic environment, business is, in a word, strong, and I think they can grow revenues about 4-5% sequentially per quarter for 2009. Remember, their rural America customer base is about as far as you can get from Wall Street and still be in this country.
Growing revenues by 4-5% sequentially gets me to about $105-110 million in revenues for the core business, ex-Fairpoint. I think Fairpoint can contribute $35-40 million, as per the Schmitt analysis. That gets met to about $145 million in revenues for the year. I assume gross margins of 42% and operating expenses in line with management guidance yielding operating income of $14 million, or $.72 cents per share. Given the company's enterprise value of $13 million, this is sort of like a P/E of less than 1! As an added bonus, the company has almost $200 million of federal and state operating loss carry forwards so it won't be paying taxes anytime soon.
On a post-stimulus basis, frankly I can't even wager a guess, but it has got to be a lot better. Here's a couple ways of looking at it. First let's size the current market. Occam claims the current tier-2/3 market is about $500 million annually. It claims about a 25% market share and their current annualized revenues of $100 million more or less reconciles to the annual market size.
Now let's size the potential stimulus. I figure about one-third of the $6 billion in stimulus will make its way to the equipment vendors. That's about $2 billion. If Occam can keep a 25% share, that's about $500 million in incremental revenue opportunity, or about FIVE times their current revenue level in additional short term government funded stimulus.
How about timing? The stimulus bill has not become law, but the working House version called for 50% of all funding to occur by September 2009 and the working Senate version called for 100% of all funding to occur by September 2010. Of course, funding isn't the same as spending, but it is a whole lot of stimulus real quickly.

CONCLUSION
Every so often, the market serves one up to you on a silver platter. I think this is one of these. With $2 per share in cash, no debt, $13 million of enterprise value, a $25 million quarterly revenue run rate and a revenue line that is about to explode, what is the real fundamental risk? It's a thin, unknown stock, and that makes trading difficult, but if I am right, that's all going to change real soon.
Remember, Occam isn't a turnaround or restructuring play. It is a rapidly growing technology company with a best in class product and strong market niche. It just won the huge Fairpoint contract on the basis of its technology. The world is now coming to it and the next four years are likely to be very very good to this company. Buy it now when you can basically get the company for free, because it's not always going to be this way.