Ternium (NYSE:TX) is one of the leading Latin America companies operating in the steel and iron industry. Ternium is a foreign company, and therefore its security is traded over the NYSE as an American Depositary Receipt (ADR). The nature of this security is unique. It enables investors to purchase shares in a foreign company while realizing dividends as well as capital gains in US dollars. Following the 2008 to 2009 credit crisis, the combination of acquisitions and a relatively stable demand for steel allowed Ternium to make a quick recovery. However, due to the implementation of new projects and increased equity investments in outside firms, Ternium's growth has slowed and its security market price has fell for the wrong reasons. As a firm, Ternium provides investors with far more value than what the current market prices in.
Investment Thesis
Ternium's operations are strategically positioned in Mexico as well as Argentina. Due to the fact that Argentina is a developing country, Argentina reveals an extremely low correlation coefficient with respect to economic fundamentals that prompt downturns in the US economy. On the other hand, Mexico is not a developing country, and unfortunately is closely knit to the fundamentals that impact US markets. Consumers in Mexico tend to be more elastic and sensitive to changes in price. Ultimately, high levels of elasticity in demand have impacted profit margins for operations in Mexico. Therefore, with the US economy improving it is highly likely we will see a positive impact on Ternium's profit margins as consumption levels increase.
On a global scale, Ternium is positioned to benefit from China's rapidly expanding population. According to recent projections released by the United States Census Bureau, it is estimated China's population will exceed 1.4 billion by 2026. A small percentage of Ternium's sales currently derive from its iron ore exports to China. Given the rate of economic development in China, there is a favorable probability this will play out to be a lucrative growth option for Ternium. I recommend buying Ternium, with an anticipated price target of $29.73 in one year. This implies an upside of roughly 27% from its current market value per share, which is shown below in figure 1. Note my price target is based on the consensus of multiple valuation models, which I will explain in further detail in the valuation portion of this analysis.
Figure 1: Ternium's Five Year Price Graph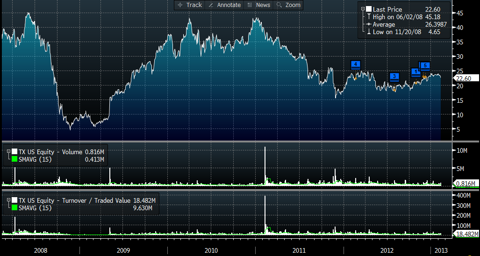 What Does Ternium Do?
Ternium is a steel manufacturing company that serves its customers with a broad spectrum of so called "value-added" steel products. These products include tinplate, galvanized and electro-galvanized sheets, pre-painted sheets, as well as various custom steel products designed to customer specifications. These custom products are manufactured and designed on a job-cost basis through Ternium's service centers. In addition, Ternium produces long steel products such as bars and wire rods. Ternium's customer base is quite extensive. Its customers range from large companies operating across the globe to small enterprises operating in industries such as construction, home appliances, capital goods, containers, as well as food and automotive. Ternium's operations are divided among three segments:
Flat Steel Products- This segment

comprises

the manufacturing and marketing of flat steel products including hot rolled coils and sheets, cold rolled coils, tin plates, welded pipes, hot dipped galvanized, and electro-galvanized sheets, and pre-painted sheets.
Long Steel Products - This segment is comprised of the manufacturing and marketing of long steel products, which include billets, wire rod, and wire bars.
Other & Custom Products - This segment includes all other products Ternium manufacturers and prod

ucts,

such as pig iron and pellets.
Ternium has established a large footprint across Latin America through its highly integrated operations. Ternium's current annual production capacity for pellet and flat steel is approximately 5.9 million tons and 0.4 million respectively. Its in-house manufacturing process is spread throughout 15 production centers. In addition, Ternium's distribution network is even more extensive than its production process. It has a total of 42 service and distribution centers that are located in the following countries, including Argentina, Colombia, Costa Rica, El Salvador, Guatemala, Honduras, Mexico, Nicaragua, and Panama. The processes and services range from iron ore extraction to the delivery of high-end steel products to the market. As you are beginning to understand, Ternium's value chain is highly integrated.
Figure 2: Ternium's Distribution Network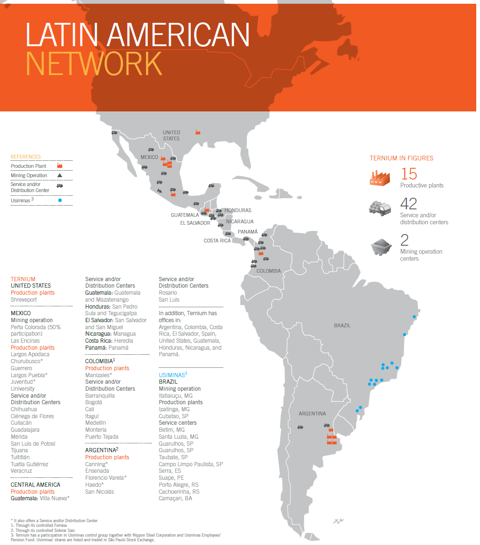 Ternium has made significant progress towards incorporating sustainable practices within the last decade. Ternium's management has implemented an integrated health, safety, and environment (HSE) management system. The system comprises a set of processes and practices that serve as an aid in helping Ternium constantly improve its environmental performance to adhere with the guidelines of international standards.
Figure 3: Ternium's Sustainable Development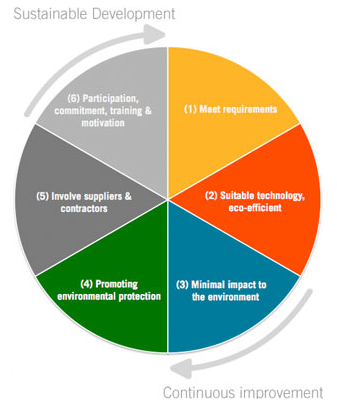 Financial Analysis
Currently, among top investment banks and capital management firms, there are thirteen analysts actively covering this security. Broadly speaking, there is relatively little variation among these analysts' estimates. The only differences in analysts consensus seem to lie beneath a particular analysts' opinion in regards to economic recover in 2013. In effort to provide an accurate forecast, I computed the average of these analysts estimates.
The average consensus of the final year in revenue figure for FY 2012 is $8.57 billion. Looking forward into FY 2013, I used the same method and projected to grow to $9.54 billion. This implies a year over year growth rate of approximately 11%. Taking the historical averages of Ternium's gross margins and assuming there will be small increases in operating costs, the earnings per share estimates are highly favorable for FY 2013. The mean EPS estimate for FY 2013 is $2.94, which implies gross and operating margins of 23% and 14%, respectively.
To understand why these margins will improve, it is important investors realize the full extent of Ternium's recent expansion. These margin improvements are a result of high capital expenditures in previous years. The capital expenditures were allotted to new facilities and fixed assets, which have ultimately provided Ternium with excess capacity. This excess capacity is going to allow for increased production and will aid in the reduction of Ternium's input costs for raw materials. Going forward into FY 2013, we should see very little accumulation of new fixed assets, which implies a reduction in capital expenditures. Also, one more factor that will impact margins is the price of steel. Analysts are projecting that in commodity markets the price of steel will increase significantly over the next two years. As we have seen before, when there is an influx in the price of steel Ternium's market price per share has the ability to increase fast with improving margins.
As you are beginning to understand, Ternium's balance sheet is loaded with fixed assets. Its attractive assets in both Argentina and Mexico amount to over $11 billion. But how much debt financing does Ternium engage in to fund its expansion? From an accounting perspective, Ternium has an extremely clean balance sheet. Its total liabilities equate to roughly $3.9 billion. Of that total, only half comprises Ternium's long-term debt outstanding. This suggests Ternium's long-term debt to equity ratio is only 22%, and historically this level remained relatively the same.
Valuation
Ternium's extensive product lines and varying streams of revenue can make valuation some what difficult. To compute the fair value of Ternium's equity, I used a variation of the corporate valuation model. Principally, this model is identical to the traditional discounted free cash flow model. However, it also incorporates a modification of the Gordon Growth Model that uses free cash flows to project a discrete value for the approximated value of the firms operations. Finally, to arrive at the value of equity, short-term investments in non-operating assets are added to the value of operations.
In this model, I used a free cash flow estimate of $145 million for FY 2013 in order to project the value of Ternium's operations. As I previously mentioned, Ternium is in its final stages of several expansionary projects including a new slab, hot strip, and galvanized lines in both Argentina as well as Mexico. Therefore, Ternium's capital expenditures are projected to decline by as much as 25%, which has been taken into account in my free cash flow estimate. Also, as a result of expansionary measures I anticipate Ternium will consistently display an EBITDA margin of roughly 24%. The additional underlying assumptions include a constant growth rate of 3% and Ternium's weighted average cost of capital of 4.5%. Also, you will notice I have provided a sensitivity analysts revealing the variation in Ternium's security price with respect to the changes in the constant growth rate.
Figure 4: Ternium's Intrinsic Valuation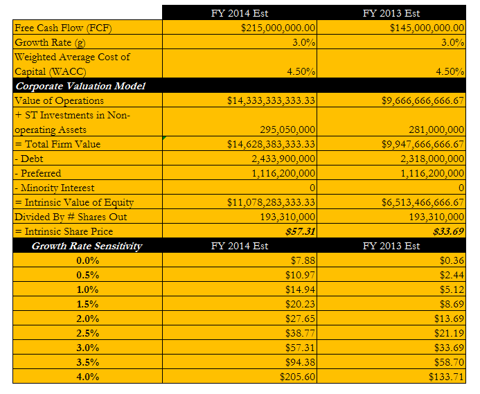 As you will see above, the price estimates change significantly with changes in the constant growth rate. In terms of Ternium's operations, I feel the most suitable growth rate to apply is 3%. Using a constant growth rate of 3%, I arrived at an intrinsic price per share of $33.69 and $57.31 for FY 2013 and FY 2014, respectively. In computing the intrinsic value of Ternium, one of the distinct differences between Ternium compared to other firms is the weighted average cost of capital. Its clear Ternium's weighted average cost of capital is significantly low, and while this is not a bad thing it makes valuation slightly more complex.
Given the fact that Ternium's historical levels of free cash flows have been low and considering its extremely low cost of capital, there is an alternative method I would like to illustrate to further support the valuation of this company. This method is highly feasible for companies anticipating low levels of free cash flows and is conducted by using a "sum-of-the-parts" analysis by incorporating a variety of different EV/EBITDA multiples. This valuation technique "STOPS" or does what some called "Breaks-up" the analysis by providing a range of values for a company's equity by summing the value of its individual business segments to arrive at the total enterprise value. I am only using a variation of the"sum-of-the-parts" analysis in order to project a price target.
Historically speaking, Ternium carries a forward EV/EBITDA premium 5.5 to 7.5 times. Due to substantial investments towards fixed assets as well as several associated sunk costs with expansion in Brazil, I am going to value Ternium on the more conservative side. The implied exit multiple I am using is approximately 6.5 times. This is directly in line with the FY 2013 EPS projection of $2.94. Applying a forward multiple of roughly 9.5 times to this earnings per share estimate reveals a price target of roughly $27.93. Although this price target varies from the intrinsic valuation estimate for FY 2013 by 20%, I have concluded this price target is far more accurate and should be investors objective for the end of FY 2013.
Conclusion
It is clear Ternium's operations are highly impacted by the economic conditions in the US as well as the economic conditions in other countries where Ternium operates. As the US economy continues to recover, the correlated impact between prospering economies and Ternium's global business will yield a positive impact on its profit margins. In addition, Ternium's recent expansion has not only provided cost reduction benefits to the firm, but have provided perfect placement through new operating facilities to profit off an economic recovery. Based on Ternium's current financial position and conservative growth estimates, my one year price target implies an upside of roughly 27% for investors who initiate a position today. In conclusion, Ternium is undervalued and provides an investment catered to those seeking value and expecting a US economic recovery in FY 2013.
Sources: TD Ameritrade, Google Finance, Yahoo Finance, The Wall Street Journal, and Bloomberg Market Data.
Disclosure: I have no positions in any stocks mentioned, but may initiate a long position in TX over the next 72 hours. I wrote this article myself, and it expresses my own opinions. I am not receiving compensation for it (other than from Seeking Alpha). I have no business relationship with any company whose stock is mentioned in this article.