In a global economic crisis for which the media has seemingly exhausted its cache of negative adjectives to describe the meltdown, one is hard-pressed to find an example of success in the quagmire that has become the marketplace. When scanning the ranks of the ETF Sector Momentum Table, however, one fund's sweeping forward progress makes it a glinting example among its peers. iShares' Silver Trust (NYSEARCA:SLV) vaulted from the No. 60 position in the rankings on December 2, 2008, to the No. 14 spot on February 3, 2009. If precious metals continue to outpace agricultural commodities, and the "flight to safety" extends into a probable "odyssey toward conservative investing," SLV will be an interesting fund to track in upcoming months.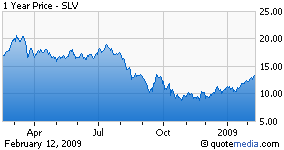 In the three months ending January 31, SLV led its benchmark index by nearly 25%, trumping PowerShares' DB Silver offering, DBS, by a narrow 1.25%. If analyst predictions play out, the demand for silver could continue to grow in upcoming weeks, even as a dismal holiday season for jewelry persists well into the new year. In a recent report, UBS upped forecasts for both silver and gold, citing expectations of speculation and investor interest, as uncertainty still reigns in U.S. markets.
Supporting the hypothesis that the flight to precious metals still results from investor uncertainty is UBS strategist John Reade, who noted that "purchases of physical gold have jumped over the past six months as investors' fears about the current financial crisis and the possible outcomes from government efforts to support banks and economies have intensified." UBS also estimates that investor interest in precious metals such as gold will double in 2009, compared with 2007. If this prediction plays out, gold could reach an average of $1,000 before interest wanes.
Shares of SLV track the spot prices of silver and are backed by physical silver reserves. On February 3, New York–based SLV announced that the bullion holdings for the fund rose 77 tons, approximately 1%. This increase puts the fund at a record 7,530.2 tons of bullion, up 11% since January 2. While other factors come into play during the intraday trading of SLV shares, increasing stocks of bullion underscore the growing interest that SLV is seeing in 2009.
Futures, currency and commodity prices are extremely volatile and unpredictable, so understanding the reasons behind silver's recent spike is an important step in avoiding the swell and vacuum of SLV's swings. As currency concerns continue to plague investors worldwide, an increasing number of people have turned to silver as a "why-not" alternative to investing in unpredictable notes. India, whose citizens seize silver as a tangible alternative to currency, imports an average of 3,000 tons of silver per year. The Economic Times recently reported that banks may not be able to import regular amounts of silver in the future, a factor that could drive silver prices there drastically higher in black market arenas.
So what makes SLV stand apart from the ever-expanding sea of commodity ETF choices? Its track record, size, and liquidity are all comforting factors for investors looking to jump into the silver fray. With 245 million shares outstanding and an average of 6 million shares traded per day over the last three months, SLV simply dwarfs peers such as DBS. Launched in January 2007, DBS has a three-month average daily trading volume of nearly 200,000—a factor that makes SLV a more liquid choice in white-knuckle times.
Investors should also be wary because while SLV tracks the spot price of silver, other important factors come into play during the intraday trading of the ETF. In addition to reflecting the price of physical silver, SLV also takes into account counterparty risk and the ever-changing emotions of investors in the open marketplace. While the silver is likely "there," the ratings on even the most venerable of banks—like SLV keeper Barclays—could come into question in perilous economic conditions. Success in the fund is also contingent on the increasing price of silver. Placing funds in SLV is not the same as under the mattress—management fees and "iShares Silver Trust expenses" are exacted by the issuer on a regular basis, slowly eroding the value of one's investment over time, if the price of silver does not continue to rise.
The longer the economic stimulus plan is stripped and scrubbed across the floor of the Senate, the more investors could continue to pile into a tangible investment like SLV until the storm passes. When the outcome becomes clearer, one-tune investments like SLV may become a more proportionate segment of portfolios and lose steam as the attention that has prompted their rise refocuses on other sectors.