Last month, the 2013 Auto Show came to Philadelphia, which generated a good bit of buzz and discussion in the area about major auto manufacturers. A good friend of mine, who is a certified car enthusiast, attended and remarked afterwards that it may be time to invest in Ford (NYSE:F). He is someone who not only restores antique cars, but also keeps his everyday cars in show room condition, so an endorsement purely on the automotive aspects of its showing caught my attention. He asked me what I thought of the financial condition of Ford, and if he should consider an investment. In homage to the "certified, pre-owned" trends of the industry, a 12 point inspection will be given on the fundamentals to determine its investment quality, beyond a good showing of the latest models at the Auto Show.
1: DCF Analysis (Pass)
Using a discounted cash flow model to calculate stock value per share shows Ford is currently well below fair value. The EPS of Ford is currently $4.41, and the average analyst estimate for growth is 5.8% for the next five years. Beyond five years, the model uses a future growth rate of 0%, which conservatively assumes Ford will no longer grow earnings in the future. A rate of 12% (the average expected return of S&P 500) is also leveraged to discount earnings. This model yields a stock value per share of $46.29, which is a 255% margin (2.5x) from its current trading price.

Since there is a significant margin of safety compared to the current trading price, this passes inspection. It should also be noted that some analysts are projecting growth of over 10% for the next 5 years, which would increase the DCF value to over $56 per share.
2: PE Ratio (Pass)
The following chart is Ford's PE ratio, overlaid with Revenue, for the past 5 years.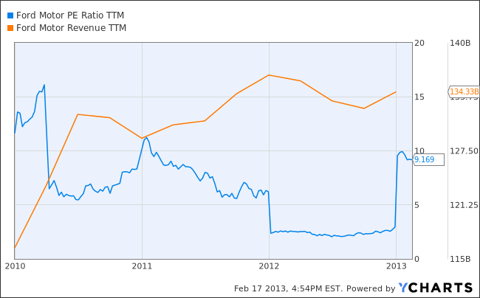 This chart demonstrates the sharp punishment Ford's price has taken when forecasting revenue drops. In both 2010 and 2012 there were steep declines upon lowering revenue expectations.
Ford's recent run-up currently has the P/E is trading over 9, which is higher than the 5 year average of 6.4. However, the average PE for the Major Auto Manufacturer's industry is 9.1, and Ford is currently the lowest PE compared to their major competitors: GM trades above 10, Honda above 15 and Toyota above 17.
Additionally, Ford's January sales numbers surpassed all expectations, and so confidence is high that they are returning to growth.
As Ford's multiple is not above the industry, nor all major competitors, and it has seen January momentum on sales, it passes inspection.
3: PEG Ratio (Pass)
The next inspection is the PEG ratio to determine if Ford is commanding a premium for future growth, compared to recent history and its competitors.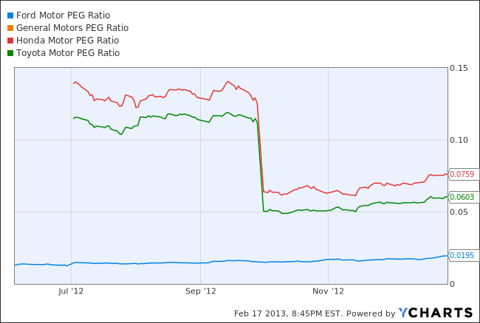 Typically, a PEG ratio below 1.0 is an indicator that a company's future growth is undervalued. Since Ford is trading at 0.2, an industry comparison is beneficial to see how other auto manufacturers are being priced. Ford is currently the lowest PEG ratio in the group, and therefore may indicate one of the best values in the market space. Additionally, Ford is currently trading below its 5 year average PEG of 0.03. Therefore, this is a pass.
4: Business Margins (Pass)
Ford's Gross and Net profit margins have recently returned to their historical ranges.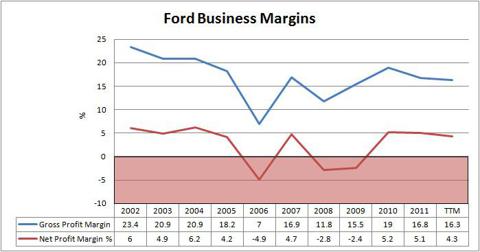 Ford's margins really suffered in 2006 and 2008, around the time of the bailout discussions. However, in the past 2 years, they have returned to profitability levels seen in the 2002-2005 time frame. The industry average net profit margin is 5.8%, and Ford has recently been able sustain margins above 5%.
In addition, they have posted pre-tax operating profits for 14 straight quarters, and provided guidance during their recent earnings report that operating profits in 2013 should be as strong as 2012. Therefore, this inspection is a pass.
5: Current Ratio (Pass)
In general, a current ratio of greater than 1.5 is a strong operating position for large companies.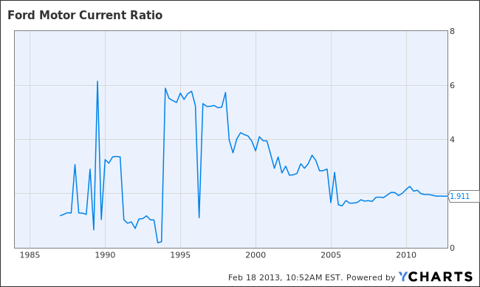 Ford's current ratio is 1.9, which is also its 5 year average value. This is a strong position well supported by a historical view, and so it is a pass.
6: Dividend Payout (Fail)
Ford paid their first dividend in of March of 1956, and has made 203 payouts since that time. They paid consistent dividends for over 25 years, but first broke that streak in 1982-1983, suspending payouts for 6 consecutive quarters. More recently, Ford again stopped paying dividends in September of 2006, not resuming until last year.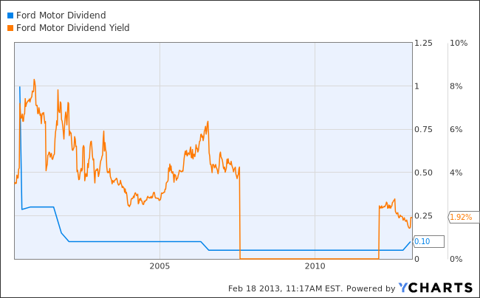 Even when dividends were reinstated in September, they were paid at $0.05 per share, which is a below historical average yield. This past quarter they doubled the payout to $0.10 per share, showing some growth, but this remains below the payout levels between $0.35 - $0.50 seen in the 1990s and early 2000s. Due to the previous suspensions of dividends and the below average payouts, this is a fail.
7: Cash Conversion Cycle (Pass)
For any cyclical consumer based company, an important metric to review is its Cash Conversion Cycle. This cycle is essentially a measure of the amount of time it takes between when a company spends cash on product until it receives cash back from a sale.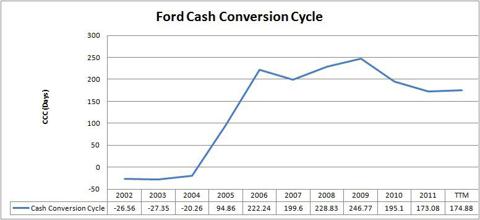 Ford's cycle spiked from 2004-2006, hitting a maximum in 2009 of 247 days. However, since that time it has been slowly dropping, currently around 175 days. As this cycle has been showing improvement with their recovery, and is currently under their 5 year average of 209 days, this is a pass.
8: Free Cash Flow (Pass)
In 2008, Ford's Free Cash flow became a staggering problem, bottoming out at -$17B, and closing the fiscal year at -$6.8B. This was around the time that Ford and other manufacturers began bailout discussions with the US Government. Ford ultimately shunned the Government funding in favor of private credit and loans, but did still require a cash infusion (seen by the spike in 2009).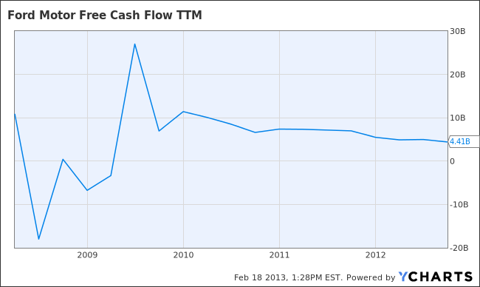 Since that time, Ford has been able to maintain a steady cash flow, which enabled them to restart dividends and make other required investments in their new products. As they have been able to maintain a level above $4B, this inspection is a pass.
9: Price to Book Value (Pass)
The price to book value provides a good indicator if the company's current stock price is overvalued compared to its tangible assets. It is useful to look at it both historically, and across the industry, to get a barometer of the trading value.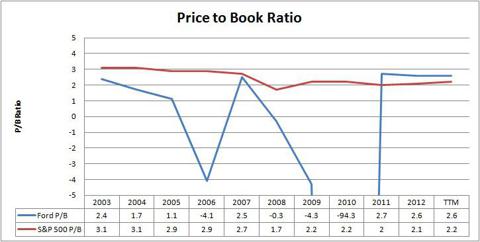 Ford's P/B has seen drastic swings over the past 10 years, but has recently returned to "normal" levels seen in the early 2000s. The Major Auto Manufacturers industry is currently trading with a P/B around 1.8, and while Ford is slightly above the industry and S&P 500 averages, it is not out of line historically or demonstrating significant overvaluation compared to the benchmarks. Therefore, this inspection is a pass.
10: Return on Assets (Pass)
Part of the driver for Ford's recent recovery has been its ability to create a significant return on the company's assets: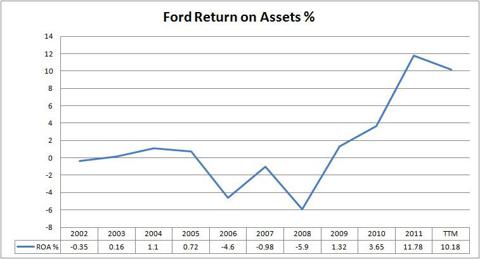 As shown, the ROA has gone up significantly since 2009, and is currently above 10% for the first time in the past 10 years. Therefore this inspection is a pass.
11: Piotroski Score (Fail)
The Piotroski score leverages the academic work of University of Chicago Professor Joseph Piotroski. He devised a simple scoring mechanism to measure 9 simple tests, and give a binary rating against each. His research proposed that firms scoring between 7-9 should typically outperform the market, while anything less than 3 is seen as as a risky investment candidate.
The Ford Score is 6, which lies just outside the targeted boundary. Therefore it fails this test, but with a note that it is not tripping any high risk indicators.
12: Technical Analysis (Pass)
One final inspection of the current price compared to the Bollinger Bands, 50 Day Moving Average and 200 Day Moving average can determine if now is a good entry point.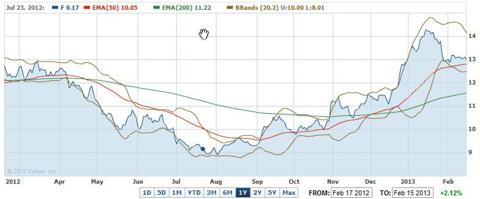 As Ford is currently trading above the 50 day, above the 200 day and at the low end of the Bollinger Bands, now is a good buying opportunity for the initiation of a long position.
Summary
Ford passed 10 of the 12 inspection points provided, failing only the Dividend Review and Piotroski score analysis. Neither of these present major concerns, as dividends are currently being paid, and the Piotroski score was on the high end, just missing the target of 7.
Therefore, Ford does present a fundamentally sound investment choice, and currently provides a strong opportunity to initiate a long position.
Disclosure: I have no positions in any stocks mentioned, and no plans to initiate any positions within the next 72 hours. I wrote this article myself, and it expresses my own opinions. I am not receiving compensation for it (other than from Seeking Alpha). I have no business relationship with any company whose stock is mentioned in this article.
Additional disclosure: I may initiate a long position in Ford at anytime.