Gain Capital Holdings (NYSE:GCAP) is the owner of the FOREX.com brand. Founded in 1999, the company's brands help some 350,000 retail investors participate in spot foreign exchange (i.e., forex), precious metals and contracts-for-difference. The company does this 24 hours a day, on a global scale.
Through forex.com and downloadable software, the company allows retail investors access to the global OTC markets. The company provides:
"...Liquidity in 77 OTC markets, including 58 currency pairs, 10 equity indices and 9 commodities." (2011 10-K, p.3)
The FOREX.com brand is well established and the company has put considerable resources into developing the tools that its customers use. The company has a leading position in retail forex in the United States and has been expanding its operations globally.
Since they serve customers around the world, this designation is not very important -- however, it is interesting to note that some 35.4% of trading volume comes from customers resident in jurisdictions where neither Gain Capital nor its broker and banker partners have a license to operate (this does not appear to be troublesome). Regardless, it appears that FOREX has a bit of a first mover advantage, at least in the United States.
This company is of interest because of its historical cash generating abilities. As of late, however, the company's business model has not been as successful, presumably because of low market volatility and declines in retail trading. But the infrastructure is in place to handle far greater levels of activity. This is to say, that it seems the business could scale up rapidly and recover, should a hiccup of good fortune occur.
Operational Trends
As noted above, revenue has been on a downward trend since the financial crisis. In the case of Gain Capital, it does better when the market is volatile:
"Our revenue is influenced by the general level of trading activity in the forex market. Our revenue and operating results may vary significantly from period to period due primarily to movements and trends in the world's currency markets and to fluctuations in trading levels. We have generally experienced greater trading volume in periods of volatile currency markets. In the event we experience lower levels of currency volatility, our revenue and profitability will likely be negatively affected."
Therefore, forex volatility will be a (very) rough outside indicator of revenue going forward. There are some indices which track this, for instance JPMorgan's Global FX Volatility Index, of which I've included a chart below: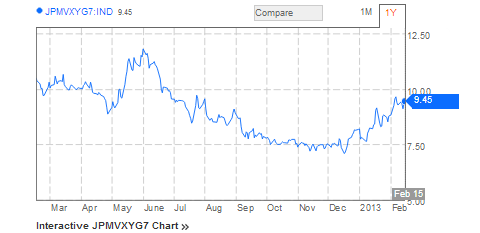 (Source: Bloomberg Website, 2/15/2013, accessed here)
Volatility has been down over the past twelve months and this has not helped revenue:

(Source: September 30th, 2012 10-Q, p. 4)
That's about a 29% decline year-over-year in the nine-month figures. This is a continuance of trends seen in 2011. As laconically put by the 2011 10-K:
"The decrease in trading revenue was primarily due to changes in the mix of our customers' retail trading volume that impacted (1) our ability to optimize spread capture, (2) general macroeconomic and market instability for much of 2011 and (3) periods in which major currencies traded in narrow ranges, which decreased our ability to generate revenue..." (2011 10-K, p. 47)
Before we go on to look at other operating trends, let us talk about the business model, or #1 in the quote above.
Business Model
Retail (about 87.9% of revenue)
When a customer on FOREX.com (or one related service) executes a trade, that trade might be (1) paired against another customer trade, (2) paired with an offsetting trade through their "wholesale trading partners" (i.e., other brokers), or (3) it becomes part of Gain Capital's net exposure.
The first case is the most profitable and the company receives the entire bid/offer spread. In the second case, Gain earns the difference from the bid/offer of the customer and that of their wholesale trading partners. In the last case, the company manages exposure and receives the net gains and losses generated through the management of that exposure. For 2011, 97.1% of all transactions fell into the first two buckets.
Institutional (10.2% of net revenue)
Commission only and therefore no credit risk. This business is in its infancy and while it promises to be a source of future income. It will also likely have very small margins when compared to the retail segment.
Customer Trends
When we look at customer trading volume, there seems to be an apparent contradiction between GCAP net income and total trading volume. For instance, total trading volumes are up 44% as of the last quarter even while revenues are down 29%. This, however, is due to the Gain Capital's move into institutional forex trading note above:

(Source: September 30th, 2012 10-Q, p. 21)
So the cause for the declining revenues at GCAP is lower retail trading volume and fewer retail accounts traded. The move to institutional trading is part of a broader move to diversify revenue, since, as you can see, the retail business is not performing as well as it once did.
Also as part of this diversification the company recently acquired Paragon Futures Group, which is an Internet futures business with a $12mm price tag. A small proforma in the 10-Q suggests that it would have increased consolidated sales by some $22mm in the first nine-months of 2012 while decreasing consolidated net income by about $1m.
Historic Profitability and Cash Flow
Gain Capital had its IPO a little over a year ago (December 15, 2010), so let us look at data from the past year: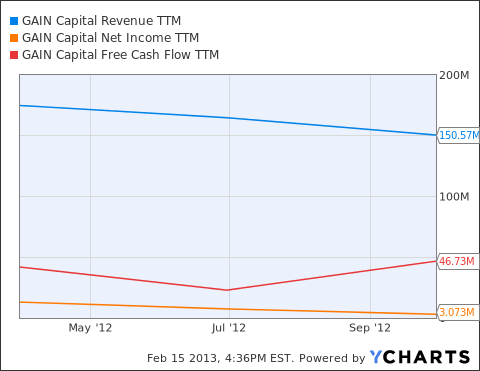 Revenue is declining as we talked about above and net income is small, at $3mm on a TTM basis. Given the current market cap of $157mm, the P/E would be 51. The P/FCF [1] would be 3.35 or a FCF yield of 31%.
If the FCF calculation is a better approximation of earnings going forward, the company is undervalued. Therefore, if the future promises similar (1) trading volumes, (2) volatility and (3) margins of the past, then perhaps we are looking at an already undervalued security. Obviously the #1 and #2 are nearly impossible to predict, although, one would think global monetary governance and sovereign financial troubles suggest that volatility is more likely than not [2]. As for #3, the revenue mix will change consolidated margins since the company seems to be giving up margin for stability of operations. Let us look at Gain Capital's ability to generate cash flow.
Free-Cash-Flow
We have to first make some small adjustments to cash from operations. Therefore, let us look at operating cash flow as reported, and with operating cash flow as adjusted, to get a bearing on the cash generating ability of GCAP.
There are a few things to be noted below. First, 2012 is the nine-month figures annualized. Second, I make one adjustment to operating cash flow: the sales of securities which are labeled "trading" increase operating cash flow but since they do not really constitute recurring operations, we should remove them. There is also a cash outflow in some period from customer's account balances declining -- I didn't adjust for this although that might be appropriate. It would have made operating cash flow larger.

Click to enlarge
Besides the most recent period, the company has been able to achieve free-cash-flows greater than $50mm -- or cash inflows greater than 30% over the current market capitalization. Given that the main difference between those periods and the most recent one is the environment, the technological assets the company currently has have shown the ability to generate those significant cash flow levels.
Valuation
The future of this company is uncertain because the future of market volatility is uncertain. Indeed, one would also think that increased competition in the forex market would decrease bid/ask margins. In practice, however, this might not be the case because of GCAP's ability to pair customer to customer trades and thereby taking the entire bid/ask spread.
With Gain Capital, it seems probable that there will be future periods with similar levels of trading activity and volatility to those of the past. When that will be, I do not know. And will it be long enough to make the company return to net income levels of those of the past? I also don't know. But as I noted above, because of the software and website business model, the company can truly scale without large capital expenditures. Which is to say that the tide could change rapidly.
There are some other characteristics which will make any future large declines in GCAP's price worthy of watching. For instance, tangible book value stands at about $150mm -- and that is arguably made up of short-term trading securities and receivables from banks and brokers. With a market cap at about $157mm, the share price is pretty near its book. This is a lower floor, so to speak, but it is possible the share price could fall below it.
The company also pays a 4.7% dividend, rewarding patient investors and probably also putting a another floor on how far the shares could decline. But it is (1) their brand and (2) the scalability of their business model which are the most interesting aspects of the company. The latter two are difficult to value but represent serious assets which would be difficult to replicate on short notice.
Conclusion
I am uncertain of Gain Capital's future but their infrastructure is in place and can handle large increases in forex volatility without proportional capital expenditures. While that's not enough to warrant a purchase, in my opinion, large changes in the forex market ought to make us observers of Gain Capital's results.
Please see my securities disclaimer here.
Notes:
Free-Cash-Flow = FCF = Adj. Cash From Operation - Capital Expenditures
Gain Capital's recent history actually stands at odd with this sentence. For instance, 2012 was a year of great uncertainty in Europe. This had an impact on forex volatility, although it was different than might be expected. While there were great surges which came after public announcements by European officials, trading volumes were low between such events while retail investors appeared to be waiting for further information. Or rather, the uncertainties which were created did not create continuous volatility across the period but periodic volatility which was offset by long waiting periods. Also note, that I am not an expert in forex or forex volatility, and am merely repeating management's statements on the most recent conference call.
Disclosure: I have no positions in any stocks mentioned, and no plans to initiate any positions within the next 72 hours. I wrote this article myself, and it expresses my own opinions. I am not receiving compensation for it (other than from Seeking Alpha). I have no business relationship with any company whose stock is mentioned in this article.