The share price of Philip Morris International (NYSE:PM) has appreciated by 10.2% over the past 12 months. At $89.99, the stock is trading at around the mid-point of its 52-week price band from $81.10 to $94.13 and offers an attractive dividend yield at 3.8%. In this article, I will elaborate on the stock valuation analysis which supports my bullish view on this quality long-term dividend investment.
Sell-side analysts on average predict PM's revenue, EBITDA, and EPS to grow at strong 2-year CAGRs of 5.0%, 6.5%, and 8.5%, respectively (see chart below). The consensus estimates considerably outperform the averages of 1.9%, 2.5%, and 7.8%, respectively, for a group consisting of PM's primary peers listed in the US market. Similarly, PM's long-term earnings growth rate is forecasted to be 11.2%, significantly above the peer average estimate at just 7.9%. On the profit side, PM has demonstrated a comparable performance as most of the company's profitability margins and capital return measures are fairly in line with the peer averages. PM also carries a fairly comparable debt load as reflected by its slightly-below-average debt to capitalization and debt to EBITDA ratios. In terms of liquidity, PM's trailing free cash flow margin is slightly above the par and the firm was able to maintain a strong interest coverage ratio. However, both PM's current and quick ratios are below the par, suggesting a mediocre balance sheet performance.

To summarize the financial comparisons, PM's superior growth potential as well as its healthy profitability and cash flow performance should justify a premium valuation over the peer-average level. The current valuation at 15.6x forward (next 12 months) EPS represents a 12.7% premium over the same peer-average P/E multiple, suggesting PM seems to be trading within its fair value range. However, the stock's PEG ratio of 1.4x is at a notable 20.1% discount to the peer-average rate of 1.8x, indicating PM's share price is likely not fully reflective of the company's above-par growth potential (see chart above).
From a broader market perspective, PM's forward P/E multiple of 15.6x is currently trading at a 8.9% premium over the same valuation multiple of the S&P 500 Index, which stands at 14.3x now (see chart below).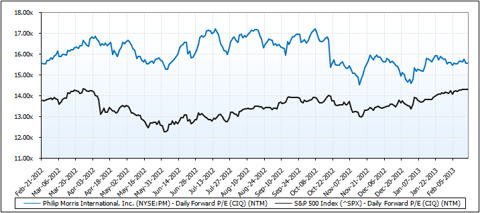 In my view, this relative valuation level suggests a compelling entry opportunity provided that 1) PM's P/E multiple gap over the market averaged at 19.4% in the past 12 months, markedly higher than the current 8.9% difference; 2) PM's long-term estimated earnings growth rate of 11.2% is considerably above the average estimate of 8.2% for the S&P 500 companies; 3) the firm has been able to sustain steady profitability margins (see chart below) and offers a market-leading free cash flow margin; and 4) the stock's 3.8% dividend yield substantially exceeds the average yield of 2.2% for the S&P 500 Index.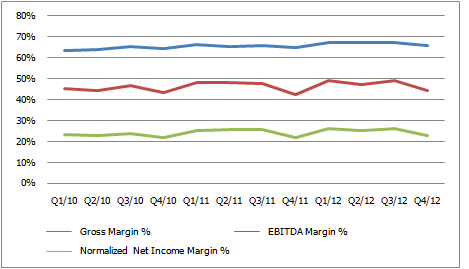 I also performed a margin of safety analysis from a dividend perspective, and it appears PM's price downside is well supported by the potential dividend growth and the healthy dividend yield. Since 2010, PM has raised the dividend per share 3 times by 10.3%, 20.3%, and 10.4%, consecutively. Given the company's robust free cash flow margin, it is fair to expect the current pace of the dividend growth can be sustained in the near future. In addition, PM's dividend yield has demonstrated a strong correlation (0.6) with the 10-year US Treasury Bond yield over the past 3 years (see chart below). Since the low-interest environment is expected to persistent for a while, a further upside for PM's dividend yield would appear to be limited. As such, assuming a target dividend yield range from 3.8% to 4.3% (PM's dividend yield has never exceeded 4.0% over the past 12 months), and supposing that the annualized dividend per share would be raised by 8.0% from the current level at $3.40 to $3.67 in September 2013 payment period, this conservative scenario would result in a share price range from $85.40 to $97.14. After considering the 3.8% dividend income, the estimated investment return would range from -1.3% to 11.7%, a very favorable risk/reward case.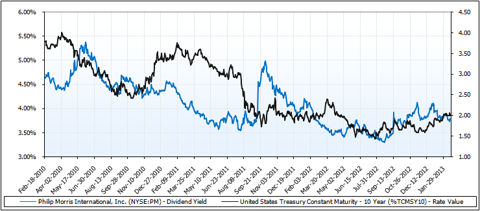 In early February, PM reported upbeat Q4 2012 earnings results driven by strong business momentum in emerging markets. Bonnie Herzog, a senior analyst at Wells Fargo Securities, wrote in a note dated February 7, 2013 (sourced from Thomson One, Equity Research):
"PM continues to be our top stock pick within our coverage universe since we believe it has the most upside potential over the long term given its: (1) superior and reinvigorated Marlboro brand franchise; (2) industry leading, diverse brand portfolio; and (3) impressive ROIC and improving economic profit. PM's quite impressive Q4 and FY12 results give us further conviction that the company has emerged in a class of its own and is now poised for continued growth and margin expansion given that it is a much more nimble, less risk averse, more innovative, and more performance-driven Philip Morris International. Furthermore, we are very excited about PM's work on "next generation" products (NGPs) and we believe this will be a game changer for PM. We have long believed technology will play a pivotal role in shaping the future of the tobacco industry and it appears that dramatic change is only 3-4 years away with PM leading the way."
Bottom line, in light of the solid financial fundamentals and the promising growth prospects, PM is well-positioned for healthy long-term growth. Given the compelling valuation, the stock deserves a buy rating and be the core holding of your dividend portfolio.
All charts are created by the author and all financial data used in the article and the charts is sourced from Capital IQ unless otherwise noted.
Disclosure: I am long PM. I wrote this article myself, and it expresses my own opinions. I am not receiving compensation for it (other than from Seeking Alpha). I have no business relationship with any company whose stock is mentioned in this article.